"Travel is fatal to prejudice, bigotry, and narrow-mindedness."
—Mark Twain
LAST STEPS IN EUROPE
A story ends, a new one begins
From the lowest swamps to the highest hills, the exploration of Europe comes to an end. It took almost four months to go from Strasbourg to Helsinki. Four months of breathtaking discoveries and legendary encounters. Four months now ending on a happy note : the exploration of Finland's finest villages and its capital. All of that in very good company. This article put an end to the first part. It is a major cornerstone, as the next part of the adventure will happen on the other side of the world.
Some numbers :
Days on the road : 108
Kilometers walked : 1080
Steps / day : 16.555
Money spent : 6500€
Photos taken : way too many
Photos published : 700
Video taken : 328
People met : uncountable
RAUMA
Old wooden village I
Although Rauma sounds latin, it has nothing to do with Italy. Rauma is a small Finnish village, indexed on the UNESCO heritage list, for its 600 small wooden houses, that were kept intact since the 17th century. Meaning they didn't burn to ashes, like many other Finnish villages. So, the whole city center is occupied with those beautiful one story houses. Strolling the sinusoidal streets in Rauma is a real pleasure, especially in a quiet evening, when the light is soft and slightly warm. A full day is enough to go around. Although, if you plan to stay a night there, you can easily head to the wooden observation tower, located by the harbor. It's a 30 minutes walk and the tower itself is beautiful. It offers a great vantage point towards the tiny islands, surrounding the area.
For cafe enthusiasts like us, cafe Sali is the next best thing. It's a well known cafe, but their products are fresh -The salmon sandwich is a killer-. Also, they are located on the central square, which makes it a perfect place to enjoy the town livelihood at your arrival.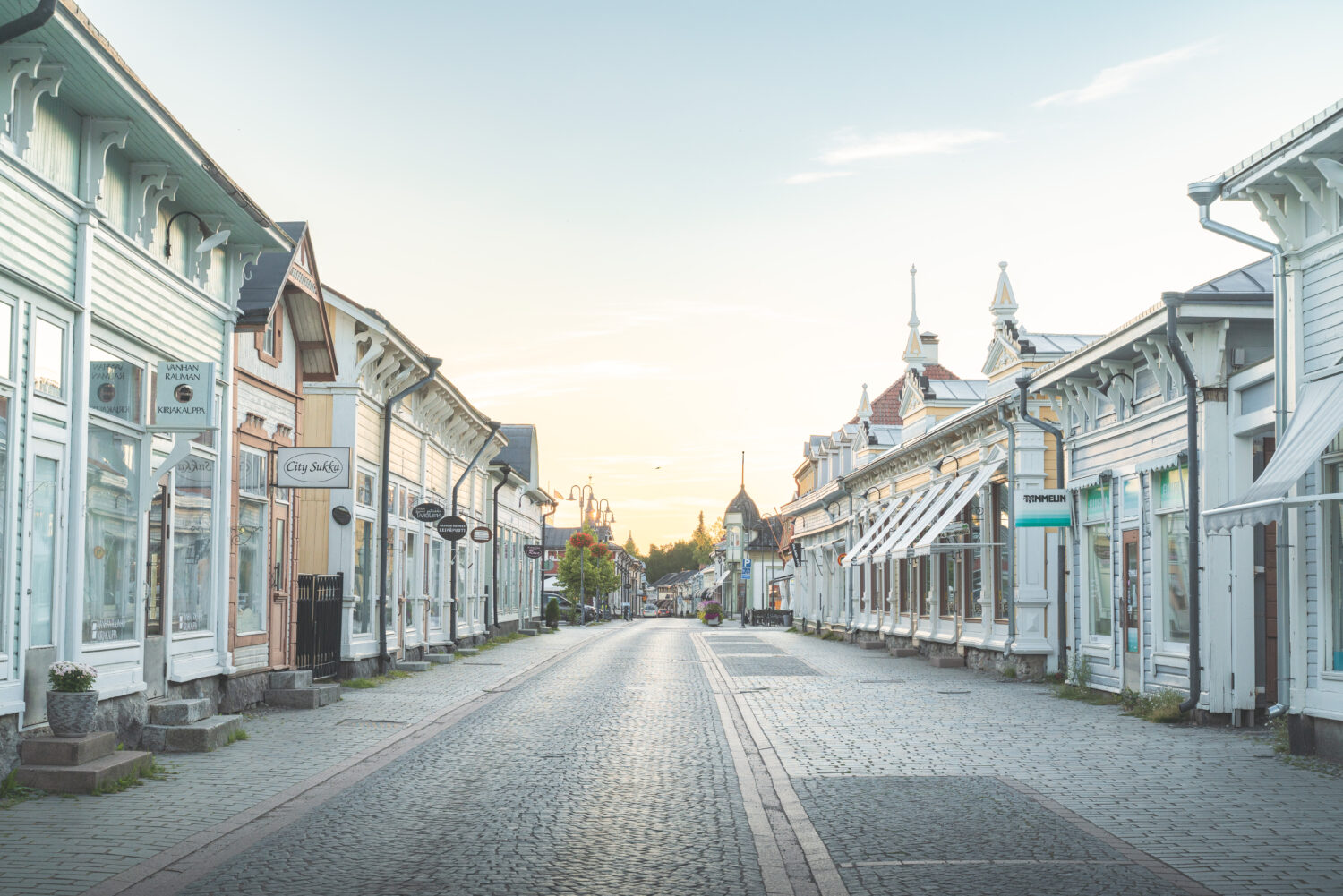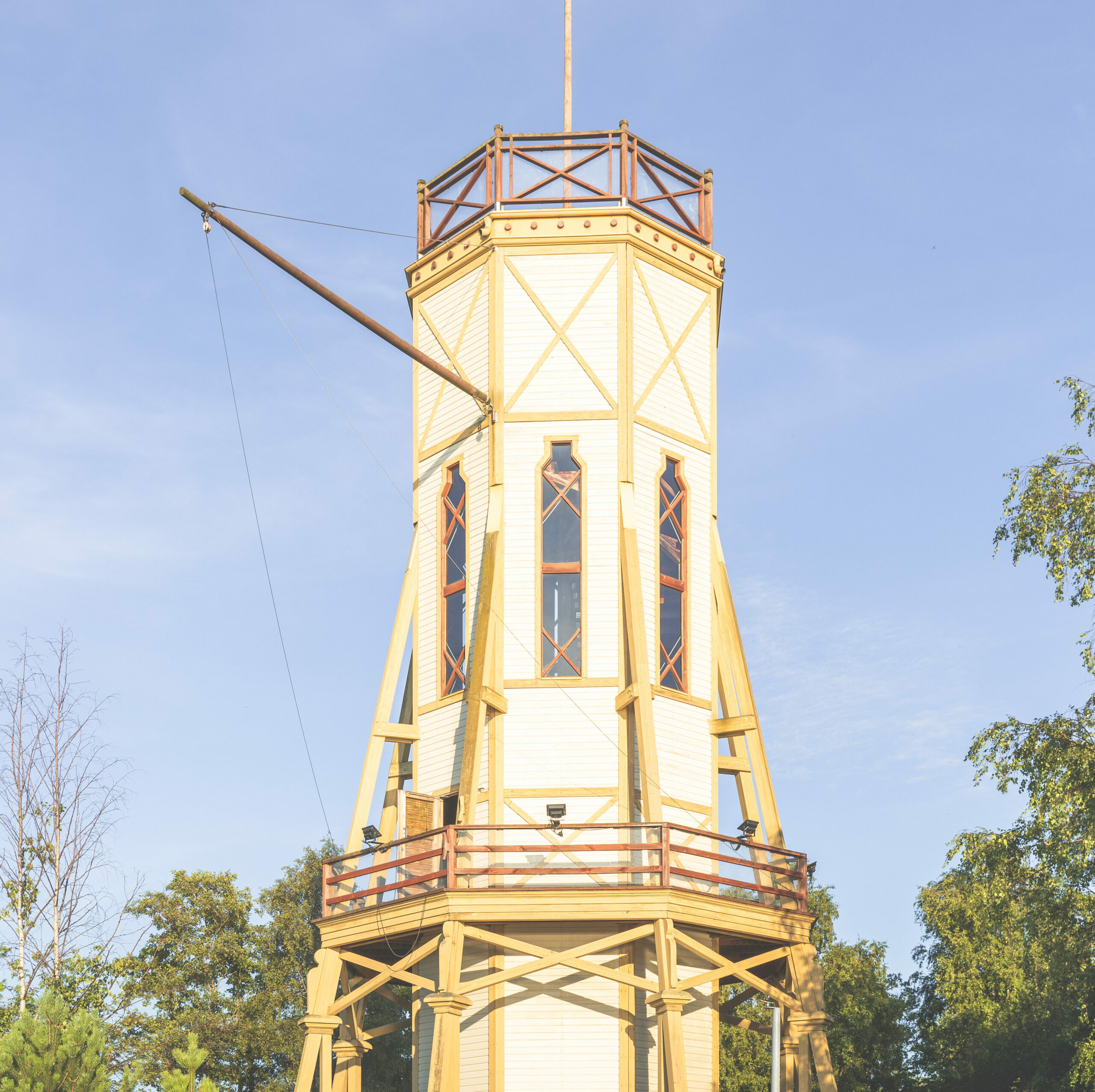 TURKÜ
SWIFT DIVE INTO THE CITY
In our way to Helsinki we decided to stop for two days in Turkü, an average size city located two hours away from the capital. The city itself is very vibrant along the Aura river. Not so much beyond. Many cafes, restaurants museums and parks are revolving around the riverbanks. But the thing that really dragged us there was Alvar Aalto's Sanatorium. Another great piece of architecture, located in the very middle of the Finnish forest. The building isn't used as a Sanatorium anymore. But there is a museum with several exhibitions inside. One of which explains the Sanatorium usage, and why it was designed this way. Incredibly interesting for architects and designers alike.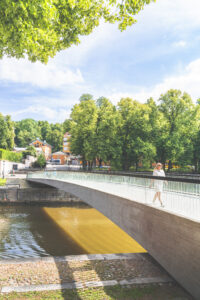 COTTAGE ON AN ISLAND
In our infinite wisdom, we booked an airbnb on Ruissalo Island, 20 minutes away from the city center. -well it was the cheapest place for some uncanny reason-. The location was incredible and the place… breathtaking. The house was a wooden family cottage with a small tower on the side. Inside, it was like a grandma's home. Filled with outdated objects and furnitures. Everything was like it wasn't touched for half a century. In fact, the whole island is filled with those wooden cottages, once built by the Finnish bourgeoisie as their summer houses.
One evening, while we were having lunch on the terrasse, a deer stepped out of the forest. The majestic creature stared at us for at least 5 minutes. He was pausing and looking around. Uncertain if he could move on the exposed fields of the cottage's garden. It was such an incredible show. In fact, Ruissalo has a story behind its very high deer population. Back then, when Finland was a monarchy, the king used to hunt on the island. So the deer population was kept high for a very long time by his vassals. Just so he wouldn't leave the island empty handed. Nowadays it's extremely easy to find them, a quiet walk in a forest was enough for us to see four of them. Even though they are still hunted to this day, they are very used to human presence.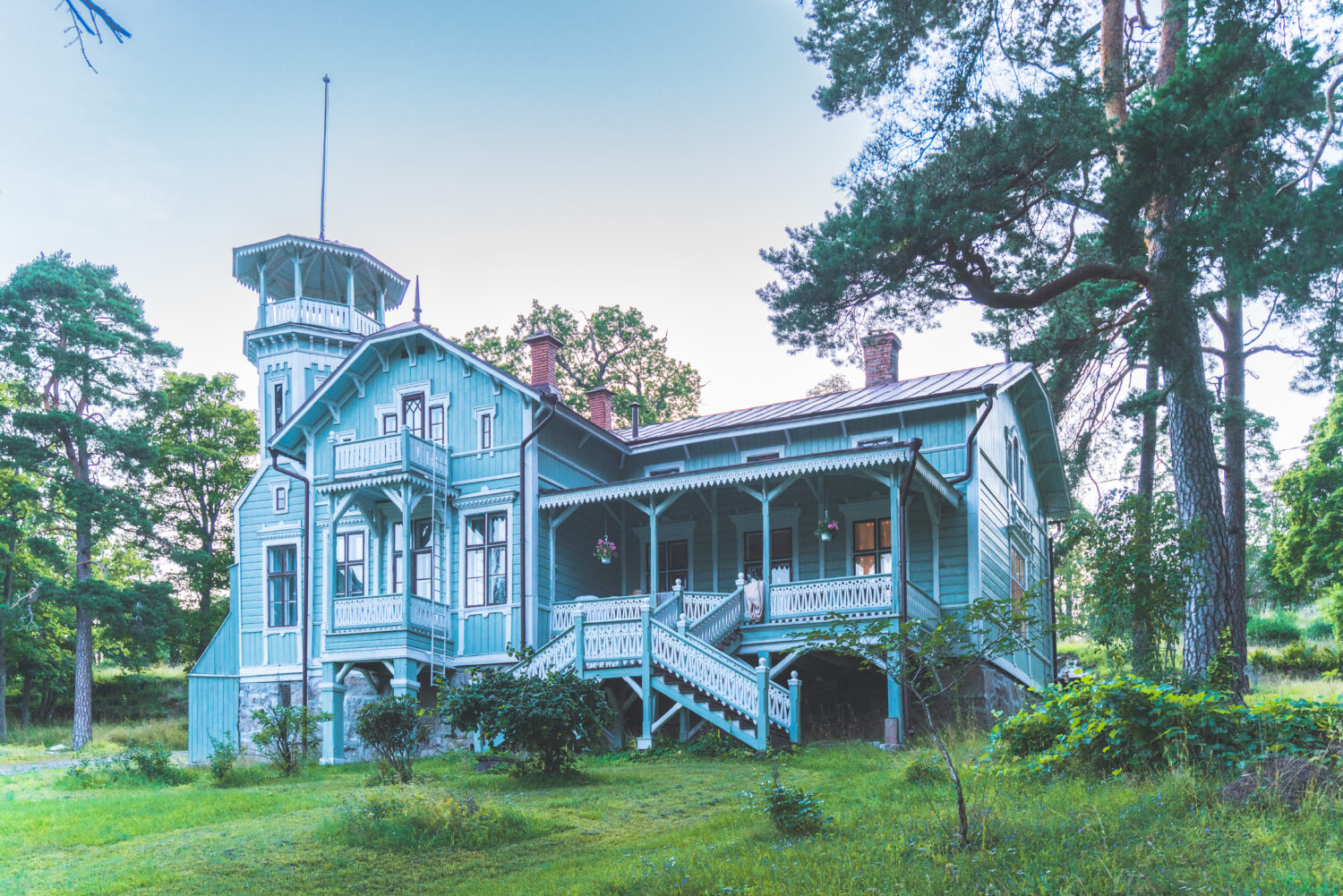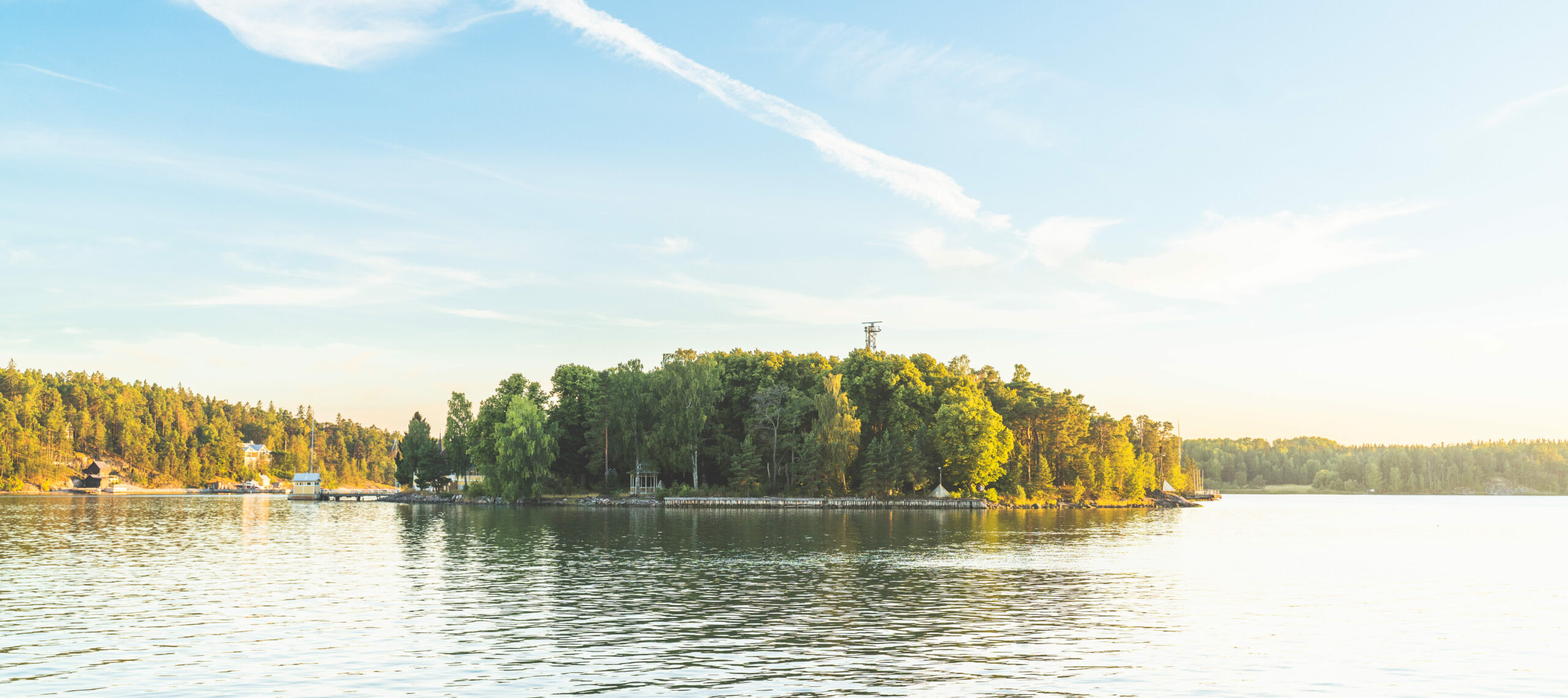 HELSINKI
LAST STOP
The 16th of July, we left Turku by bus for Helsinki, our final destination. The capital is approximately a two hours ride from Turkü. (…) In Helsinki, there are many things to see, not only in the city, but around too. Like Porvoo, a small fisherman village, with wooden houses and a massive Scandinavian church. Or the islands of Sveaborg, which used to be a military fort for the navy, but was never used as a defensive structure. Or again : the parks, the promenades, the markets and all those great venues by the water. In total five days were barely enough.
To visit efficiently we pinpointed some important locations on the map. On the first day we started strolling around, trying to cover a first wave of architecture buildings and city sights. This first trail led us to the magnificent Temppeliaukion Church, at the end of the afternoon. To get in, you'll have to pay 8€ but it's worth every cents. For believers, atheists, architects and moldus altogether.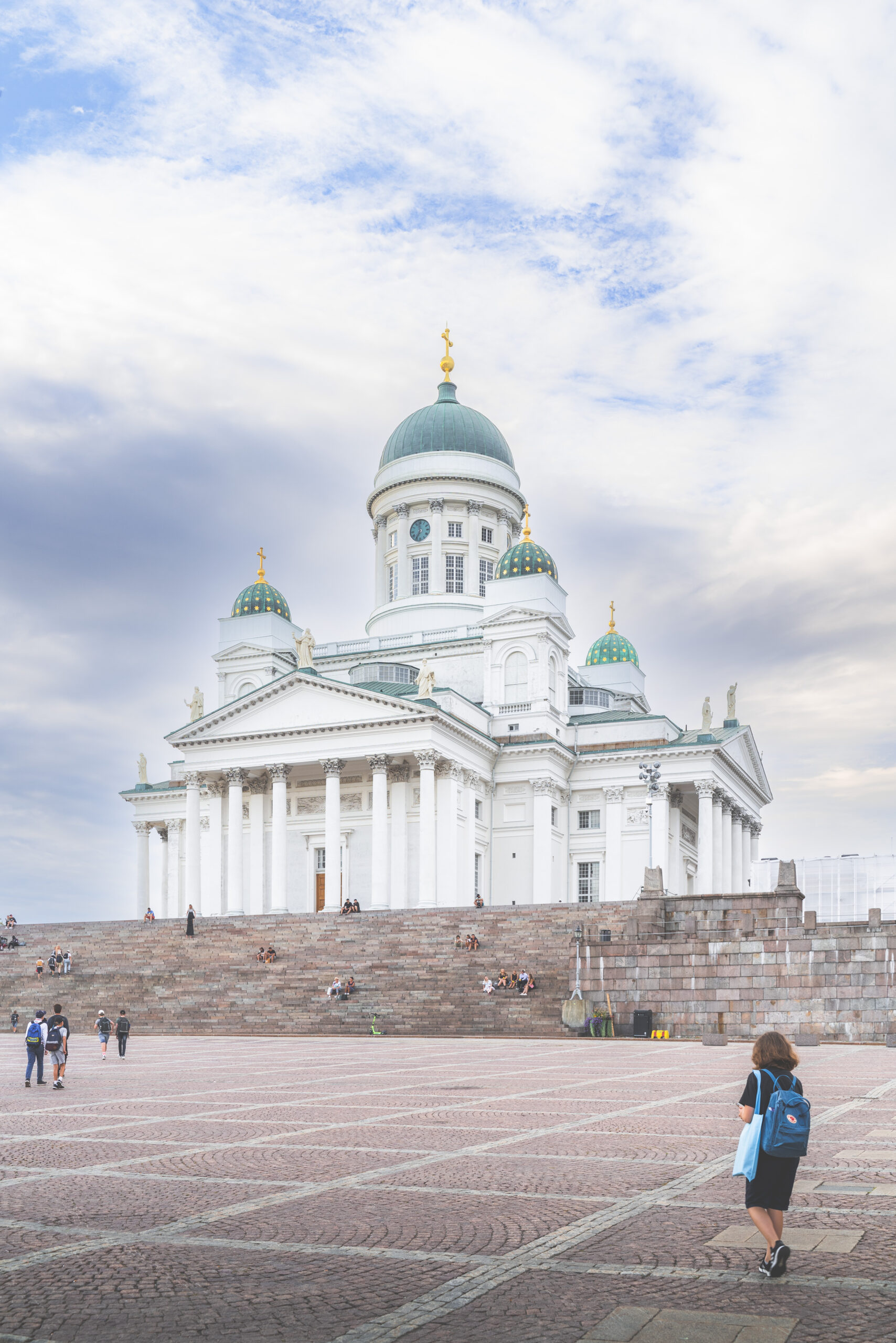 THE OLD CAPITAL
Helsinki is rich In many different ways. It's not only the diversity in the city's pattern, or the quality of its architecture, greatly influenced by Alvar Aalto. It's in the streets, in the people and their movements. Many neighborhood are great to discover. You can explore almost blindly as each district is very unique. Take the design district for instance, you'll find many boutiques with antique design, self made objects or concept store. Or walk by the coastal promenade to find a good amount of small cafes with wide terrasses. There is no place in the capital we've regretted setting foot on.
Helsinki's architectural qualities resides in the sobriety of its volume coupled with small exceptional entities. Most often than not you'll see a bow window here, a wide balcony there or even a small tower. Those features though, are not only offering an interesting facade composition. They also generate real qualities inside the living space of the apartments. Who wouldn't dream of living in a fairytale's princess tower ?
If you stay a week, there is a very good option for moving around, as the public transports are kind of *sighs* expensive… (3,80€ for a regular ticket) My advice /subscribe for the HSL yellow bikes, they are really easy to use, the registration takes 5 minutes and for 10€, you'll have a whole week of pedaling. Which is an incredible deal, especially in summer and particularly in a city well arranged for bikes such as Helsinki. Just keep in mind that the city is NOT flat at all, so some hardcore pedaling will be asked of you.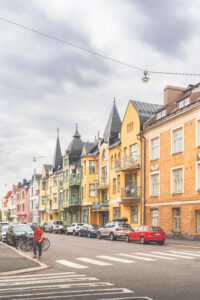 SVEABORG ISLAND
There are many beautiful islands around Helsinki, but the most accessible (take the ferry n°19 from Kauppatori Salutorget) and interesting is probably Sveaborg island. Another UNESCO world heritage site. The archipelago is hosting multiple ancien military infrastructures dating back from the 17th century. It has casernes, powder storages, old warehouses, original canons and even an incredibly open air shipyard. The archipelago is a beautiful spot to walk around freely and learn a bit about Finnish's military history. Even though those infrastructure were never really in use, because when the Russians invaded Finland, there was no counter-attack on the Finnish side.
Although mainly occupied by those old military infrastructures, the island is still inhabited to this day. So you will find many cafes and restaurants in those old sinusoidal streets. But be sure to go there before 18h though, because everything is closing in the early evening.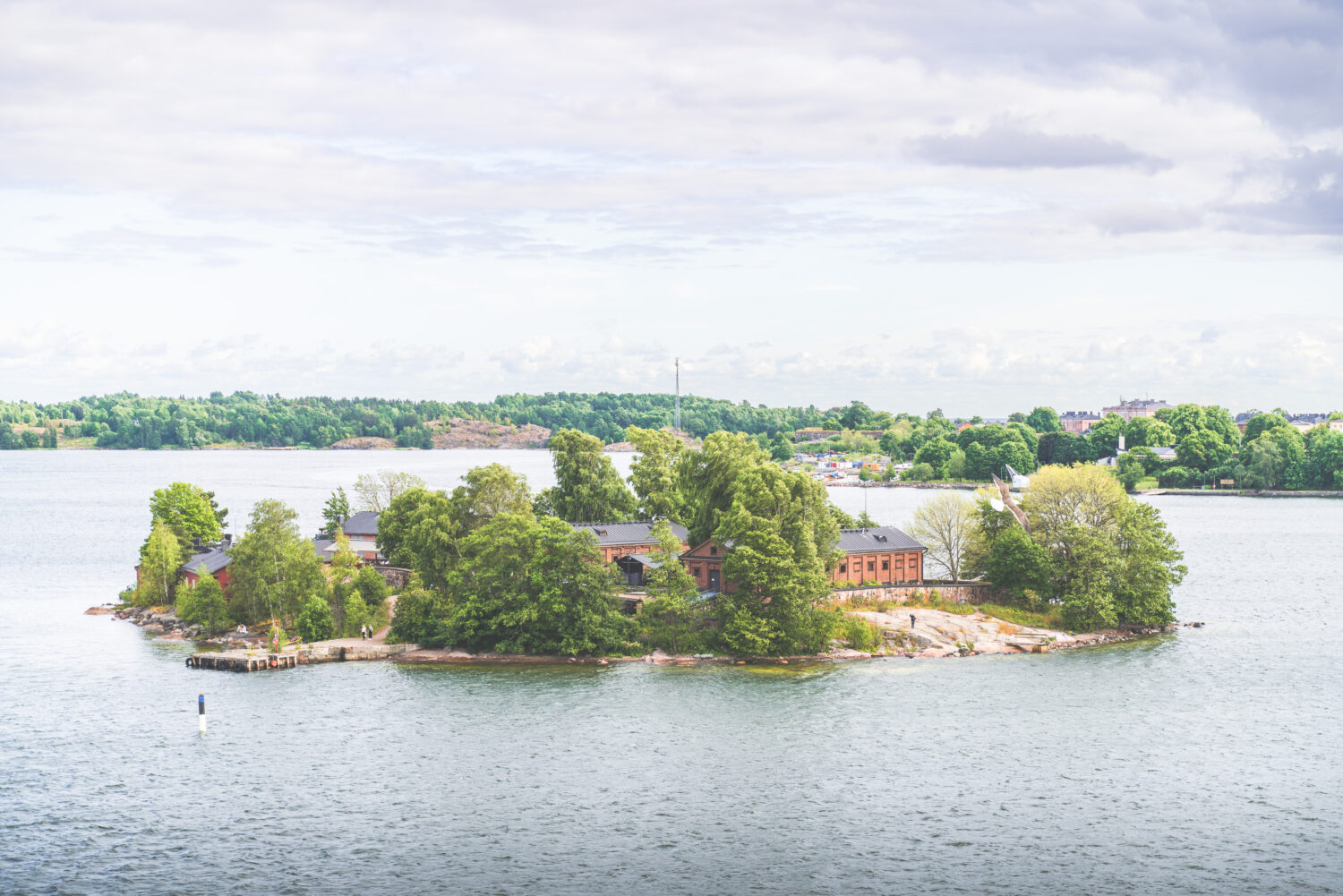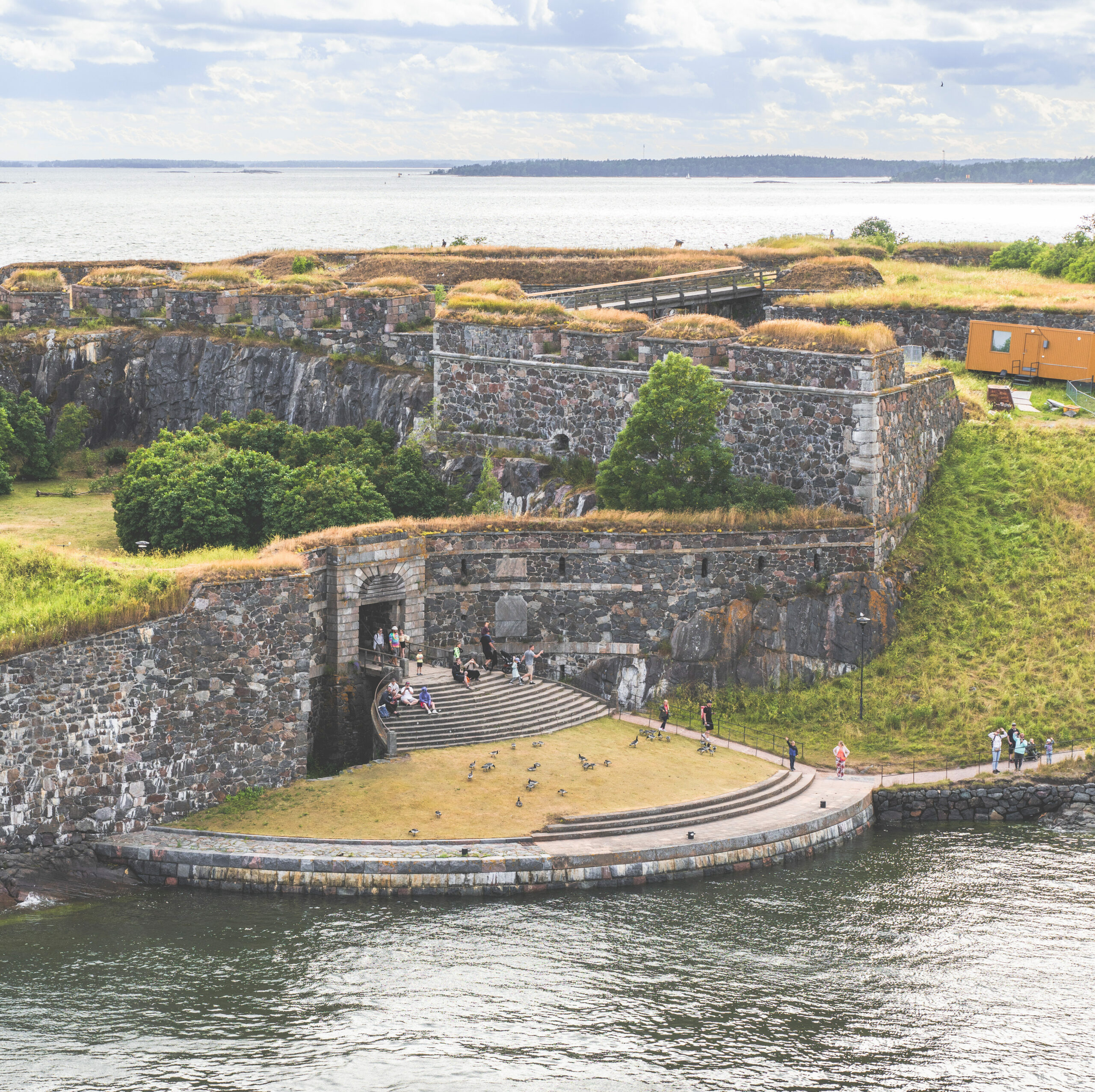 PORVOO
Old wooden village II
If you've liked Rauma, you'll love Porvoo. The small fisherman's village is only 40 minutes away from the capital and is very easy to reach by bus. The red wooden houses on the riverside are the village's trademark. But it isn't all there is to see. Like Rauma, the village still has a fair amount of those pretty wooden houses. A simple walk around will make you feel like going back in time.
You can easily spent a whole afternoon there and enjoy the sweetness of a summer evening. There are many good cafes around, we went to Tee- ja Kahvihuone Helmi because it has an inner courtyard and they sell the local pastry "Runeberg's cake". Named after the famous poet Johan Ludvig Runeberg, when in fact, it was… his wife who baked perfectly the eponym pastry. If you are eating outside though, keep an eye out for the birds, they do furtively steal the tourists' food.
Now, for those who read, -or just scroll- to the very end, you might be wondering about the hanging boat right ? If you ever step in a Finnish church, chances are, you'll stumble upon one just like this. It's called a "Votive ship" (From the Latin Votum : gift). Those miniature ships were offered for two reasons. Originally they were donated in the memories of people lost to the sea. But over time, it was also given if a sailor survived a tumultuous travel at sea.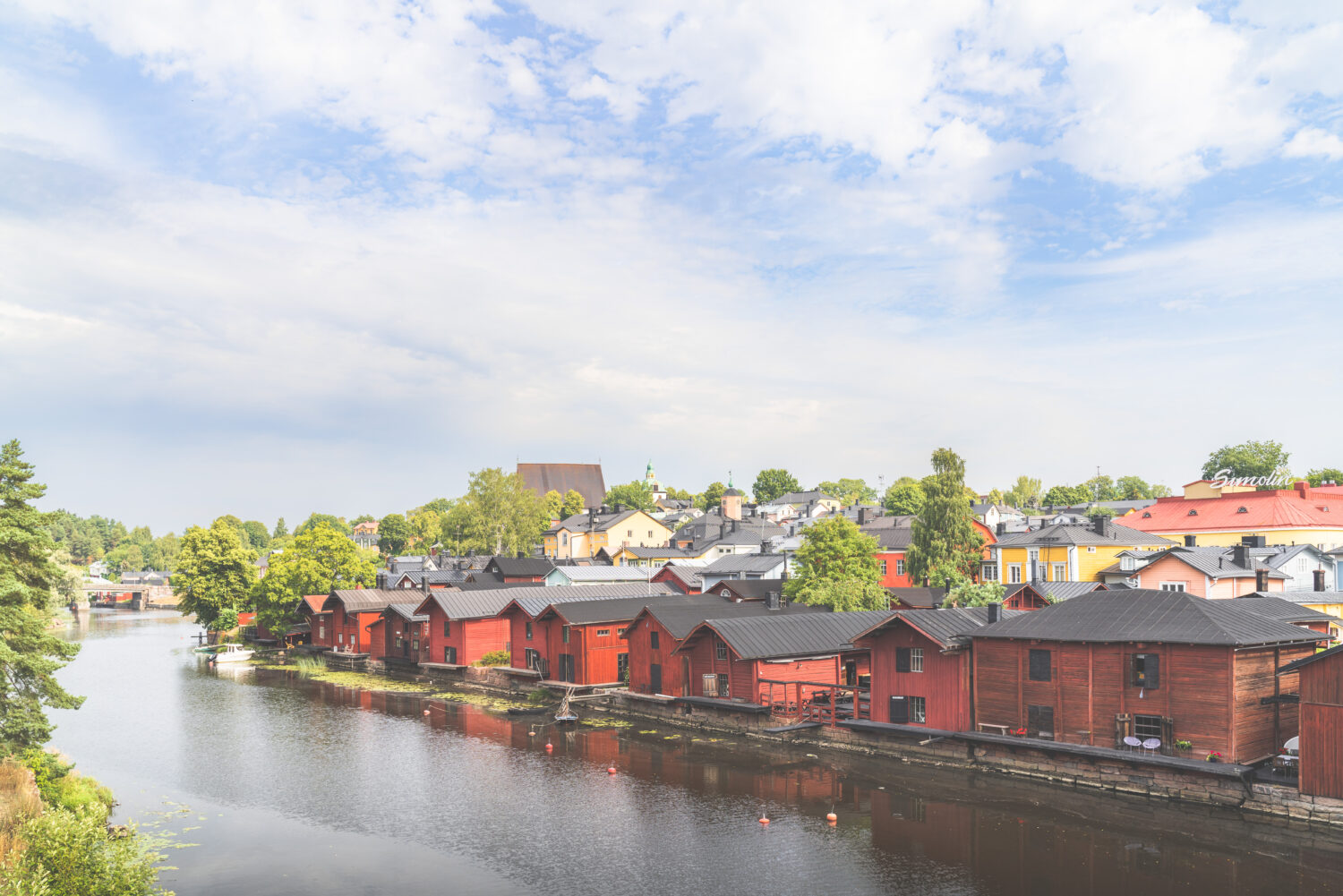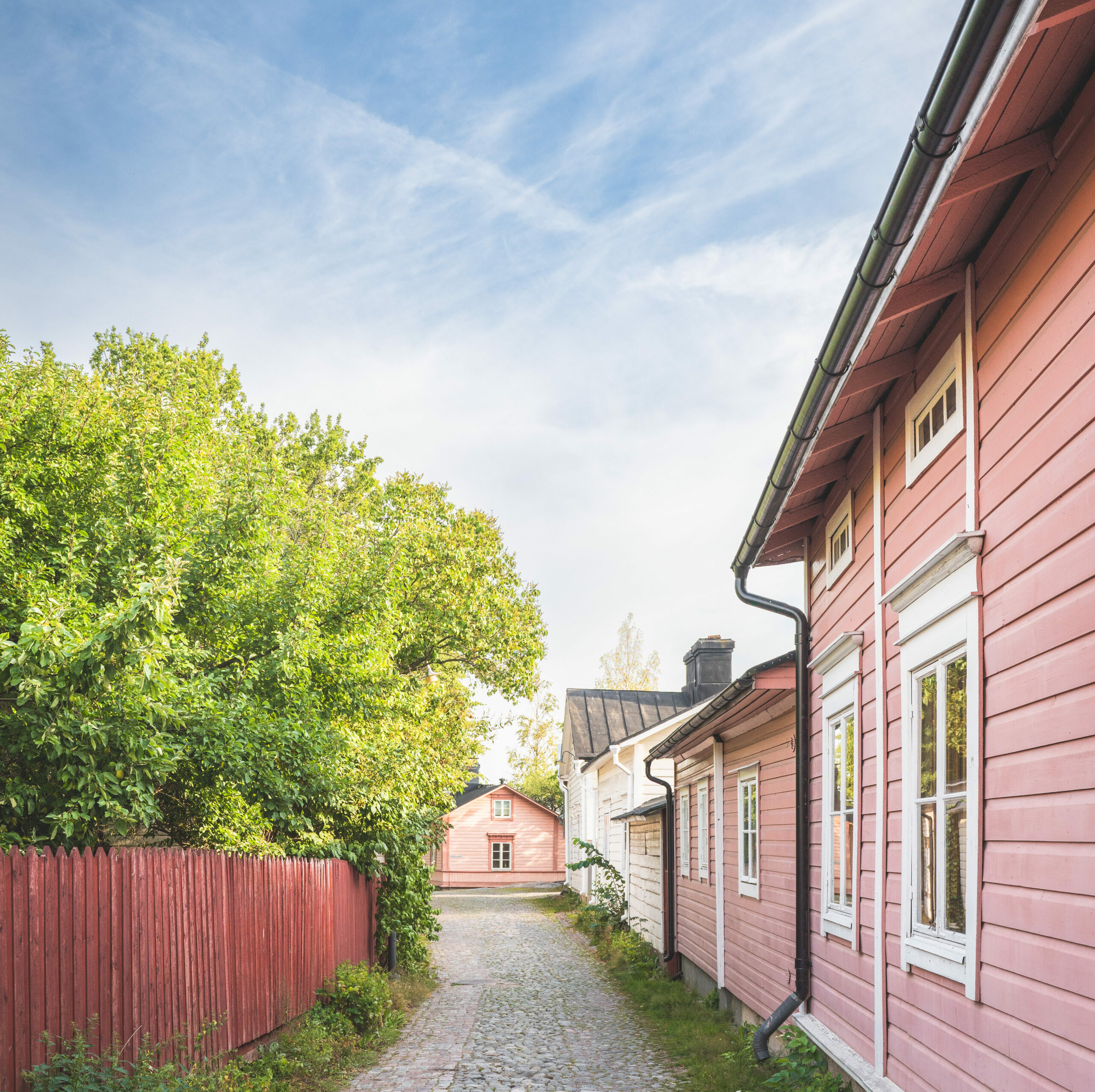 BIG Thanks !
I really enjoy sharing this experience. And since many of you are giving me such lovely feedbacks on my work, I wanted to say : BIG thanks. It really helps me going forward !
This article was pretty long but now, we can move on to a totally different place. See you next week, 9259km away from Helsinki !
---