"When the last tree has been cut down, the last fish caught, the last river poisoned, only then will we realise that one cannot eat money" —Native american Cree proverb
MALAYSIA
EXCERPT OF A JOURNEY
On this week's article, we'll be crossing Malaysia in 12 days. From Malacca, to Kuala Lumpur, to Cameron highlands to our last destination : Penang. A short and intense journey into the ever growing peninsula. Where youngsters invest their money into pumped up cars and shiny motorbikes. And where older generations are struggling to make traditions survive.
Crossing the border from Singapore to Malaysia might be a little tough. The border agent will ask you many questions about your stay. They might even ask you your flight ticket back home, which hotel you booked, in which city etc.. but fear not, it's not mandatory to have all the answers. I only had my first hostel and a rough plan in mind, but it was enough. They can easily recognize a tourist when they see one. Always remember you're not the first and far from being the last traveling blindly.
MALACCA
UPON ARRIVAL
After a five hours bus ride from Singapore, arriving by a pouring night, in a country you don't know at all, is kind of tough. To add a layer of complexity the bus driver left us at the exact opposite of the planned dropping point (they tend to do that a lot). So upon arrival, you have to take a taxi. But do not worry friend, if taxis you cannot seek, taxis will seek for you. At least ten drivers were waiting for us at the bus station. Maybe it was just a coincidence.
THE FATE OF A HUMBLE FISHING VILLAGE
Located In the strait of Malacca, the eponym city has always been a place of yearning for many European countries. Indeed, from its very origins, Malacca was established as an international port. A strategic trading position in the strait, which allowed merchants around the world to stop by.
But the fate of Malacca shifted in the beginning of the 15th century, when an envoy from China found its way to the village. From this moment on, the state had had prominent trades and excellent relations with the Chinese. So good in fact, that the city became a protectorate for more than a hundred years. Until the 16th century, when another critical event occurred : the beginning of the European colonial era. The Portuguese conquistadors took the city from the local sultan. The crown understood how important it was to settle here. But they weren't the only one coveting for this specific city. The Dutch and the British also were.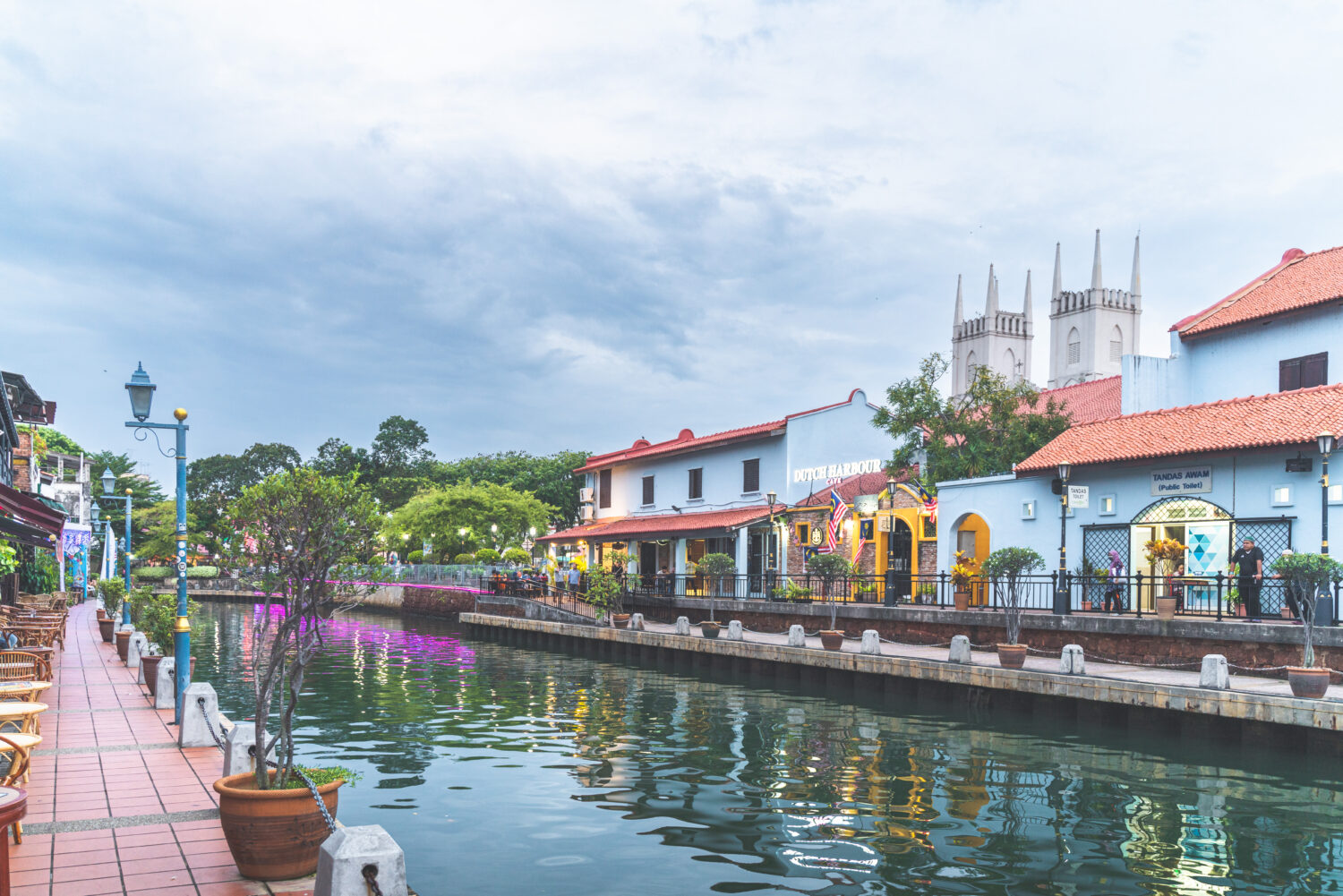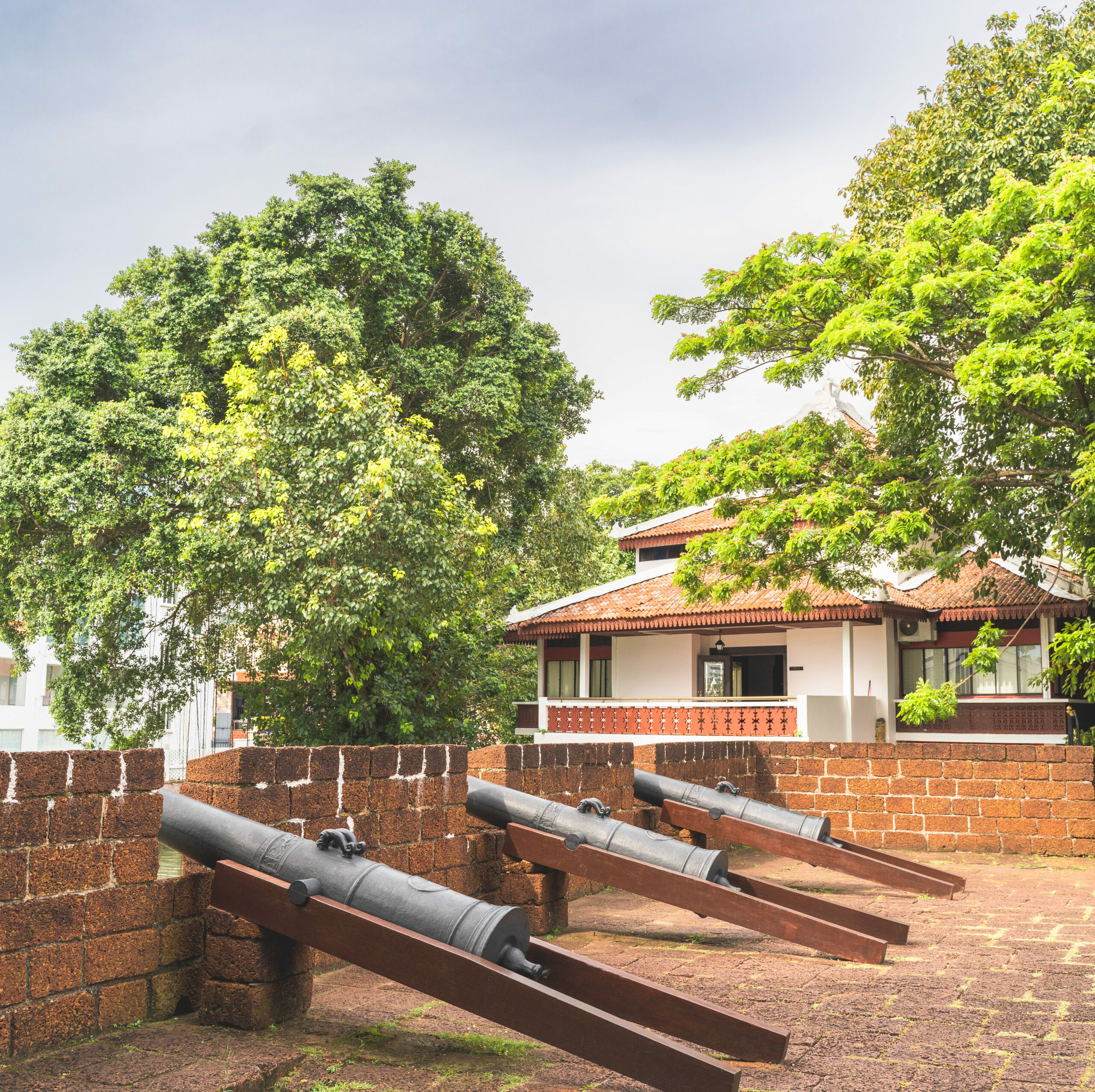 UNESCO ENLISTED
Ahh Malacca… your picturesque riversides and your energetic night market. With Georgetown in Penang, the city is the first of two Malaysian town enlisted in the UNESCO patrimonial list. For two reasons : the night market, which is incredibly alive and beautiful, and the Chinese district. Both of them excellent motives to stop in the city. But they are not the sole excuses, the whole areas around the central canal is also beautiful, especially by nightfall, when the streets light are turned on.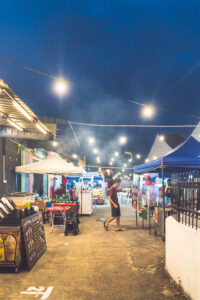 HUMBLE BUT WELCOMING
In Malacca, I had the chance to see how the local population was accessible. My first encounter was with a waiter, who was very curious. He was very passionate about my drawings, I was very impressed how spicy he could eat.
But the encounter I will always remember was with this salesman on the riverside, who wasn't interested at all about selling me anything. Actually, to this day, I still don't know what he was selling. But as soon as he knew I was an architect, he hopped with excitement into his store. Only to come back 2 minutes later with plans for his futur house. He was extremely thrilled to show them to me. The man was a retired mechanical engineer and was good with drawing. Also his plan was very smart and surprisingly well designed. He had rain water caption and stockage pits. A smart ventilation system. An inside court that could also be transformed into a badminton square, (very important according to him). And many other features that were taking the harsh weather into account.
KUALA LUMPUR
THE OVERGROWING CITY
The first sights of Kuala Lumpur suburbs are unforgettable. Arriving from Malacca to the main bus station, a high density of bridges and roads are intertwined on top of each other. They are levitating all around you. It looks like a futuristic over-urbanized city, with tens of accumulated layers. The kind you'll only see in movies and video games.
After a 25 minutes aerial subway ride, I finally arrived to the Mingle Highstreet hostel. Which, to be perfectly blunt, looked like a makeshift place. As if every object inside was living a second, or even a third life. Humble, but composed with an extraordinary taste. The dormitories were only with 4 beds, they had a pool surrounded by a cafe -you had to swim in the middle of people eating and watching you though-. And the cherry on the top : a free breakfast, which was frugal, but free. In this hostel full of surprises, I met Kim, a friendly Korean lad. His strong features : he was always on the lookout for off the beat places and spoke Chinese. We got along really well and naturally started to explore the city and its surrounding together.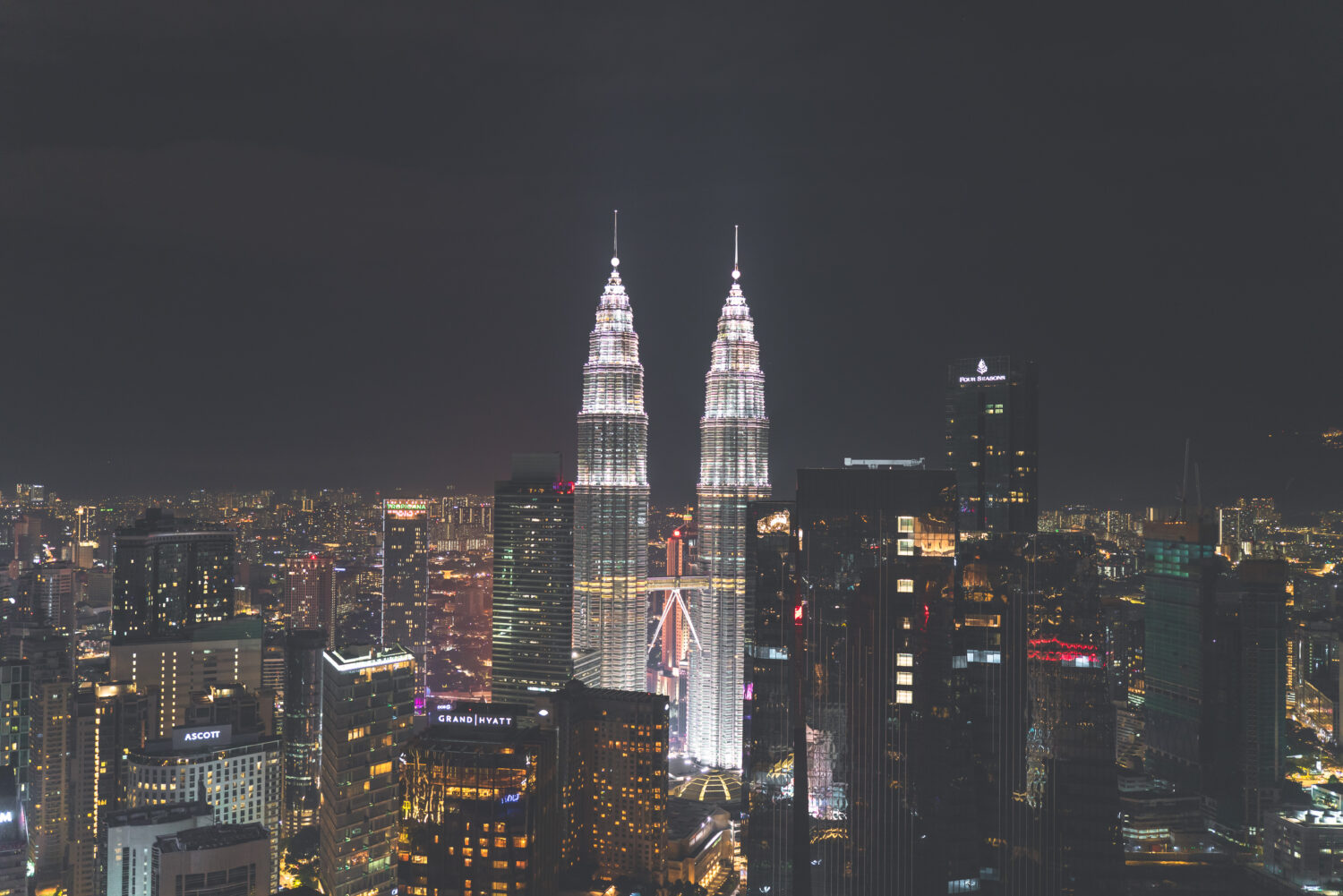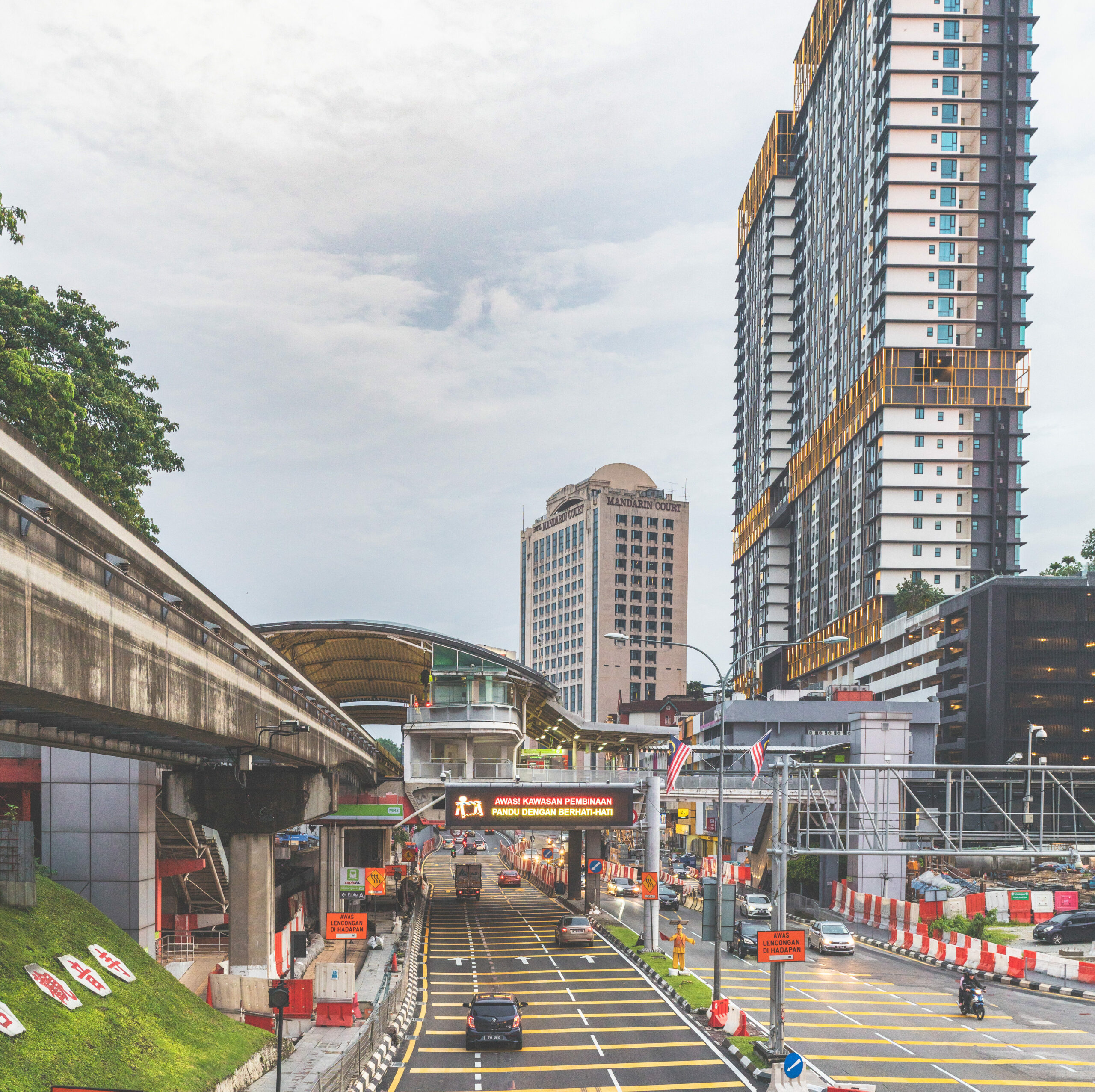 EXPLORING AROUND
To kicks things off, we started with the famous Batu caves. An ancient Hindu temple located inside a complexe of limestones grottoes. Very crowded yet an impressive place to see. However, to get there, you'll need to walk up 272 steps on very steep stairs. But fear not, you won't be alone, monkeys will accompany you throughout this trying ascent. And, for your eyes and yours only, they will feast upon distracted tourists' chips and sodas. Pretty cool huh?
After this first adventure, we headed to the National art gallery. An impressive museum with many exhibitions spread on three levels. It is free to enter, but you have to register through a QR code and file a sheet with tons of useless informations. Weird, but hey, it is free after all. (Except if they sell you data of course).
Another great museum to understand the Malays' culture is the National Museum. There, an incredible collection of artefacts is used as a witness to the millenium old peninsula's history. From the prehistoric era to the modern days. A very good way to understand how the country evolved. In the same area you can also reach the botanical garden by crossing a bridge over the highway. If you keep going north, you'll find the impressive national monument, which also offers a great view towards the city. A set of activities that can easily fulfill a whole afternoon.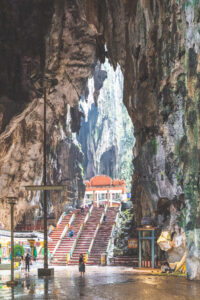 VIEWPOINT AND HIDDEN GEMS
Kim found an old Chinese lady, selling homemade pastries in the very end of a backstreet. (Don't ask me how, but he just find things) her hawker stall is literally called Swiss Roll And Kaya Kok. Because… that's what she sells : Swiss rolls and Kaya kok. If you ever go to KL you should definitely try to find her. On a side note : she only speaks Chinese, but this side quest is very rewarding.
On our last night with Kim, we decided to go to a skybar in order to have a great point of view towards the city. He found this incredible place called Vertigo, located on the 58th story, with a breathtaking view on the Petronas towers (first picture of KL). And the cocktails up there were really accessible, starting at 5€ for a mojito. A fine way to end a well rounded trip into the agitated Malay capital.
CAMERON HIGHLANDS
For touristic purposes
Cameron Highlands remains a very touristic destination. Why ? Because they were designed as such. Cameron Highlands are far from the small traditional village, located in a distant mountain surrounded by thick layers of undomesticated jungle. They were build in the 1930 as a touristic resort. One of the first attraction around the hills was a golf course and a couple of hostels. However, it doesn't make the place less appealing. And if you're looking for some fresh air, far away from the city, you should definitely give it a go.
The highlands, rising above 1500 meters, are covered with majestic tea plantations. The guest houses are build on the highest grounds, as soon as you arrive, the view will blow your mind. Getting inside the premises will cost you 3RM (80cts) and you can walk around as much time as you'd like. As long as you do not disturb the local gatherers or pick up tea leaves. Local rangers will shoot you on sight if you do. I am kidding. But don't be that guy.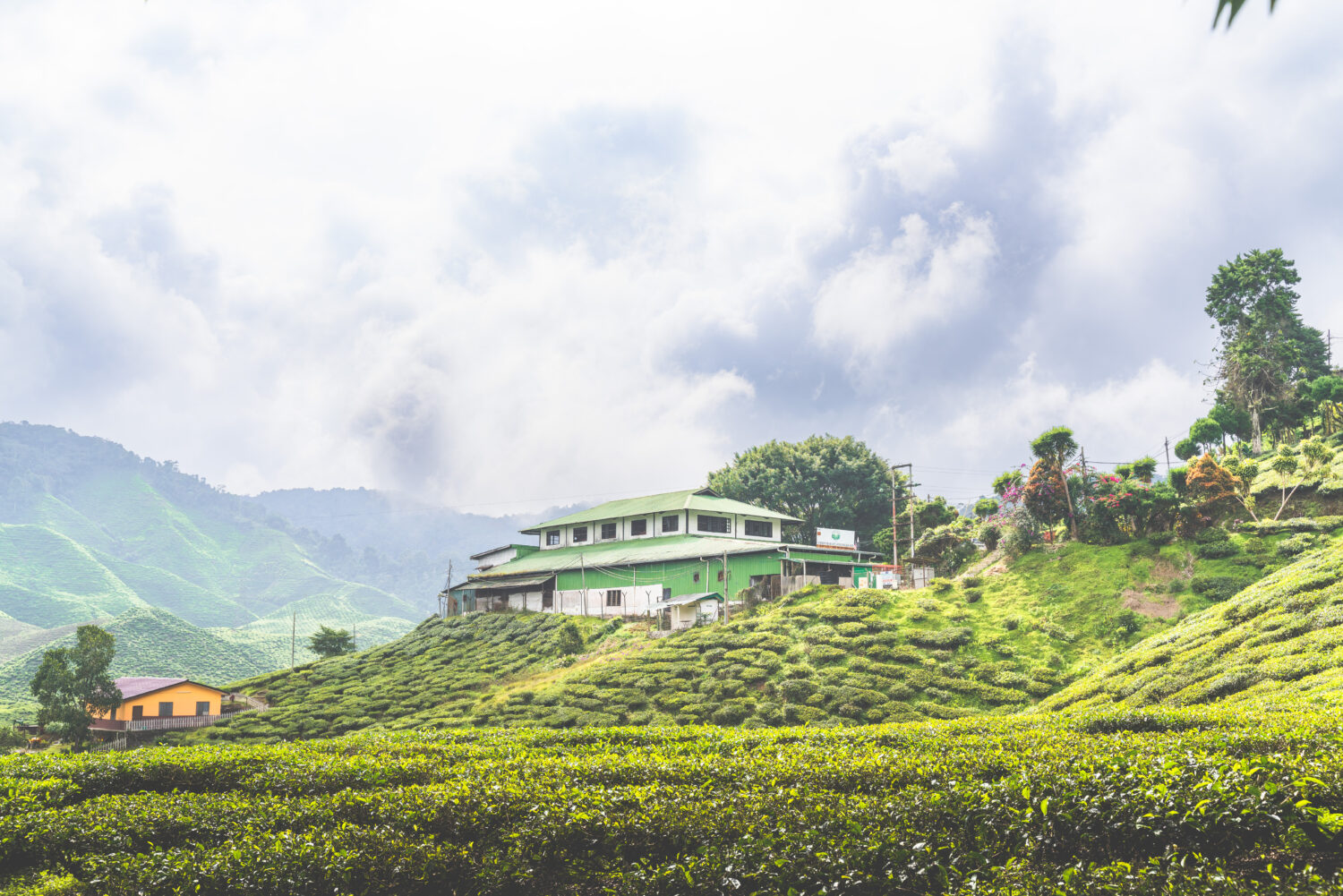 PENANG – (GEORGETOWN)
Long story short, Kim had to go back to Seoul, for his introduction day to university. But he was vehemently hesitating between going back, and spending some days in Penang. Until reason got the best of him. Accordingly, he stayed three more nights to explore the island. How could one resist its beautiful Chinese districts and everlasting floating houses ? Also, what are introduction days for anyway. Wandering around school aimlessly, and pretending to be interested in what your head teacher has to say ? Following that, we met again for two more days. A new adventure began, into one of the most Chinese of the Malaysia's city.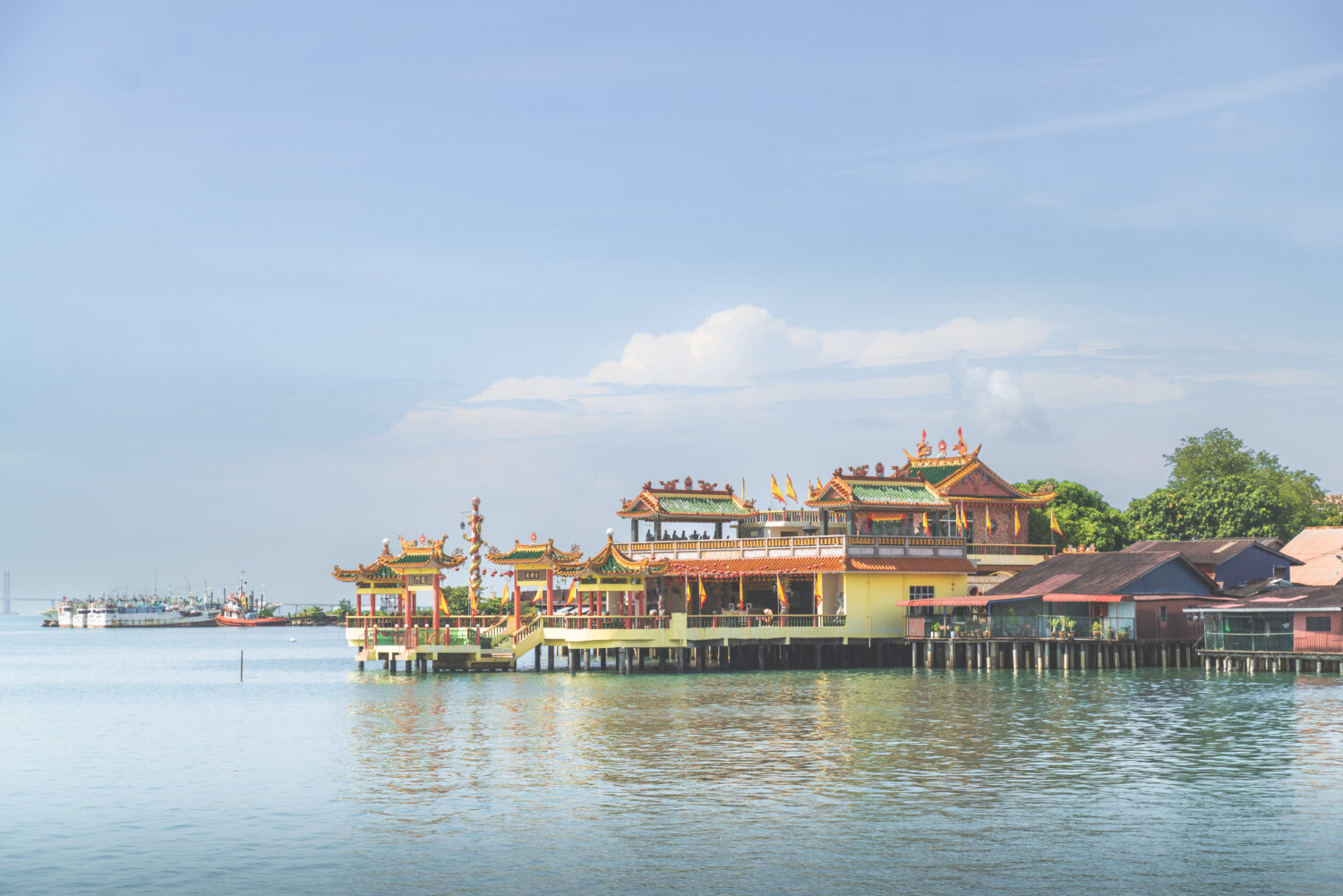 Hean Boo Thean Kuan Yin floating Temple
A CHINESE HERITAGE
Georgetown is the second district enlisted in the UNESCO world heritage site. It really has Chinatown vibes similar to the ones we can find in Malacca. With one tiny but very specific difference : in Georgetown, you'll find many piers around which houses and shops are build. Those pier are easily accessible and a delight to stroll on. There are no cars nor motorbikes so it's a full pedestrian area, and feels like a very old Chinese village floating on the water. One interesting fact : historically, the Chinese expatriates used to built on water because it wasn't subject to the city's taxes, as opposed to the land owners.
If you're looking for a great Buddhist temple, the Kek Lok Si Temple will do. Also with traditional Chinese architecture style. It's a gigantic complex with scattered temples dedicated to several deities. It's really like a small town itself, you can walk around easily and even climb some of the temple's towers and buildings. Like many Buddhist temples, it's completely open. You just have to follow the signs for the "no shoe" areas, and some access are dedicated to the monks only. Oh, and one more thing, you can make a donation by writing a wish, or your name on a tile. They're supposed to put them on the roof, but they erase it after at the end of the day. So, let's say it's only for the gesture.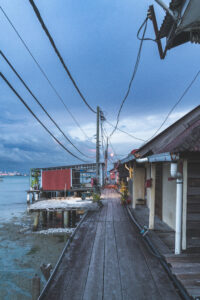 PENANG NATIONAL PARK
Seeking an immersive adventure into the jungle with monkeys, muddy trails and tons of different birds ? Take the local bus n°101 and head for Penang National Park. It's cheap, non touristic -because hard to access-, and there is a beautiful reward if you are brave enough to go to Pantai Keracut : an unspoiled beach with wildlife and the turtle conservation center. It will take a 8km back and forth trek into the jungle though, so be prepared with water and snacks. Although, watch out for sneaky monkeys. As soon as I opened my backpack, one of them suddenly appeared out of nowhere with those shiny demanding eyes.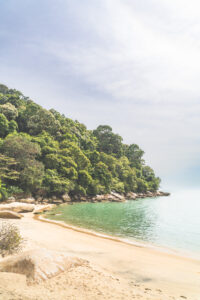 TIPS TO SURVIVE
Although Malaysian people are extremely welcoming and helpful, I sometimes felt most of them didn't realize how lucky they were about the wonderful nature they are surrounded with. Many of them litter without as if it didn't matter. On my very first arrival in Malacca, the bus driver threw his water bottle directly into the forest when we stopped. It really shook me. In an era of overconsumption, we should all participate, as much as we possibly can, in keeping what's left of nature. And for this I blame their government, they should educate people, even if it means crafting ruthless law.
But don't get me wrong, my experience in Malaysia remains overwhelmingly pleasant, I had great encounters and saw many incredible places. Sometimes I just get carried away, when I like something and see it being wasted.
TO KNOW BEFORE YOU GO :
Draw money, unlike Singapore, credit cards are merely a thing.
If you need something : ask around. Malaysians speak english very well and are truly helpful.
It is very hard to walk around with the heat and the lack of spaces for pedestrians. Prefer public transports (sometimes the sidewalks just… stop being sidewalks)
Use public transportation as much as possible. It's extremely cheap and efficient. If you can't Grab, the local uber, to move around.
"There is no system" as Kim used to constantly remind me. So, just look around, ask around, and go with the flow.
If you take buses to move from one city to the next : be at least one hour early at the station. You'll always have to trade your virtual voucher for a real ticket, and it can take time.
---