"I am free, no matter what rules surround me. If I find them tolerable, I tolerate them; if I find them too obnoxious, I break them. I am free because I know that I alone am morally responsible for everything I do."
— Robert A. Heinlein
SINGAPORE
A TUMULTUOUS HISTORY
Singapore promptly became one of the biggest harbor in the world. Thanks to its convenient location, and the fact that the city was conceived as a free port. Meaning that it was open to every ships, of every nation, equally and alike. A good measure that is still at work, up to this day. But to make a flourishing city, you also need a fair amount of people with strong determination. Therefore, since ancien time, generations upon generations of migrants, molded the city by the strength of their arms and the might of their will.
Singapore has a tumultuous yet very interesting history. The peninsula was once Malaysian, but in the beginning of the 19th century, it was sold to Great Britain by the sultan of Johor. It was then British for more than a century : until the Japanese occupation from 1941 to 1945. After the war, a last British delegation was assembled to give the peninsula its own independent status. It was finally reattached to Malaysia in 1958. However very violent and deadly skirmishes were occurring between Malays and Chinese communities. It was so bad that the Malaysian government decided to give up Singapore. From this moment on, the city became an independent city-state. And a very flourishing one at that.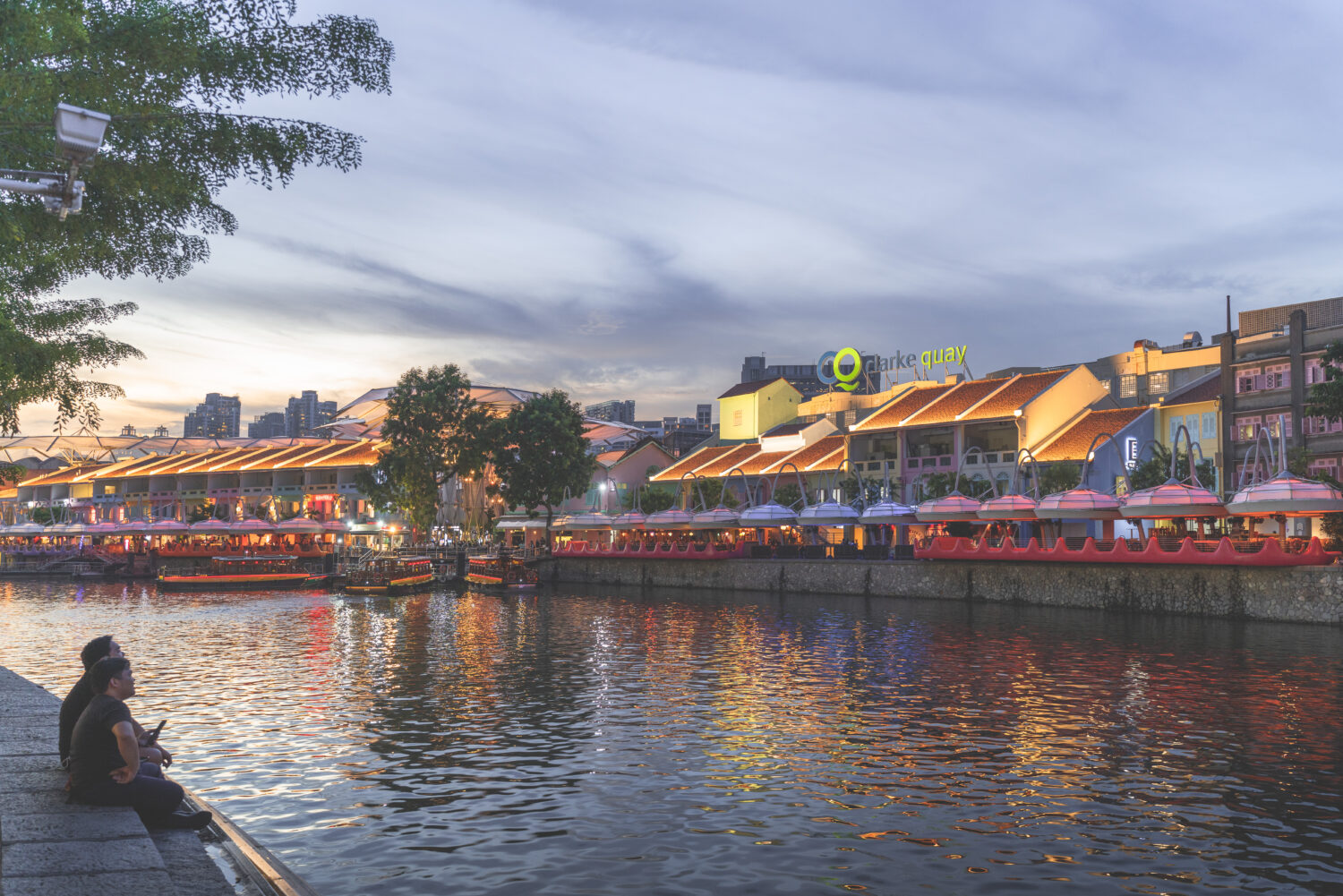 LANDING & MOVING IN SINGAPORE
When landing on Singapore's airport, a camera shows you what's right under the plane. Until the very last minute all you see are the waters of Singapore's strait. Then some houses start to appear and finally the landing strip. The lack of space on the ground reveal itself as you land. According to the NY times, almost a quarter of the peninsula is build on artificial islands. A number that becomes obvious, as soon as you witness how the city is folding on itself.
Crossing the border is nice and easy. If you are an European citizen all you have to do is file a paper three days prior your arrival. Stating that you are vaccinated and had no COVID symptoms. Then pass the border, were they would take a good picture of you for the yearbook, and you're good to go.
It takes a good 30minutes ride to get from the airport to the center (Chinatown), but the subway is mostly outside and gives views over the city's streets. Note that you can't take tickets from the machines. If you have a VISA credit card though, it can be used as a pass+pay method. Put your card on the trader near the gate, and you're good to go. One last thing : tickets have a fixed rate : 2.00S$ wherever you go.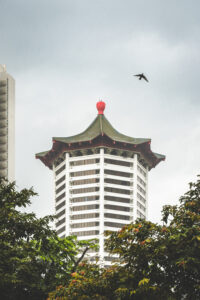 A TROPICAL CITY
Going from the arctic circle to the Equator in almost two weeks time is a bit destabilizing, but Singapore is a good city for a smooth transition between the West and the East. The vibe of the city is very much westernized indeed. The only difference is the climate. Do not count on the weather forecast, it is actually useless. It rains everyday and the time cannot be accurate. But when it does you just have to get into cover and wait. The city is entirely storm-proof. From continuous street roofs to underground passageways.
Indeed, due to its tropical climate. The streets are very often sheltered. Protecting pedestrians from the constant rain drops and the heavy sunbeams. This way of thinking the city is far from new. Traditional Chinese houses are the perfect exemple in that regard. All of them are build with a small arcade at the bottom, creating a continuous covered space in the streets. Although, almost all of them have different ground heights and width, they protect efficiently the merchant as well the customer. A very pragmatical feature that is still working up to this day. Brining the people from the streets directly into the stores, restaurants and bars.
Although this way of designing the street was rapidly confronted to the city's exponential growth. Making huge gaps into the city scales. A two story town house can be literally in front of a 50 stories building. Somehow it isn't that disturbing as a pedestrian.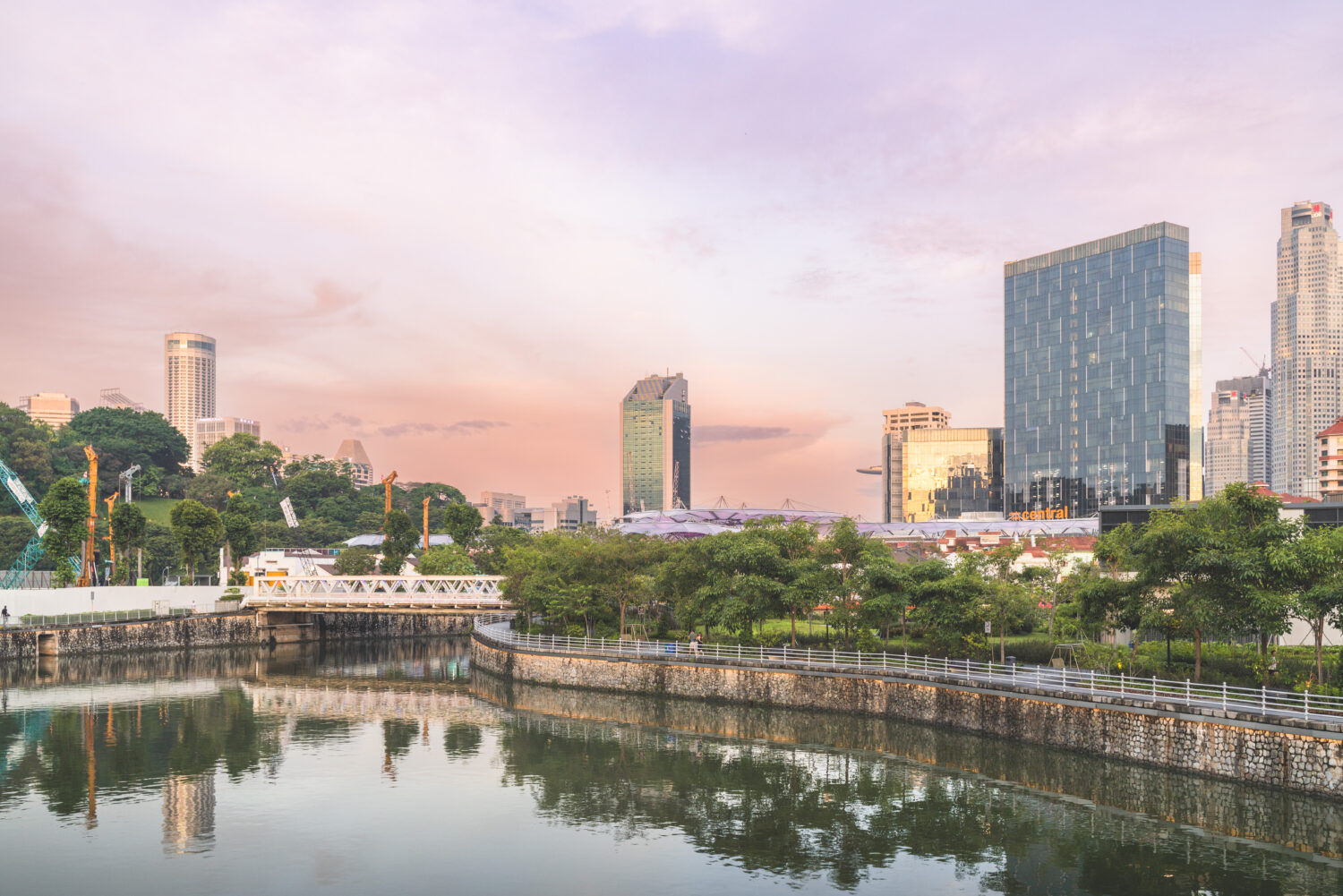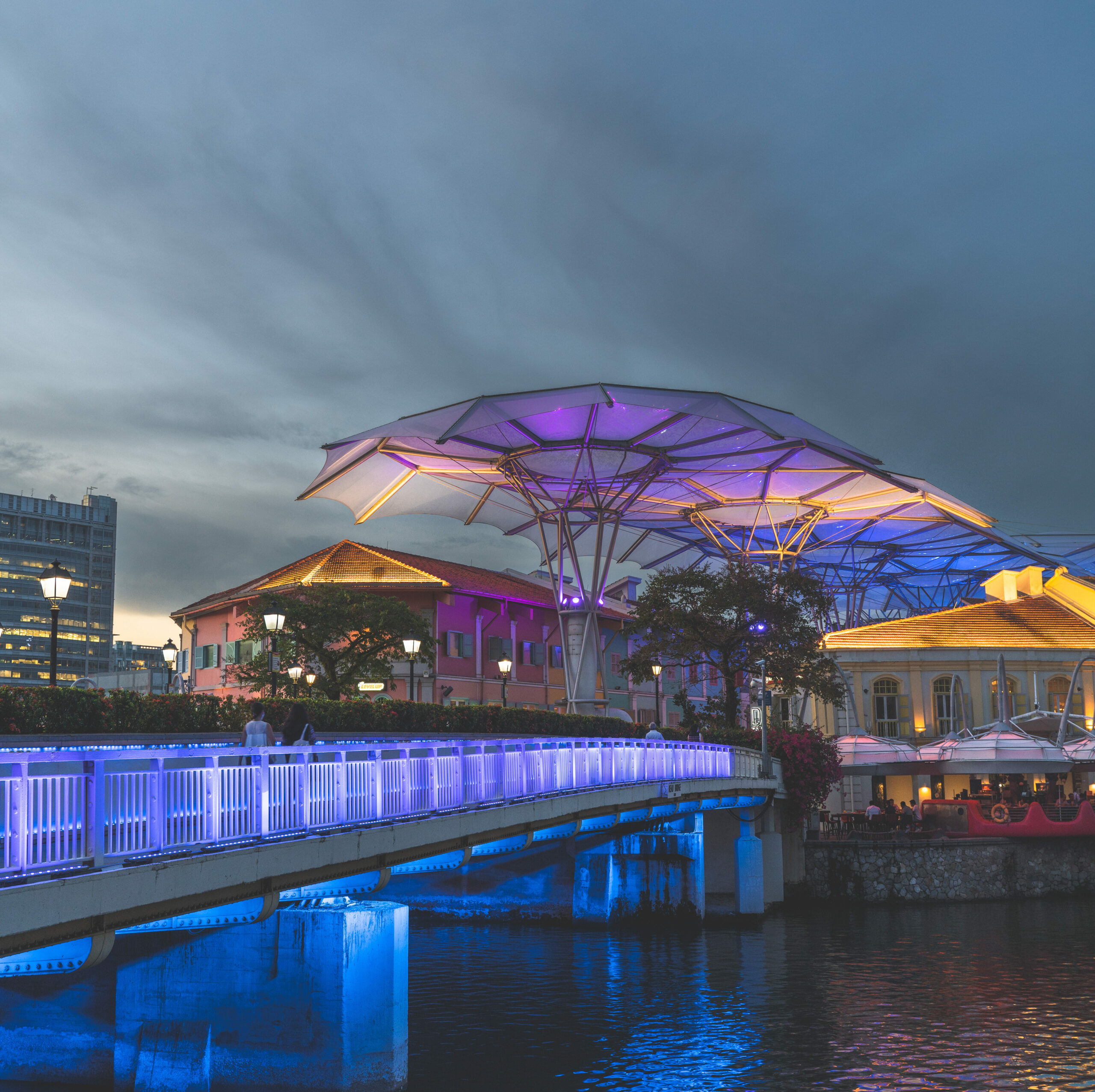 SET OF LAWS AND ADVICE
Singapore is incredibly clean. In an almost disturbing way for a city that size. People here are very respectful and if they are not, the law makes sure they will. The "no litter act" is a great thing as it greatly helps to improve the cleanliness of the city's rivers. Which are also a part of Singapore's reservoir. So, it kind of makes sens.
Know that if you ever go to Singapore, there are basic laws to follow. Some are allowing the city to be clean and attractive, others are just.. against my own principles. And overall, against basic human rights.
It is forbidden to sell or chew chewing gum (Up to 1000$ fine, for chewing-gum traffickers)
It is forbidden to smoke outside dedicated areas (500$ fine)
It is forbidden to litter (500$ fine)
Carrying, selling or using drugs can lead to a death penalty (They'll be sure to tell that on the plane)
It is forbidden to commit suicide (Go figure how that one works)
It is forbidden to urinate in Elevators & Not Flushing the Toilet (I had to contain myself on that one)
"Jaywalking" is forbidden, meaning crossing outside walkways. (Also good luck with that one, crosswalks are rare gems)
And the last and definitely the worst law : it is forbidden to show any signs of homosexuality. It is considered as indecent and unnatural…
FRIENDLY ADVICE :
No free wifi in the city. So be prepared to buy a local card or organize your path with offline maps (you can download offline maps from google, or use the very good maps.me)
the plugs are English standards! So bring an adaptor. Except if you are.. well, British.
Watch out for crossroads! They are few and it's always a pain to cross a street.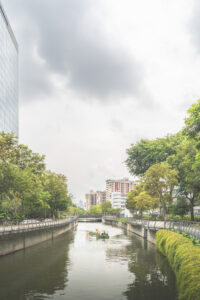 A HUB OF RESPECTED CULTURES
Since Singapore was a central trading platform for the whole world, people from everywhere settled here. The diversity of people walking in the streets is impressive. Even more, there is a strong respect for everyone's cult. You can find Hindu temples, mosques, churches and Buddhist sanctuaries some 200 meters from each others. Believers aside, the cities has shops and restaurants with all prices. So you can find very hyped places like Five oars coffee, where the espresso costs 4S$, next to local coffee such as coffee hive where a whole breakfast with coffee is 5S$. Which is great for all social classes.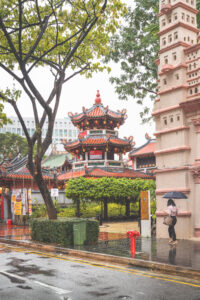 STAYING IN CHINATOWN
In every big cities there's always a wide panel of hostels, many offering the same commodities. So what you should do, is choose upon the location. In Singapore, Chinatown is a great one. It is alive, beautiful, and in the very middle of everything. Solely because the foundations of the city are stranded to this place. Chinatown was the very heart of Singapore, when the city used to be a fisherman's village. In the evening, the place feels like a small venue. With restaurants, bars, shops brining an amazing wave of life in the streets. You'll almost forget that you're in a big metropolis, surrounded by hundreds of skyscrapers.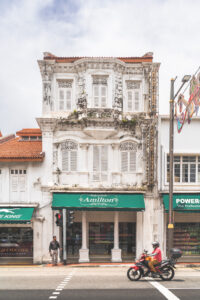 MUSEUMS & VENUES
The Botanical gardens are free, wider, wilder, and they host a more diverse flora and fauna than the gardens by the bay (photo below). However, the outdoor parts of the garden by the bay are also free, and there are many things to see : the Supergrove trees, many sculptures, installations, ponds and bridges… So it's up to you, if you are looking for natural preservation, the botanical gardens are a must. But if you are more looking for extravagant architectural artefacts, the bay would be better. Visiting both remaining the best option, obviously.
Another great venue would be the National Gallery, it is a bit expensive, (around 20 S$) but it is huge. Like huge-huge huge. A real labyrinth actually. It took me 5 hours to go around all the exhibitions. In fact, it was so stretched out, that I went out for lunch in the middle of the visit and came back one hour later. But that's just me, I take a lot of time reading excerpts and watching art. Why is it so big ? Because the museum is regrouping two major colonial building under one roof. The old parliament, and the tribunal. If you want to know more about it, there is a detailed exhibition about the architecture inside. Or you can google it, works fine too.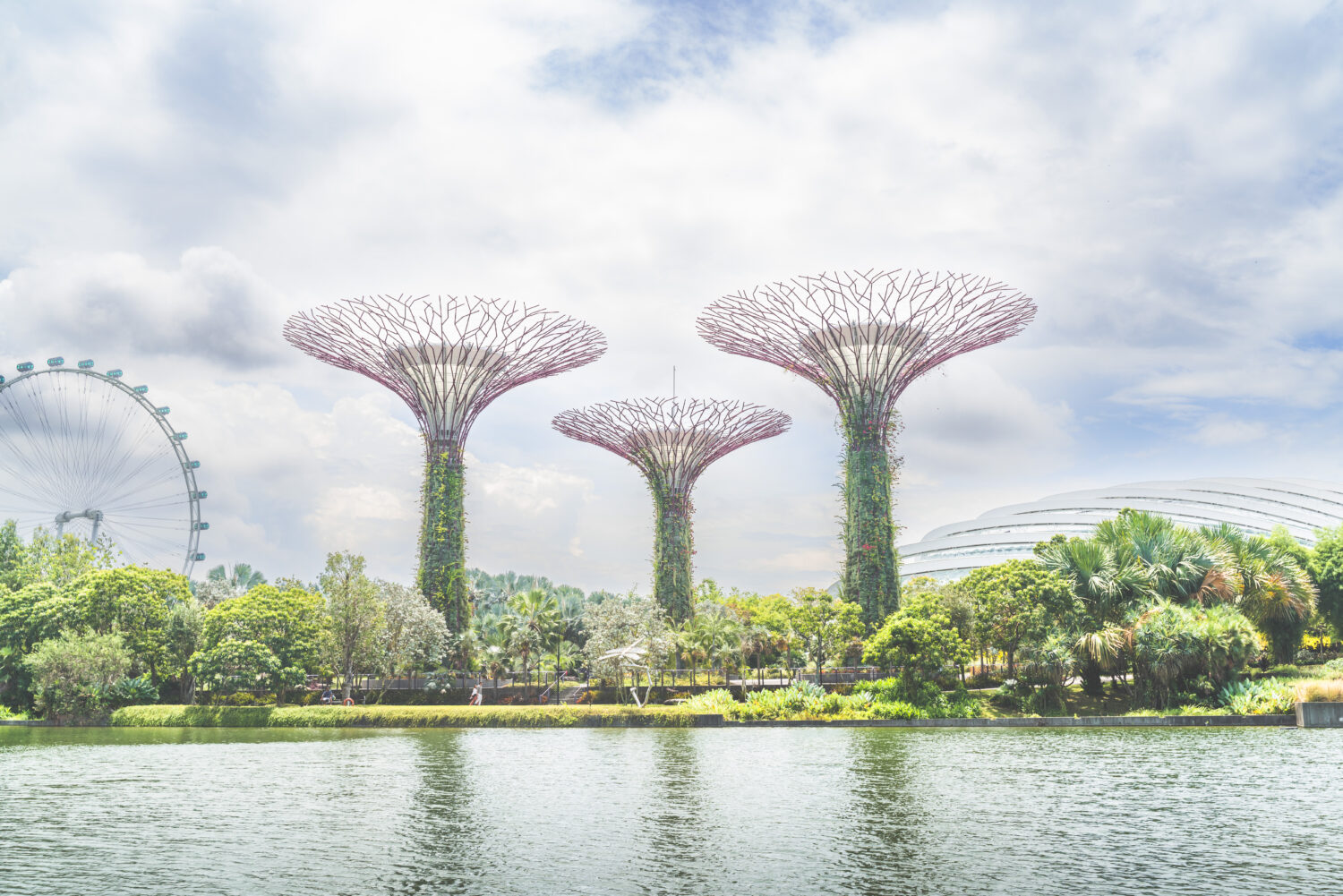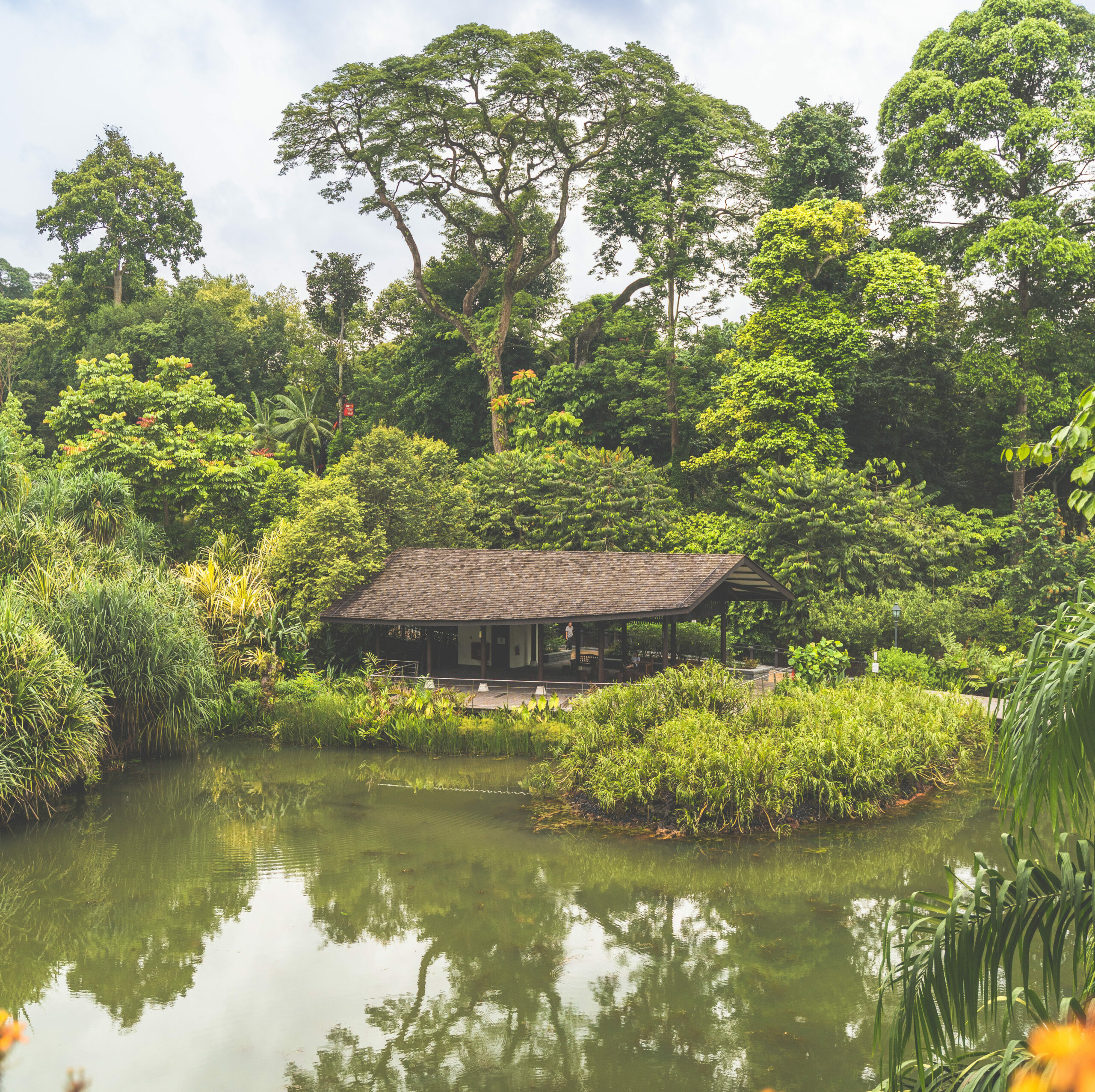 IN A FEW WORDS
The city is amazingly green and has exceptional pieces of architecture. Even if these extravagant kind of architecture is not your thing, you can still enjoy it somehow. Strolling around by foot is kind of hard as the city's streets are unfortunately designed for cars. But there are big pedestrian-like areas, like Chinatown, the marina bay or around Raffle landing. All in all, if you really want to visit the city through and through, a week is plenty. If your plan is to walk around and enjoy the gargantuesque city, five days are enough.
---