"Building art is a synthesis of life in materialised form. We should try to bring in under the same hat not a splintered way of thinking, but all in harmony together (…) True architecture exists only where man stands in the center."
— Alvar Aalto
OULU
ON THE ROAD AGAIN
The 5th of August, I hoped on a bus to Oulu, the first Finnish city on the way south. For the first night I booked an Airbnb in the very center of the city. A first genuine Finnish experience I would say. My hosts : four of them roommates, invited me to a sauna party. It was sauna day after all. In big housing units, a sauna is usually shared between all the tenants. They have a schedule, on which each apartment has its own day. Friday was sauna day for them. Be aware that they are naked in traditional saunas. I'd say it removes boundaries and liberates the speech. Especially with a beer in hands.
A day later, I was joined by my friend Stephanie for a two weeks trip trough Finland. She brought a good old Routard guide along with her. Which is very useful to find secluded places as well as UNESCO sites. Aided by the guide, we roughly mapped the cities we wanted to go to, and then moved on. From Oulu, all the way to Helsinki. Where we would part ways. After Prague and a visit from my sister, it was so comforting to see a friendly face again.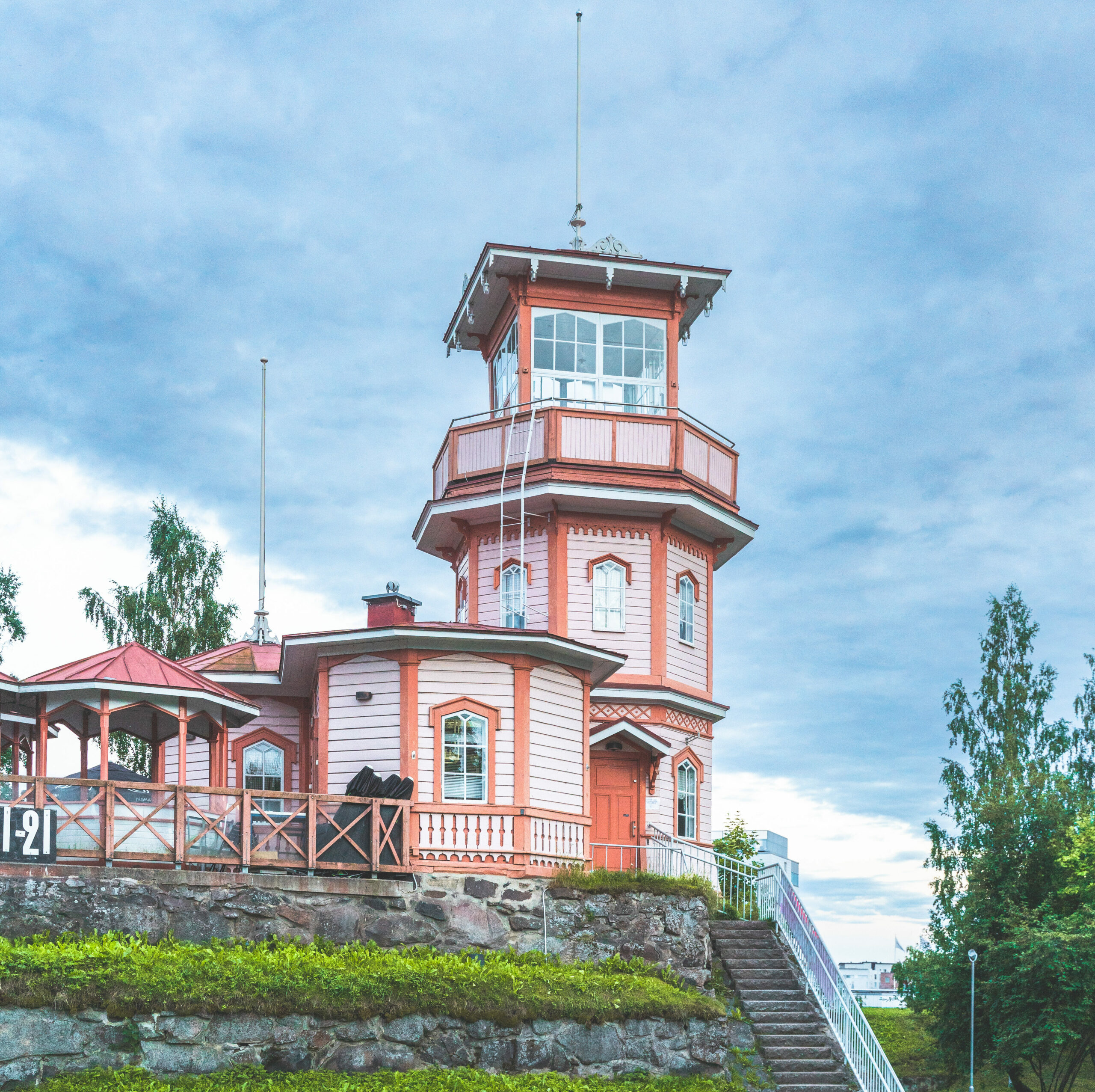 ART IN NATURE
Oulu is the biggest Finnish city in the north. Although mostly inhabited by student throughout the year, the Art scene makes it alive the rest of the time. The city is quite creative and eventful as many artists have their own workshops on Pikisaari island by the city center. The island is also a spot for galleries and open air museums : with sculptures and installations. Also they have a pop-up waffle bar, if you needed a motivation booster.
Like many costal Finnish cities, Oulu is organized around islands. Some are inhabited, some are just home to a luxurious vegetation. Some are even artificially extended to host public institutions. The Library and the Theater are actually on one of them, facing the old town. If you ever choose to go to Oulu, be sure to explore islands like Kiikeli, Soonisaari or Laammasaari, they offer particularly well arranged paths, giving you great views around. If you're keen on adventures, you can even head to Nallikari beach, and enjoy the sunset on the horizon.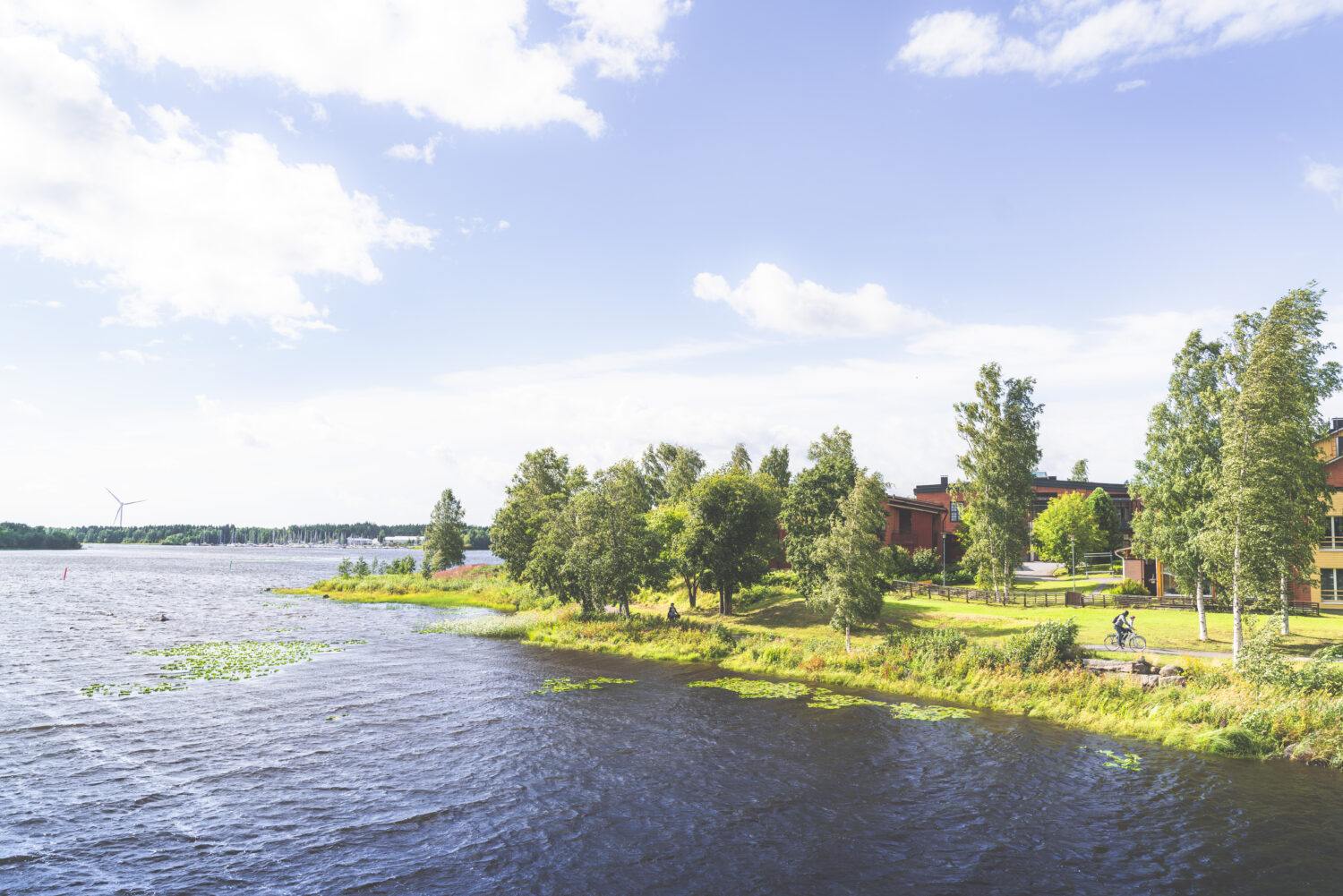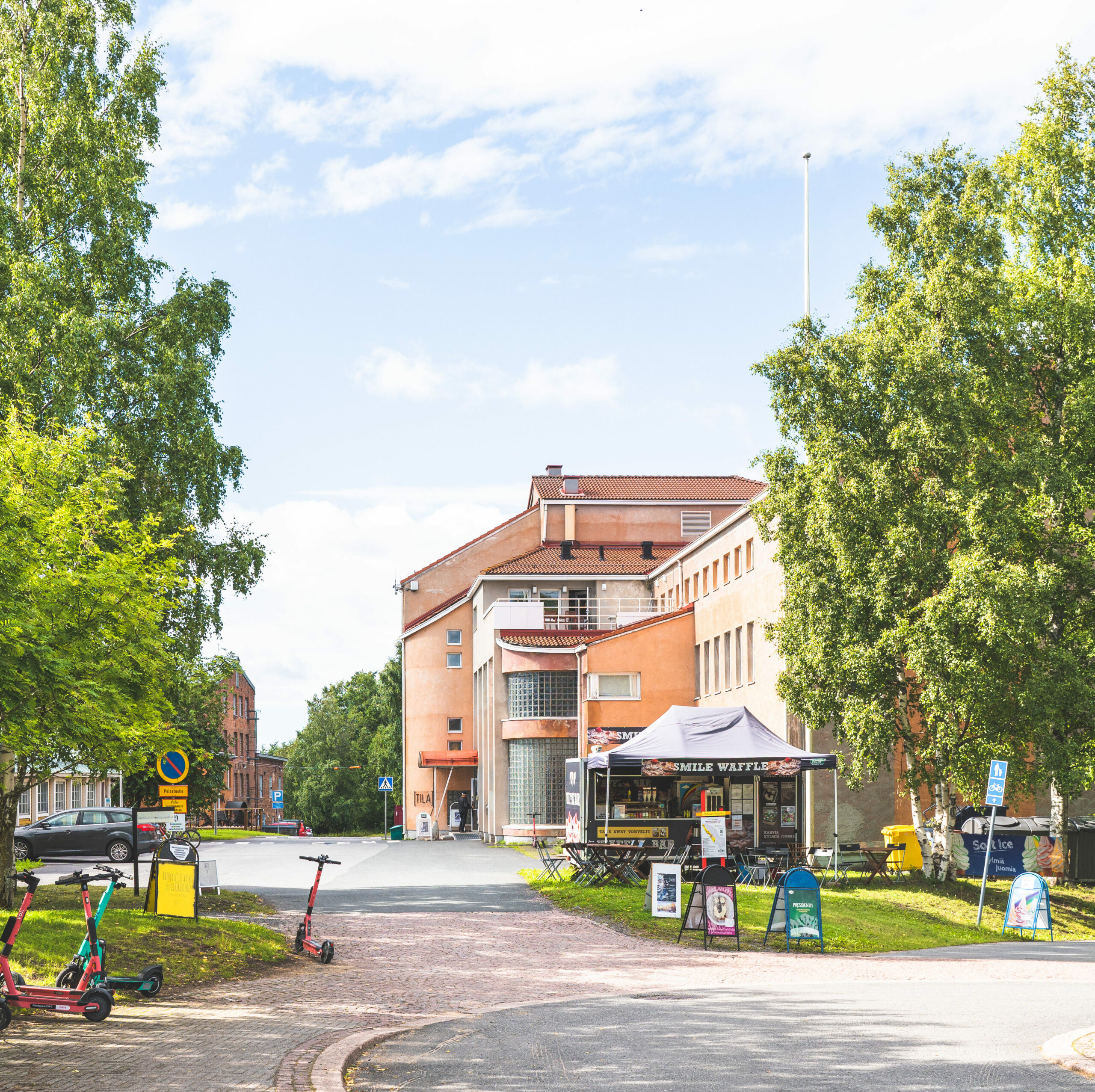 THE ISLAND OF HAILUOTO
If you like nature, wooden cottages and lighthouses by the sea. Then you might be interested in Hailuoto. For a day trip from Oulu, the best thing to do is going all the way to Marjaniemi. The small Fisherman's village is incredibly picturesque and offers a multitude of hiking paths, with different lengths. Those paths go through beaches, swamps, forests and small wooden cottages. Be sure to take some mosquito repellent, as you will have many bad encounters on the way.
Keep In mind that buses are very rare, and if you miss the last one, you'll probably have to stay at the local hotel. So, be sure to be at the bus stop 20minutes before departure, at the very least. Oh, and it takes almost two hours to get there, including the ferry crossing. All in all, it doesn't seem that long as there's always something to see along the way. One last thing : this bus doesn't take credit card, be sure to have 20.20€ -precisely- for a trip back and forth.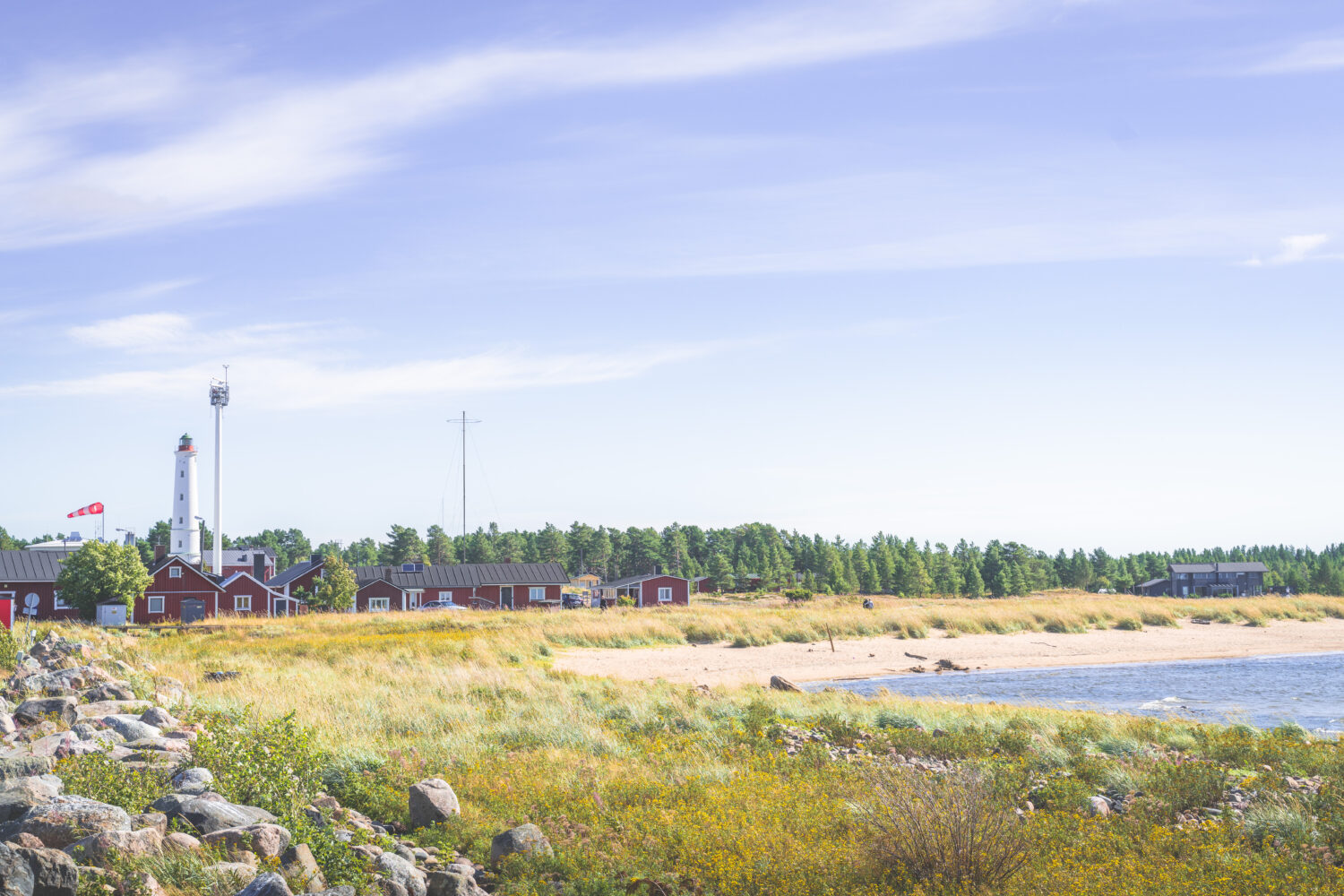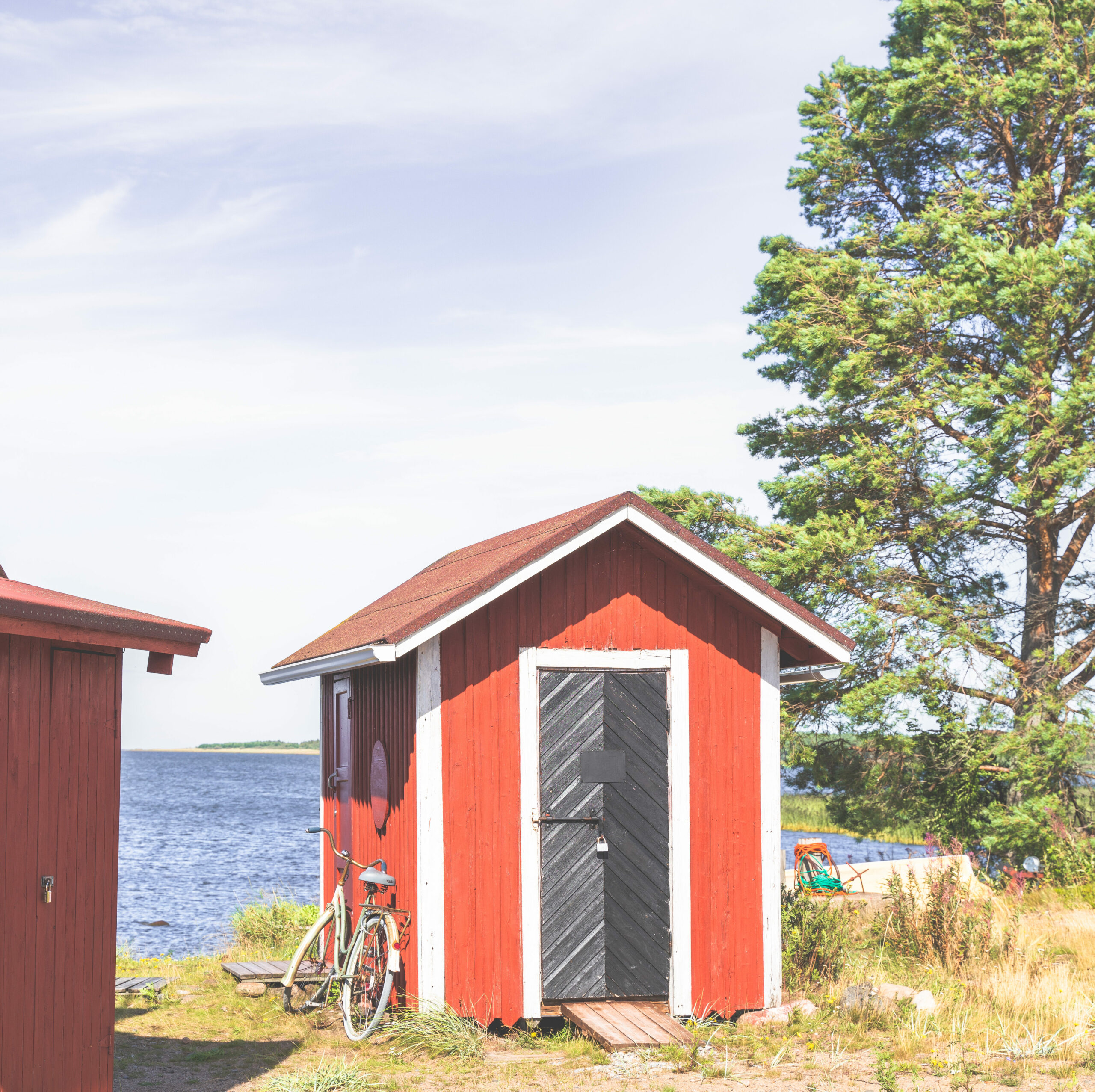 JYVÄSKYLÄ
AN INTRODUCTION TO ALVAR AALTO
On the last week's post, I briefly talked about a famous Finnish architect. Jyväskylä is his hometown and one of the city he built the most. Alvar Aalto is considered to be the more influential Finnish architect of all times. Not even emphasizing. Although he started as a designer, he switched to architecture pretty early in his career. Because of this background, he was still a functionalist in his architectural designs. And more often than not, objects in his buildings were also his creations. This kind of practice was called complete architecture. An overall design, from the general volume of the building to the door handles.
In Jyväskylä, Aalto designed the university's campus master plan, as well as five buildings. Which makes it the most condensed place with Alto's buildings in Finland. Even for the moldus, the place is interesting as you can stroll in the beautiful park on which the university is build on, and observe youngsters having various activities on the sports fields.
Organized architecture tours are kind of expensive, so we decided to focus on two major buildings : Saynatsaloo city hall, and the experimental house. If you are out in Finland for some tours, know that most of them costs 30€ each. That said, they are well explained and it is possible to go around the buildings once the tours are over.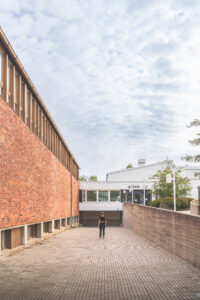 Saynatsaloo city hall
For architecture enthusiasts, we'll rapidly browse into the two buildings we visited. Even though, we won't extend on the matter too much, promise.
To kick things off, we started with an early afternoon visit at the Saynatsaloo city hall. The Building, rather sober in its composition, offers a real agora where people can meet. The center is an empty space and is accessible on two entry points. The city hall was not only composed as a Roman agora, but would also be made with apparent bricks. Those bricks were unevenly arranged and slightly crooked. Aalto asked the masons to put them that way, so the building would resonate with ancient Roman constructions.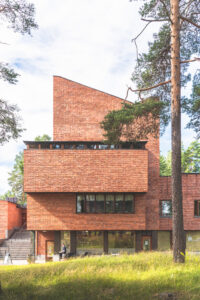 The experimental house
Why Experimental should you ask ? Well, it's rather simple : because Alvar and his wife Elissa, wanted to build a small house, on which they could test architectural processes and materials. Back then the plot of land was bought when the island wasn't even connected to the land by a bridge. Everything had to be imported by boat, hence the house's very humble dimensions.
The House itself is build around a central patio, on a single story. The guest house, which is still used up to this day, is facing the woods and has its own entry. The facades look like a huge collage as they are made out of different brick types or event ceramics. Most often than not those assemblages can be found in Alto's buildings.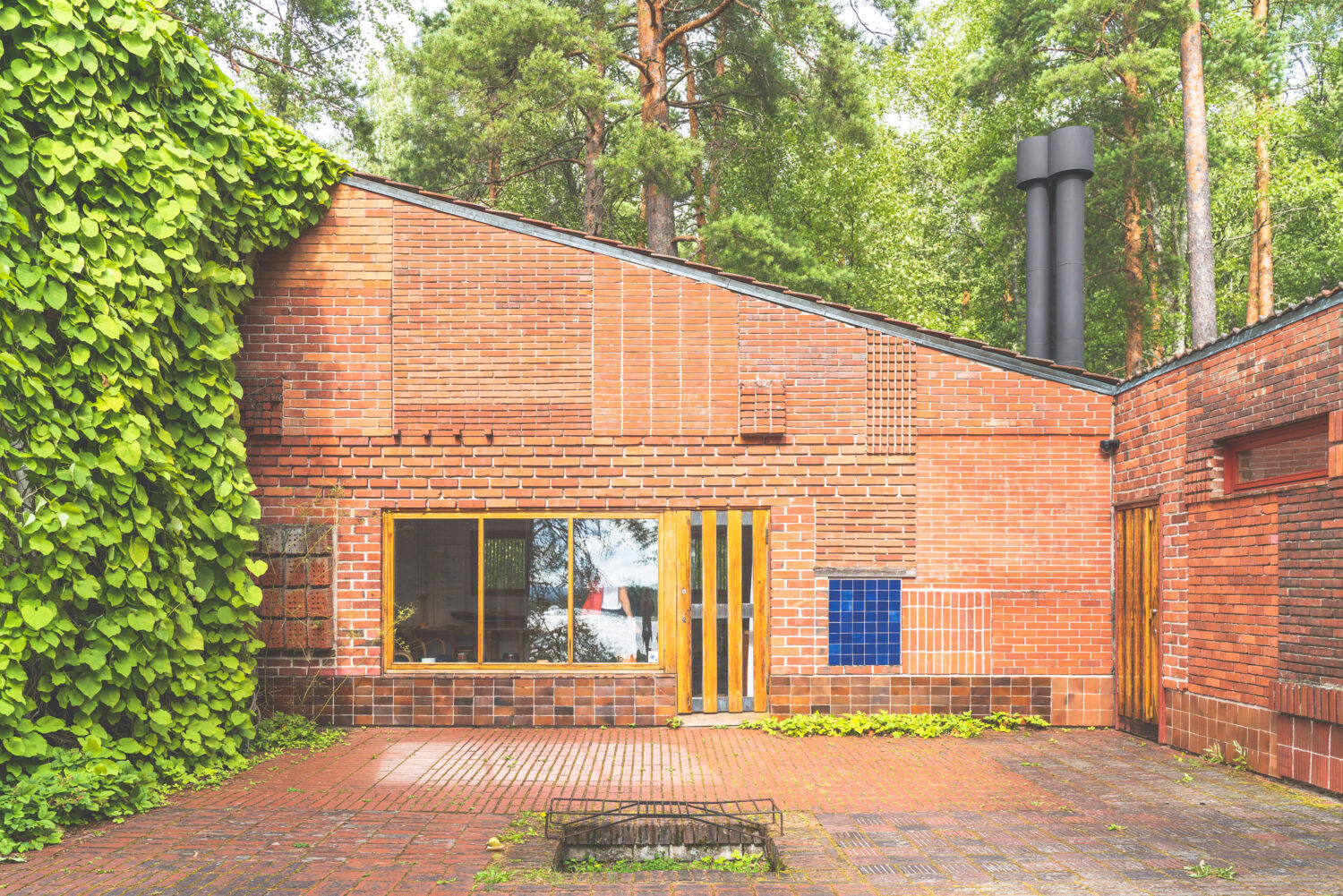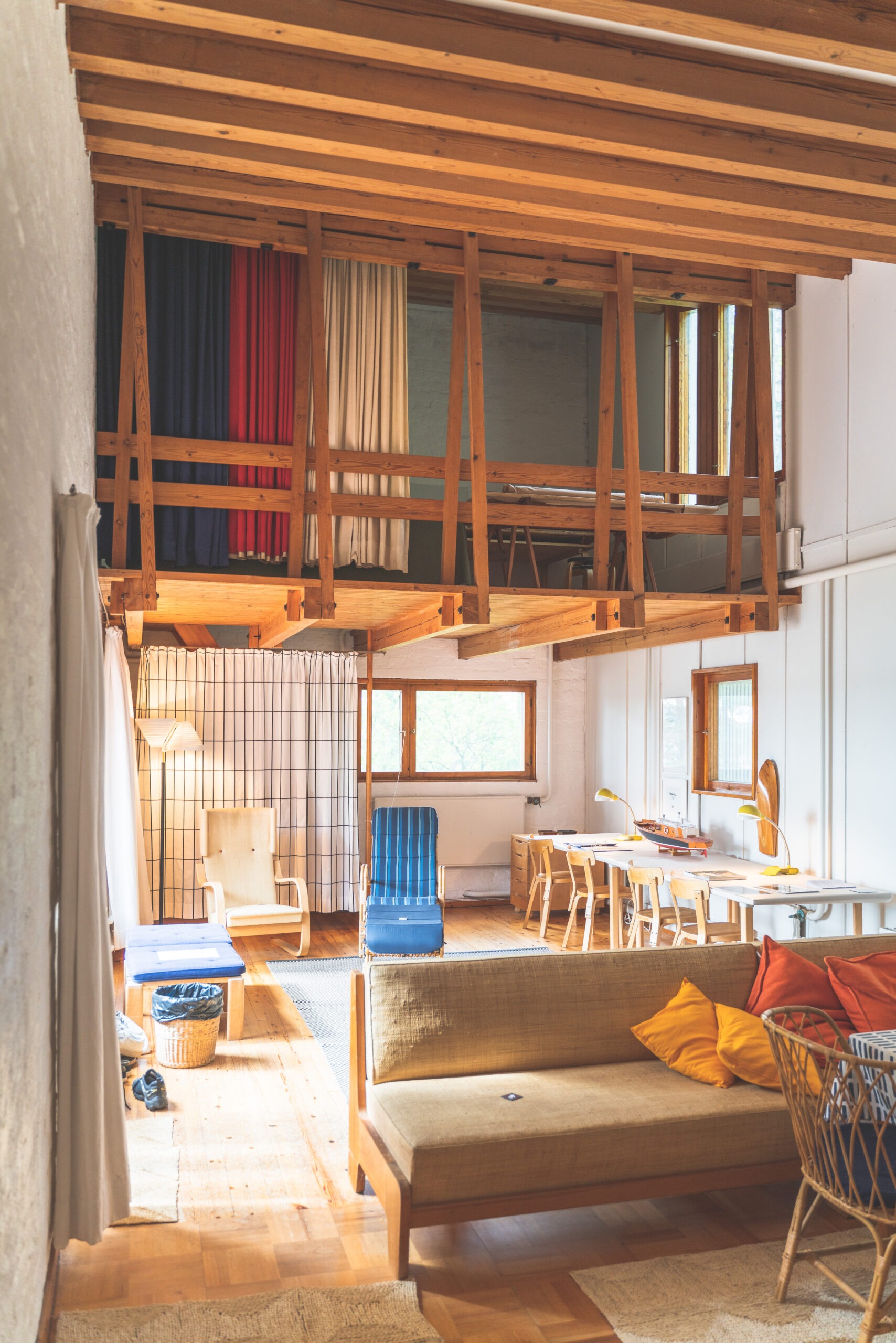 TAMPERE
Our bus from Jyväskylä was cancelled last minute. Well, not even last minute, but 30 minutes after the departure time. Fortunately for us, one nice Finnish lady asked us if we wanted to share her car for Tampere. Ironically, she wanted to use public transportation for once, because she wanted to be more ecological friendly. Anyway, after a two hours drive, we finally arrived in the city. We planned to stay only a day so we dropped our bags and instantly moved to the riverside.
Industrial past
Back in the beginning of the 19th century, Tampere, was a huge industrial city. Along the Tamerkoski river, a multitude of brick buildings with old chimneys are drawing the city's skyline. The Finalyson buildings, are categorized as a UNESCO world heritage. Finalyson used to manufacture textiles and own a huge chunk of those local factories. Even though theses days, those buildings host mainly offices, there is a cafe on the rooftop, that offers a great vantage point over the river.
In summer, the city is incredibly lively. Especially by the waterside. Even though a beer will cost you 9€, it's worth taking some time at a terrasse, to enjoy the life sparkling around you. The Pyynikin Brewhouse, is particularly good in that way, it has a lots of seats outside and offers local Finnish beers.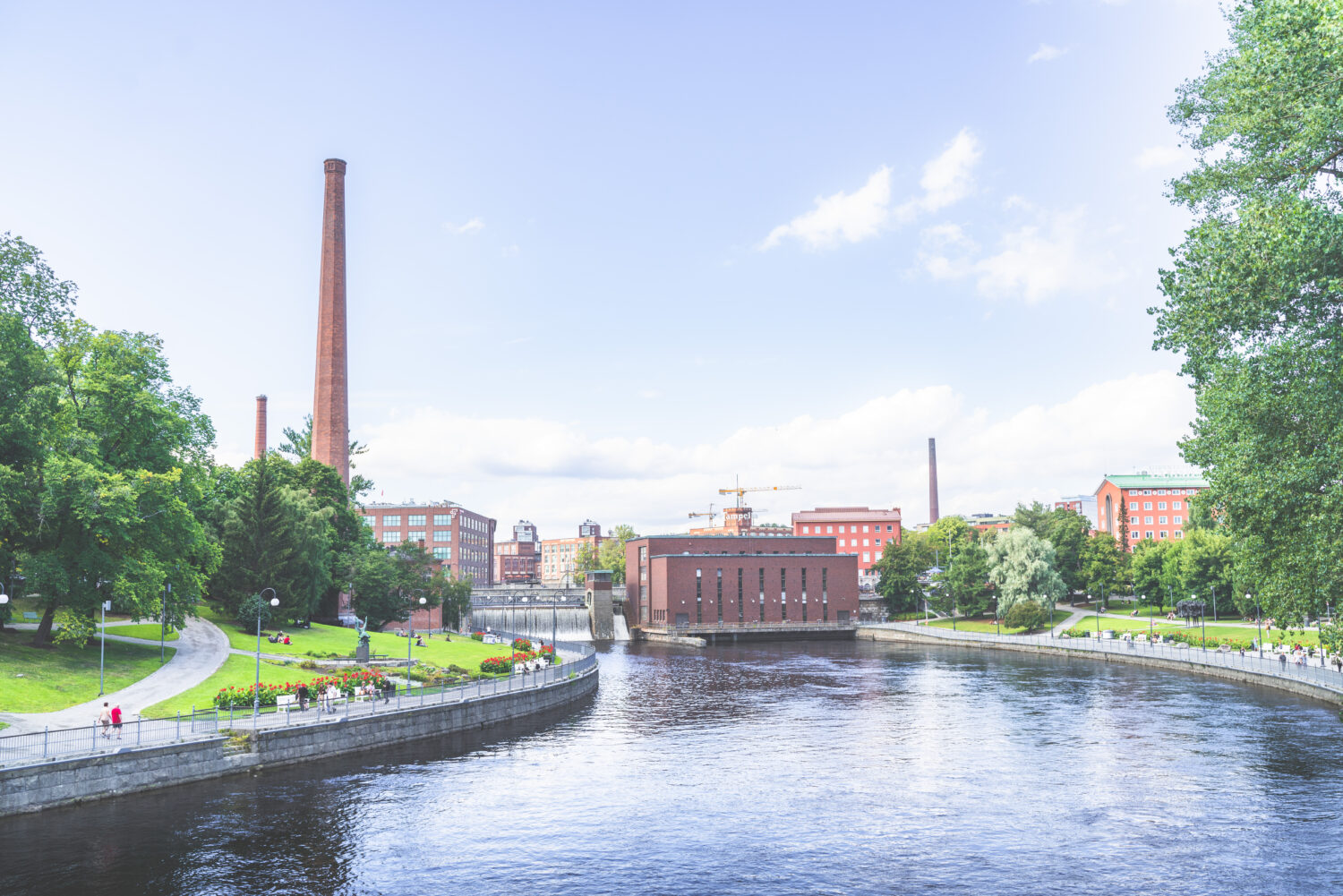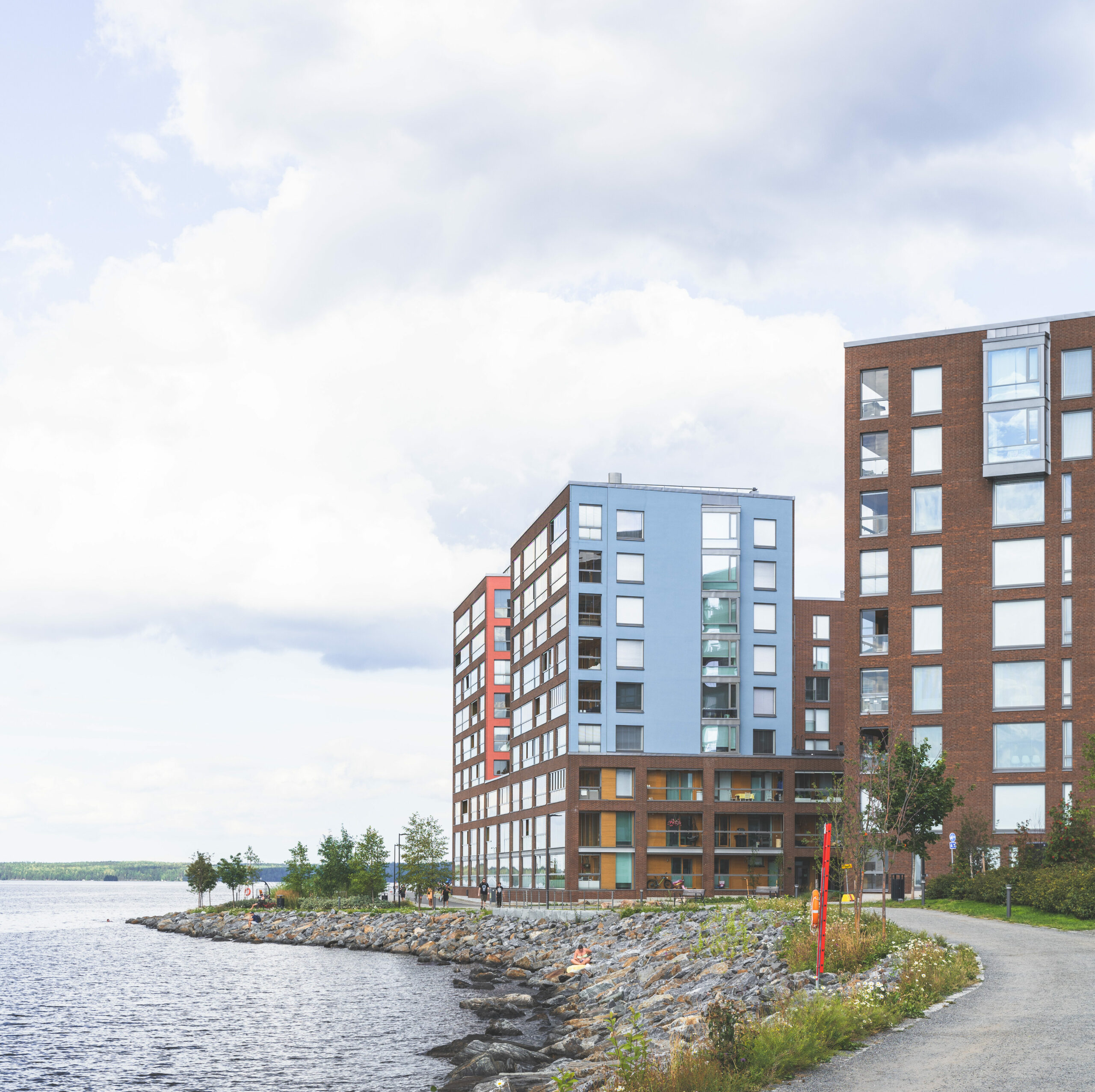 Finding Stephanie
On many of the pictures Stephanie helped me get a human presence. A surprise may or may not await -It's kind of a Schrodinger surprise– the first person to comment the names of the photos, on which she, and her 5 doppelgängers appear. One of them is kind of tricky, good luck !
---