"In 1978, working out of a studio on West 22nd Street with the doors propped open, "the main thing that impressed me was the 'kinds' of individuals who would stop and talk to me," he wrote. "They were not, for the most part, gallery-goers and not people who generally frequent MoMA, but they were interested. There is an audience that is being ignored, but they are not necessarily ignorant. They are open to art when it is open to them."
— Keith Haring, excerpt from Artsy
FERRY
A NIGHT ON A BOAT
Although it wasn't my first time spending a night on a ferry, it was my first time sleeping in a cabin. But since I took an economic class cabin, I was send to the very bottom of the ship. One floor above the sea to be precise. With a circle framed picture of an archipelago as a window. But it didn't really matter to me, as I spend most of my time on the deck.
On the boat that night I wouldn't go to sleep early. I wanted to go on the main bridge to observe the summer sun set off. So I waited in the common room, playing cards with three Kenyans, who relentlessly tried to explain me the rules of a game of their own. After two games, when I finally got the rules, the light was good that I headed to the main deck. We were a handful of people courageous enough to brave the strong wind, the rain and the water drops. The scenes were so intense that night that it was totally worth being a little wet.
In the morning, I was so exited on the boat that I woke at 7h and stood 2h straight back on the main deck. This time I wanted to see all the small archipelago around Stockholm. There were hundreds of them on the way and it was incredible to see such a huge ship casually floating around them. Once again I wasn't disappointed to wake up early, the views from the upper deck were incredibly picturesque.
Seeing those islands made me imagine how it was thousands of years from now. When people could just say "hey this place is nice, Imma just gonna build my house here" How nice must it be to have the total freedom of choice in that regard. Of course everything else wasn't so easy. But being able to settle anywhere must have been such a great feeling.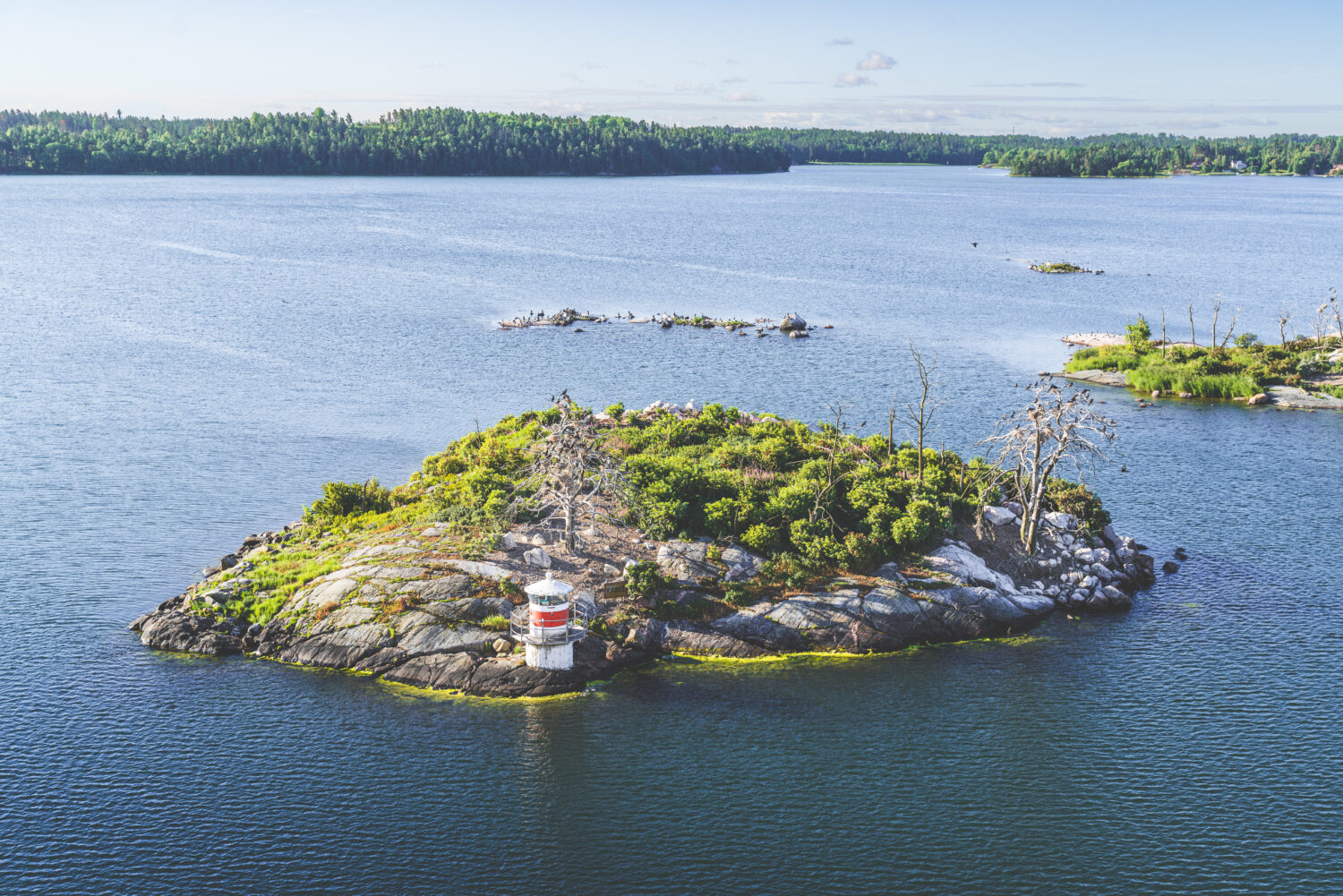 STOCKHOLM
MOORING THE BOAT
When the boat stationed on the harbor, I was once again very exited to explore such a beautiful city. I hopped off and headed directly to my hostel to drop my backpack. My first evening was dedicated to a stroll around Norrmalm's neighborhood. A very central district in which the hostel was located. What really stroke me at first was the topography, and how green Stockholm was. Parks were around every corners and many of them were located on higher grounds, giving amazing views towards the city.
Those walks are very important when you don't know a city. It helps creating a mental map of your surroundings. Getting familiar with the place will make you more confortable to explore further. Sometimes all I do is give myself a goal and walk there. Along the way I take pictures, stop for a cafe, sit in a park or draw. Having a simple objectif helps me maintaining a cap, with the flexibility to straying off.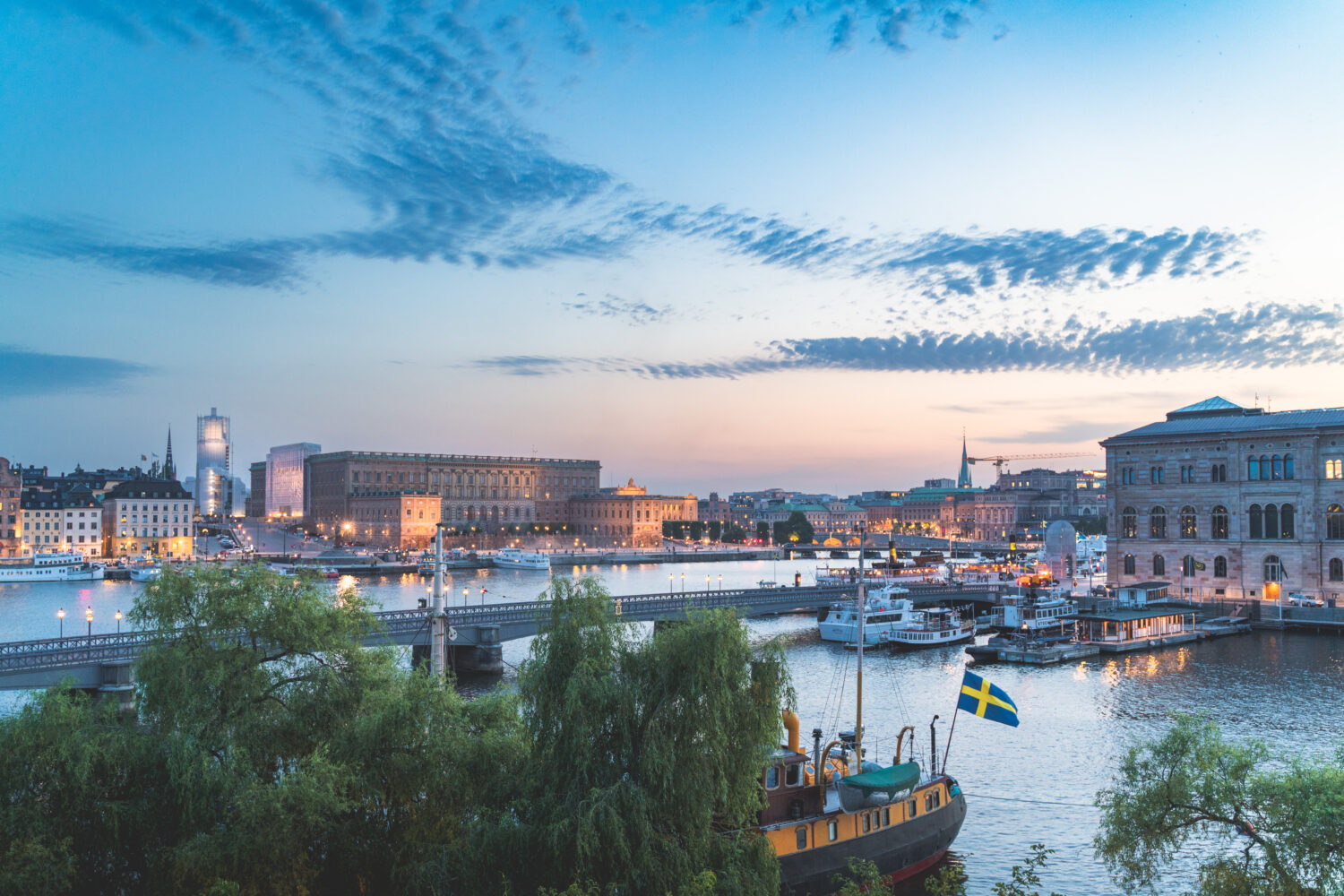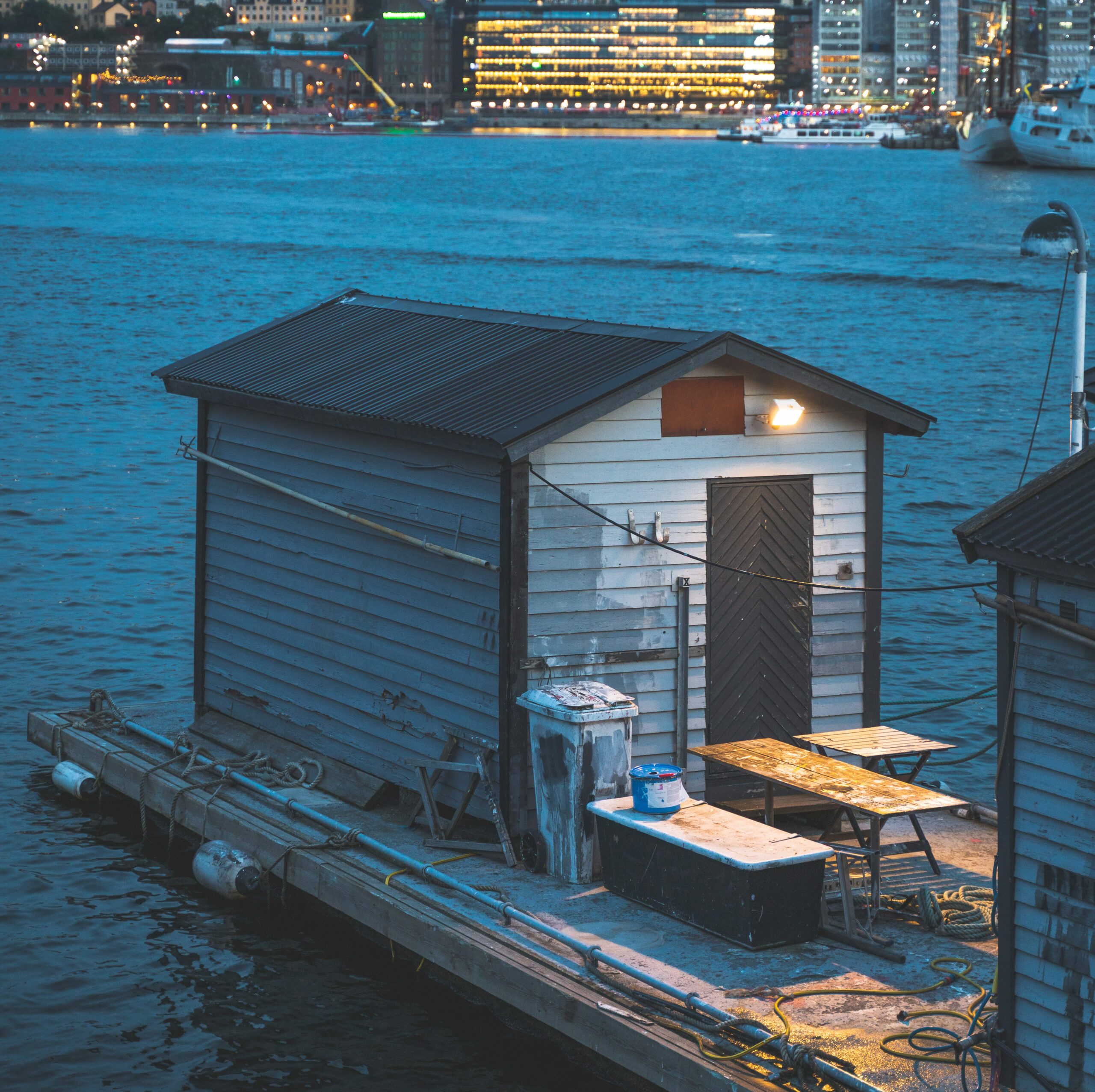 MANY SCALES
Stockholm has many scales. Walking from one neighbor to the other is a great way to perceive that diversity. From tall apartments buildings to one story wooden houses, the city inherited its various scales over time. The oldest houses are located on the hilly northern side of Asöberget. This district, which was once, one of the poorest of the city, became one of the most expensive. As often, gentrification happened as the city extended itself over its natural boundaries. Outsiders neighborhood like Asöberget became super-central. And super-expensive.
Next to those small houses, many tall building were erected on available lands. Due to an extravagant real estate pressure. Even though, the rupture of scale isn't that bad. High and low buildings cohabit really well together, when they're dispersed. Might be because of the natural topography of the city. Steep hills obviously impact the city's morphology, making it hard to maintain a linear skyline. Consequently, vertical disparities are almost unnoticeable.
Shifts in scales and style are preeminent from one district to another. On the north, next to Stockholm's university, there are beautiful brick bourgeois housings with gardens turned on the street. In the new center, by Kvarteret Hästen many buildings are modern.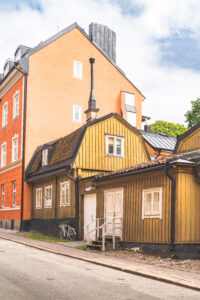 ARCHITECTURE & URBAN SPACES
Modesty is the general feeling in Stockholm, when it comes to architecture. Buildings facades are almost prosaic and boring. Yet it makes once again a coherent city where people aren't overwhelmed nor by free forms, neither by material dispersion. From the old town to the outskirts many facades are warm colored coat, punctuated by rectangular windows. Nothing more except for some slight exceptions that blend in the mix.
Stockholm has very wide streets dedicated to cars and public transportation. What is really bugging is how empty those streets are during the day. Even though Swedes are attached to their cars, in a big city like Stockholm, public transports and bikes are used more frequently. At night the streets are turning into a no man's lands. They're not even used as parkings.
The potential for properly designed public space is tremendous. The car presence is so dim, that streets could easily favor pedestrian usages. In my understanding this is what the city is moving forwards to. In addition to reorganizing the streets, a titanic urban project is being build. Designed by Norman foster architects, this project will transform the huge four-leaf clover road into a superior promenade dedicated to soft transportation use.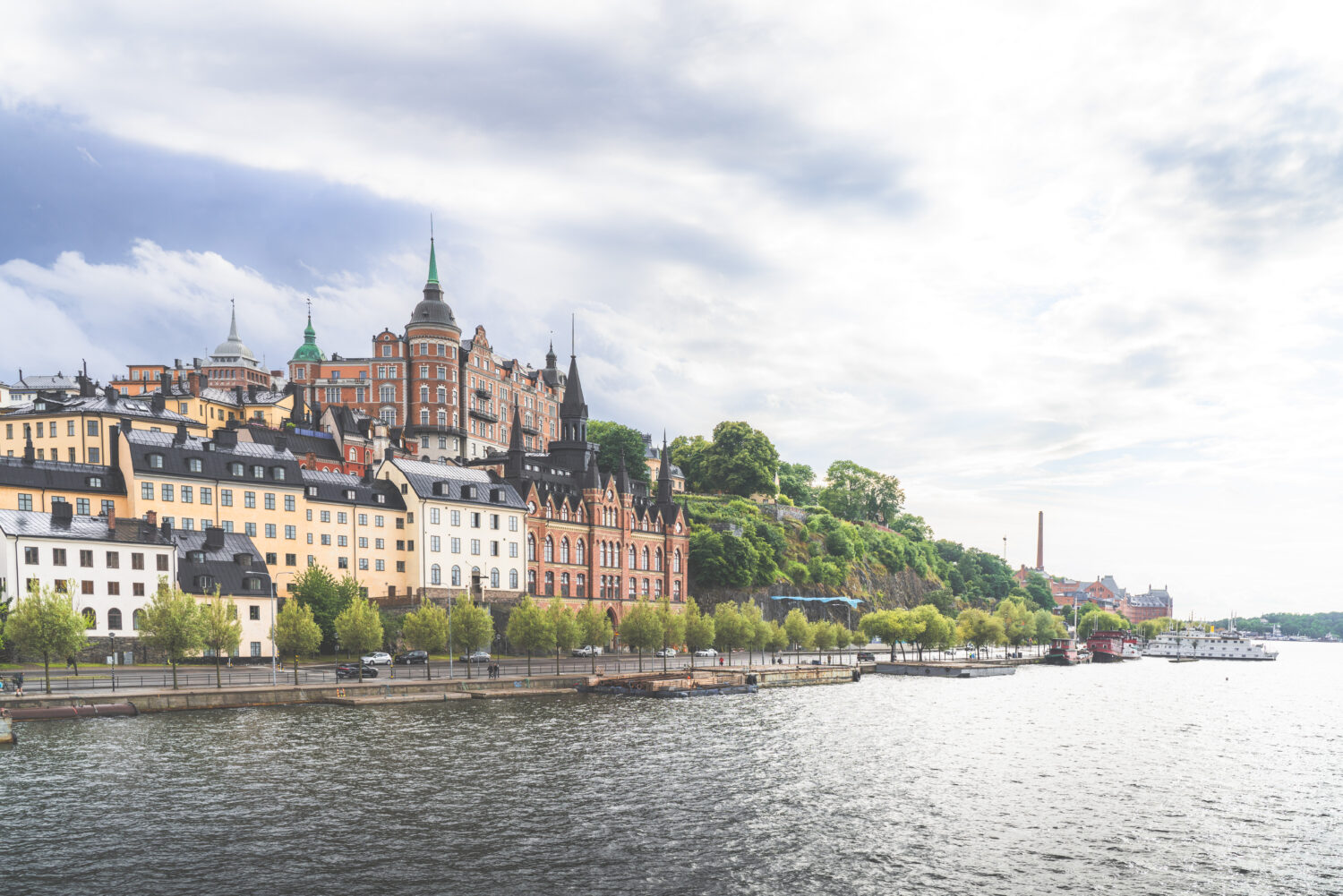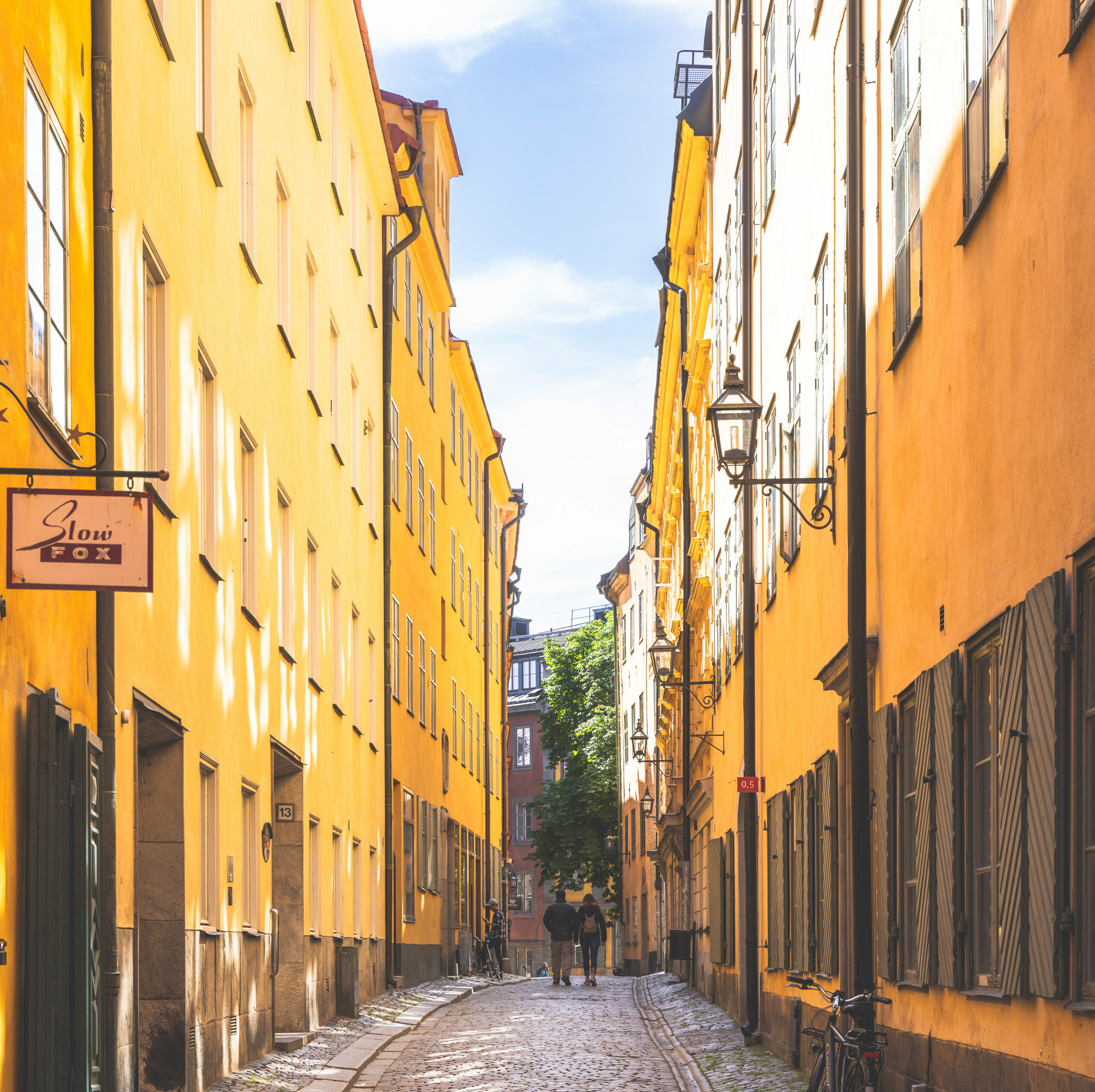 PROXIMITY WITH NATURE
In Stockholm, nature is at arm's reach. Everywhere you go, there is an easy access to a park or a forest. Each street offers a perspective towards a hill, a cliff or even just a tree. Those elements are creating a feeling of continuity : from city, to nature, to city.
But the diversity of the environment is what makes Stockholm even more outstanding. You walk seamlessly from steep cliffs to generous parks, rivers, ponds, forests and islands. Even graveyards are a part of the landscape network in the city. The southern graveyard called Skogskyrkogården is one of its most popular exemple. Designed by the swedish architect Gunnar Asplund in the 20s. Skogskyrkogården literally means "Woodland cemetery" in Swedish. Implying that this cemetery is not only a place for the deceased, but also a contemplating place for the living.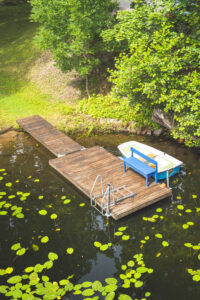 ART FOR EVERYONE
In Stockholm there's a whole island dedicated to museums. Skeppsholmen hosts four museums, including the museum of modern art, and the museum of architecture. In between you'll find cafes and ice scream shops, in a wide developed park with promenades giving great views towards the city. So even if museums are not your thing, I strongly advice going there for a walk along the piers.
Like England, Sweden public art institutions are free for everyone. As I think it should be in every country. There's no greatest way to open your mind than seeing and understanding art. Being able to do it for free is even better as it puts everyone on the same pedestal. That way, there's no art for the rich or art for the poor. So again, even if you are not interested in art, you can step inside, just out of curiosity. Because who isn't curious ?
To me, Art is crucial because it holds a simple discourse. No matter what or whom the artist is. Art says that everything is in motion, nothing really has to be as it is – doubts and questions have a place in this world -. It opens a fields of possibility you wouldn't imagine by yourself, as your beliefs (and mine) are constructs from your culture, education and experience.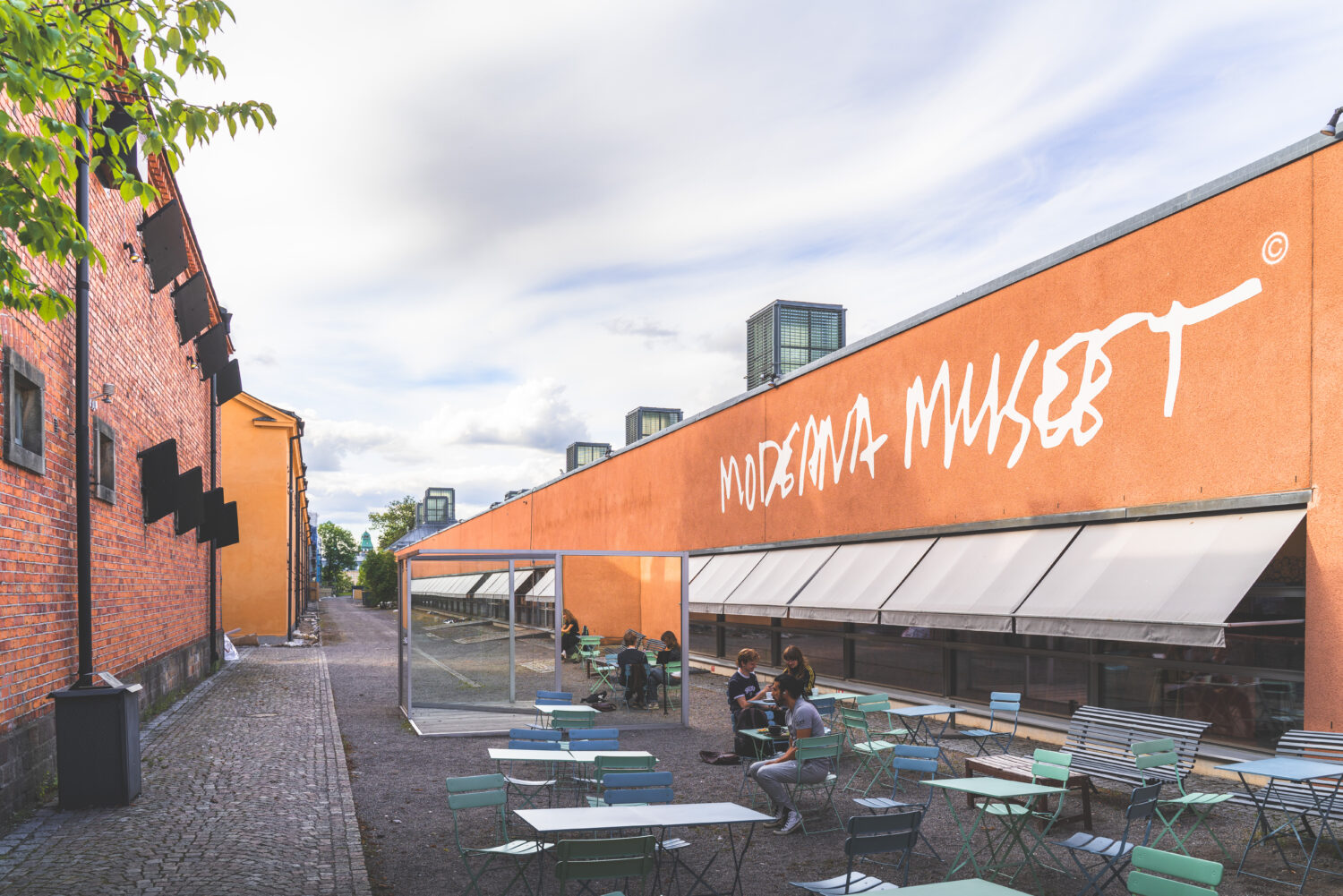 SIDE NOTE
I've been warned : Scandinavia is expensive. My first espresso with croissant cost me about 7€. In a more or less budget travel this actually hurts. Not only on the moment but because you know you'll spend some time around. In bars it costs for beer on average. So when you go out for a drink, you often literally go out for a drink.
---