"Everything has beauty but not everyone sees it"
—Confucius.
SOUTH KOREA
HOW TO MISS YOUR FLIGHT
It all started Saturday, October the 15th, it was time for Pierre and I to go our separate ways. We said goodbye at Hanoi's international airport. It was the end of our common adventure. But every end is also the start of a new beginning. Seeing things with that angle, although sad, I was exited to explore a new country. But this particular country was not ready to explore me. Ok, that doesn't really make sens, it sounded better in my head.
Once we parted I waited to check-in. At 8pm, I was called to do so for my flight at 11pm. But as I was presenting all my papers, the lady at the desk asked me if I had a K-ETA. A what now ? Said I. A K-ETA she repeated nicely. The second time she said it, I realized how screwed I was.
To summarize, in order to enter in Korea you need to file a paper, send it, and it had to be approved before you board the plane. They cannot let you go in without it, I've tried to negotiate. It can take up to 72 hours, but it is done by an IA, so it usually takes 2-3 hours. I did wait 2hours, but as my flight was at 11pm, I missed it. The thing is, they are supposed to send you an e-mail with the paper. Still not in my mailbox by the way. So you have to go on their website, enter the unique number they gave you, and tadaaa the magical papers appears. Or not. After that unfortunate event, I replaced my flight ticket for the fair amount of 50$, and flew off at 1am, finally!
SEOUL
A QUIET MORNING
Arriving a Sunday early morning in a 20 million people sleeping megapolis is really disturbing. It was at the opposite of the mayhem we experienced in Vietnam. The difference was so great, that I was dazed by the scene. As soon as I got out of the subway station, everything was quiet : no cars on the huge 6 ways roads, all shops closed, the streets were nothing but empty urban canyons. The silence was almost absolute. This is when I realized that Korea's adage fitted perfectly : "The land of morning calm".
Do you remember Kim, the Korean lad I met in Malaysia ? If you are interested to know more, you can read the article on Malaysia, where the full story is depicted. Long story short, back then I told him I was going to visit Korea, and he cheerfully suggested to meet me there to show me around. But to be honest I wasn't expecting so much.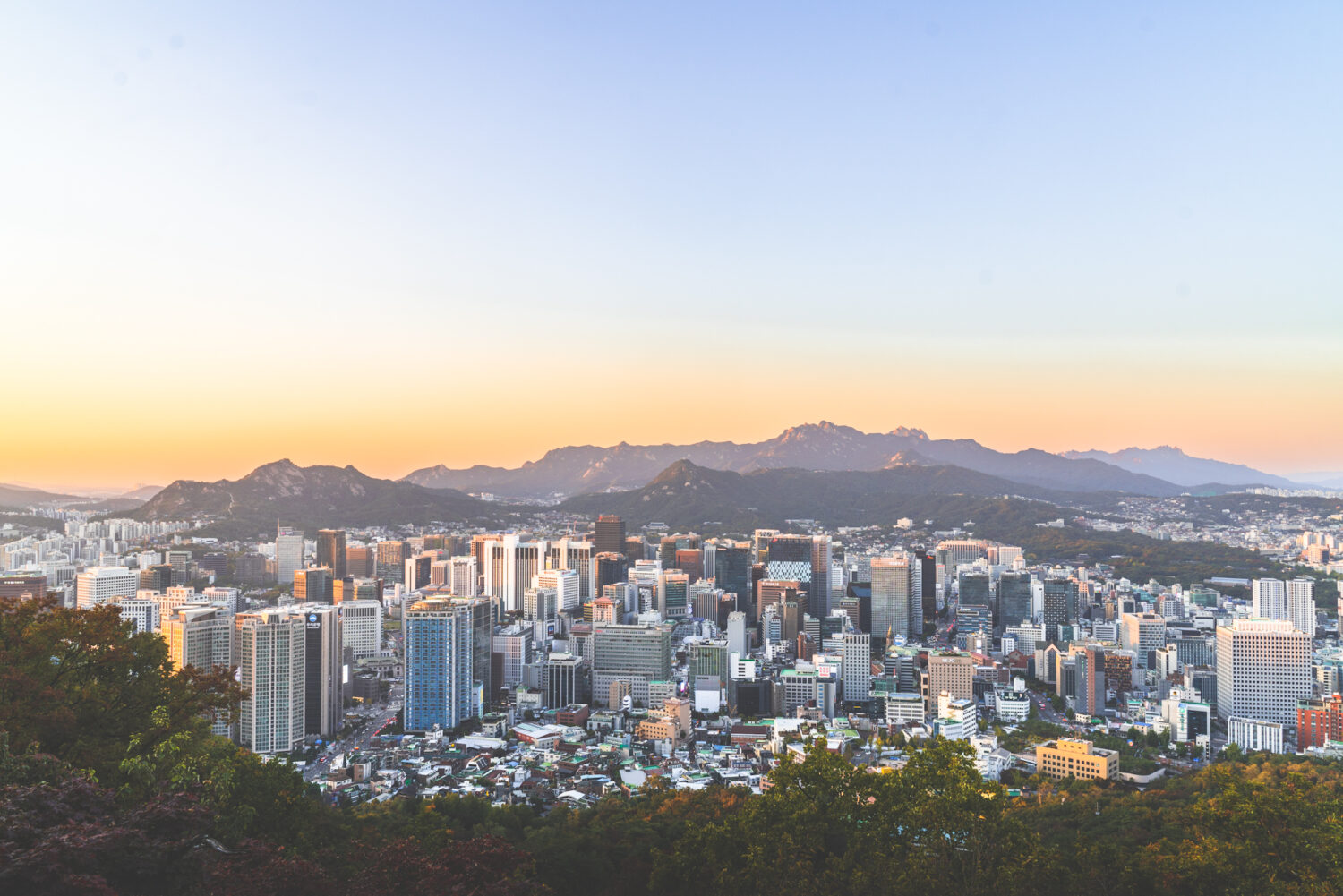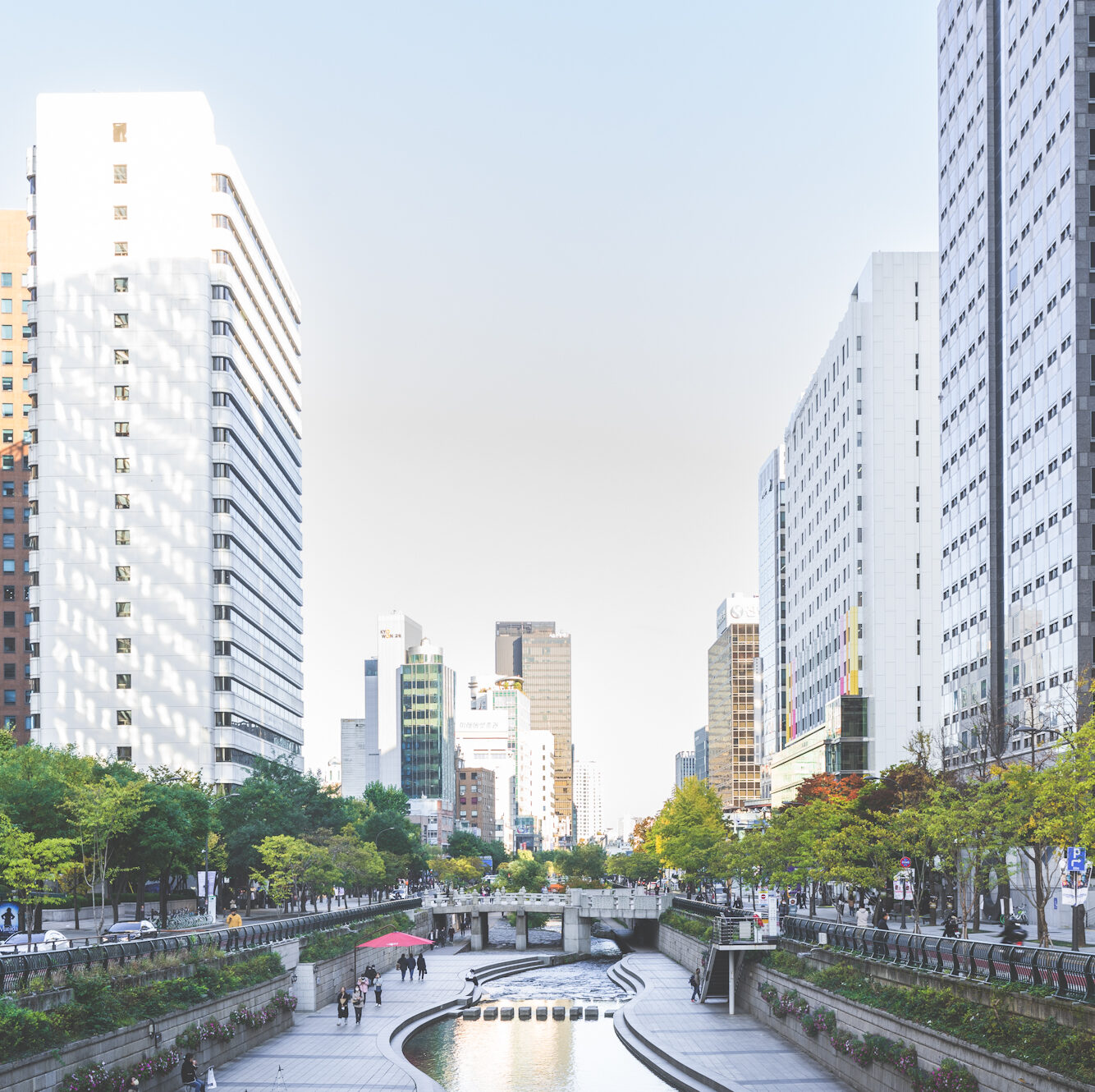 DOWNTOWN EXPLORATION
Seoul urban hierarchy is typical of many Korean megapolis. It doesn't really have a city center but rather multiple centers sharing common traits. You can ride the subway for 40 minutes, get out of the station and it will feel like you barely moved. However, every district has its own unique museums and has special features.
From Seonchon Hanok village, where splendid traditional Korean houses are standing, to the famous Gangnam-gu -yes, same as the infamous YouTube song we all try to forget- there is a great gap in shape, but not so much in attendance. People will always animate the streets, no matter the location in Seoul. Even in Chungmuro's smallest streets, where daily workers attend to their daily routine are interesting to watch.
In Gangnam, high-end towers are rising up like mushrooms on humid soil. Gangnam district is the place where everyone wants to be. Brands like Dior, Burberry, Saint-Laurent implanted their stores amongst old buildings and generational restaurants. The contrast is forcing cohabitation between different classes of population, but will it last ?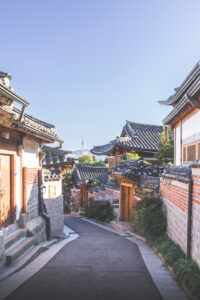 GYEONGBOKGUNG, THE IMPERIAL PALACE
Gyeongbokgung is the biggest palace in Korea. Inside the compound, it feels like being out of the city. Picture this : you are in the middle of Seoul, a 20 million inhabitants city, yet, while entering the palace, you are surrounded by mountains surmounted by a splendid forest. Behind the high walls of the palace, the surrounding high concrete buildings are vanishing. A strange feeling arises, suddenly, it is like being in the middle of the Korean countryside. A peaceful haven in the middle of the agitated capital.
In Seoul there are many old temples or imperial premises. Remains from the old Joseon dynasty are scattered all over the city. From the Deoksugung complex that used to shelter centuries old embassies, to the Sungnyemun gate protecting the south part of the old historic walls. If you look around a bit, you'll easily find those vestiges, often in very good condition.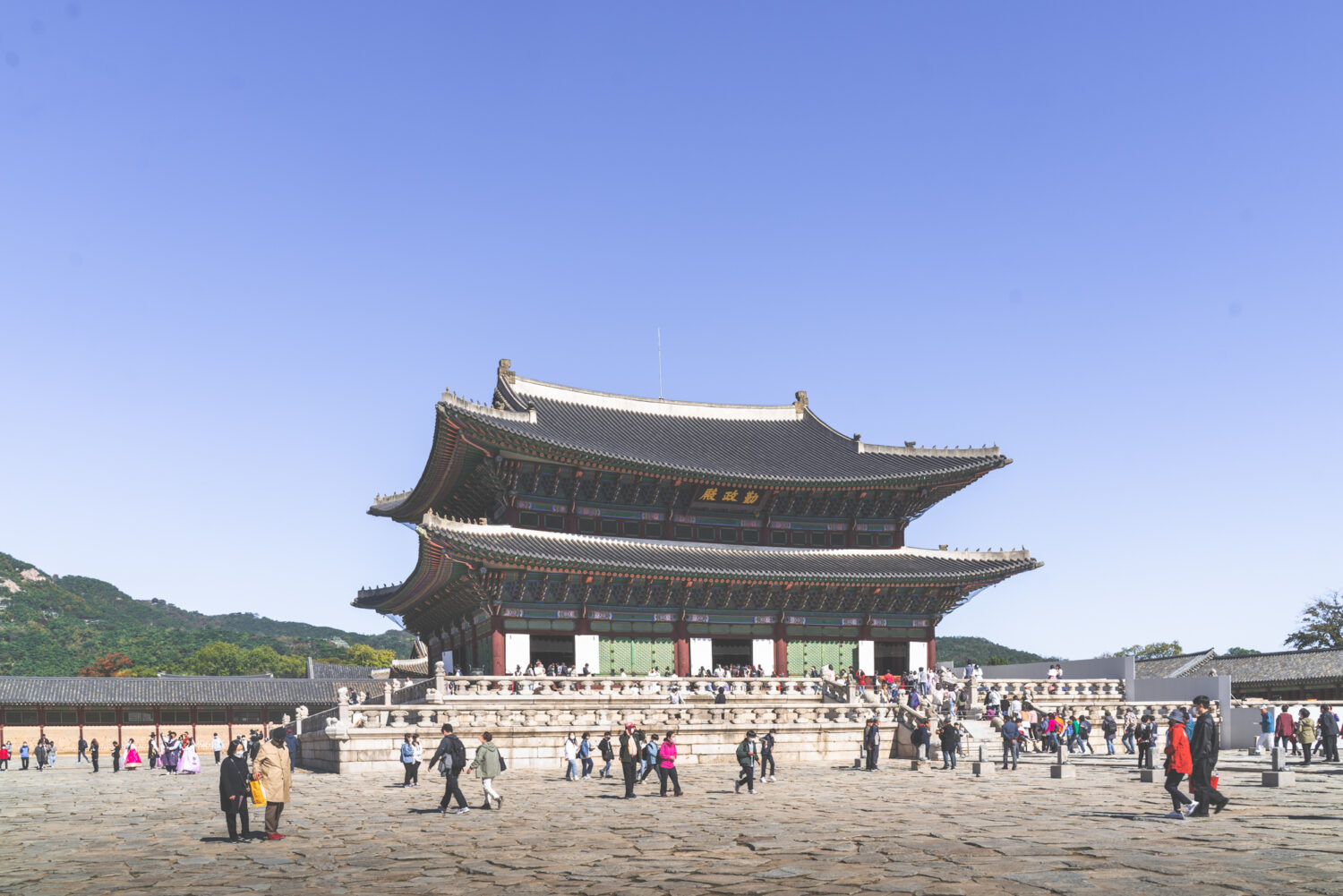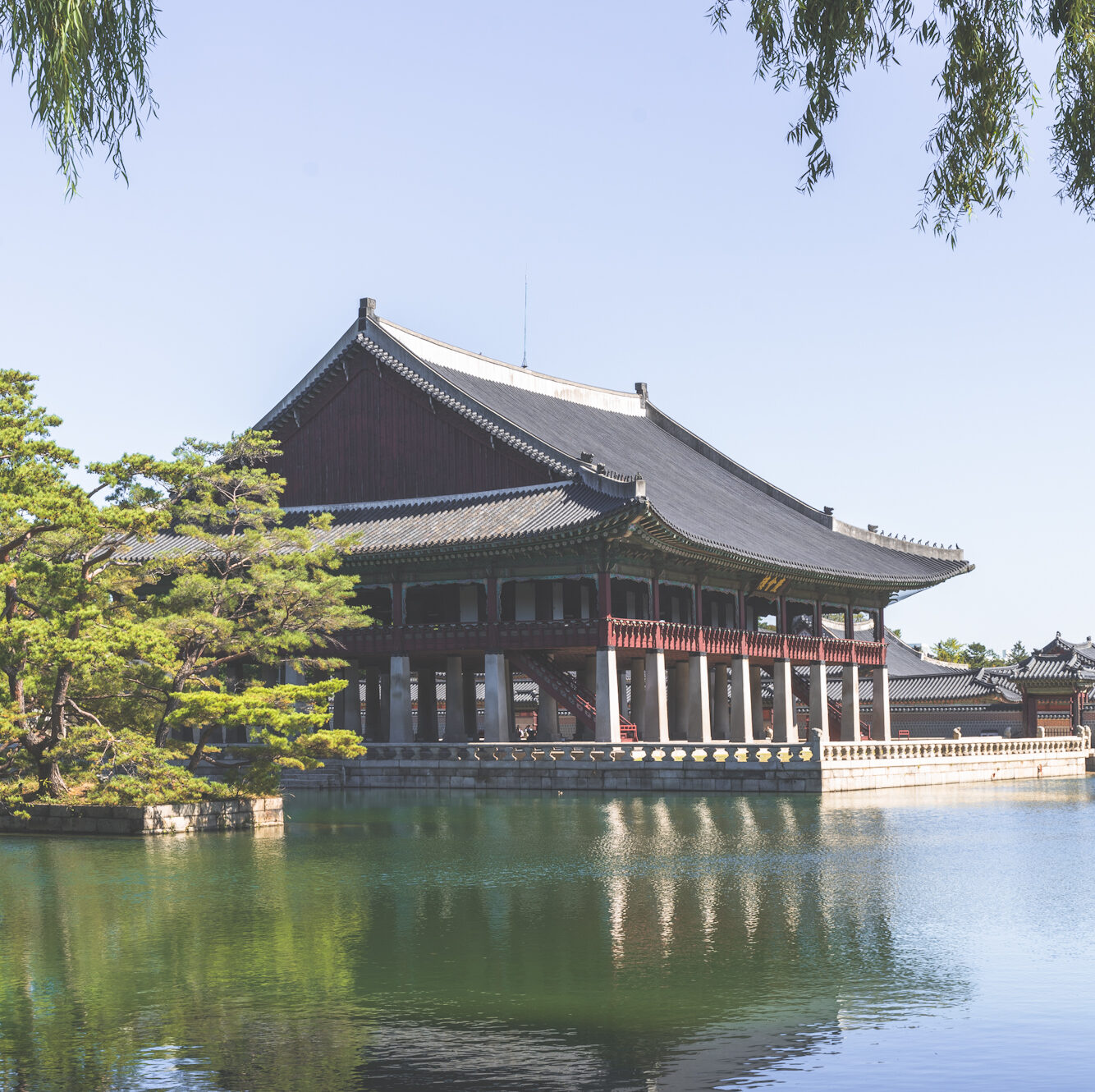 THE BLUE HOUSE
Another building I had an insane luck to explore was the Blue house. Its function is similar to the White House. Except it is blue, instead of white… Anyways, the house used to host the president and all the necessary premises to receive official foreigner guests. This place just opened a couple of weeks before my arrival, and Kim booked online tickets in advance.
Nowadays the blue house is open to the public, you can visit it if you book a ticket. It's really impressive to enter those premises and see how the former president of Korea used to live. Kim told me that for Koreans it's even more impressive, knowing that this house was where the president used to make all his speeches and television apparences only a few months ago.
As for the palace itself it is a place of high standards when it comes to landscape design and architecture. The residential house stands on the very top of a vast plot, scattered with impressive garden all distributed by a unique road. The scale of the whole ensemble makes you really realize how important this place used to be.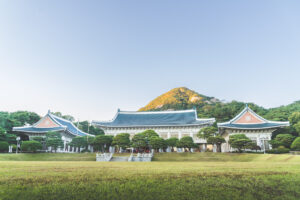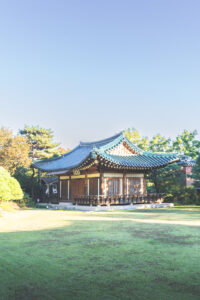 DAEJEON
THE KOREAN CONNECTION
Right after Seoul, Kim organized a weekend at his father's house. We took a bus and headed in the middle of the country, next to the city of Daejeon where his father, Mr.Kim, was waiting for us. After a first meal in a traditional Korean restaurant, we headed to his father's staff house. A humble yet beautiful place surrounded by colorful forests and lovely ponds. His father just recently started learning English, but the first thing he said to me was "Welcome to my garden". It was such a magical place to spend the night.
The next day, we went on a road trip heading to Daejeon. On the way we stopped at the Lazy Caiman cafe to admire a splendid panorama towards one of the most largest water reservoir in Korea, the scene with autumn colors was unspeakable of. We stayed there for some time, enjoying the warm sun light with a hot coffee for some, ice cold for others. After that we moved to another historic place called Mungyeong which means "hearing good news" according to Wikipedia. Mungyeong is crossed by an historic road that was used to cross Korea, from Busan to Seoul. Hence the name. The place is nothing but high mountains, colorful forests and wide grass fields. A peaceful yet extremely popular venue amongst locals.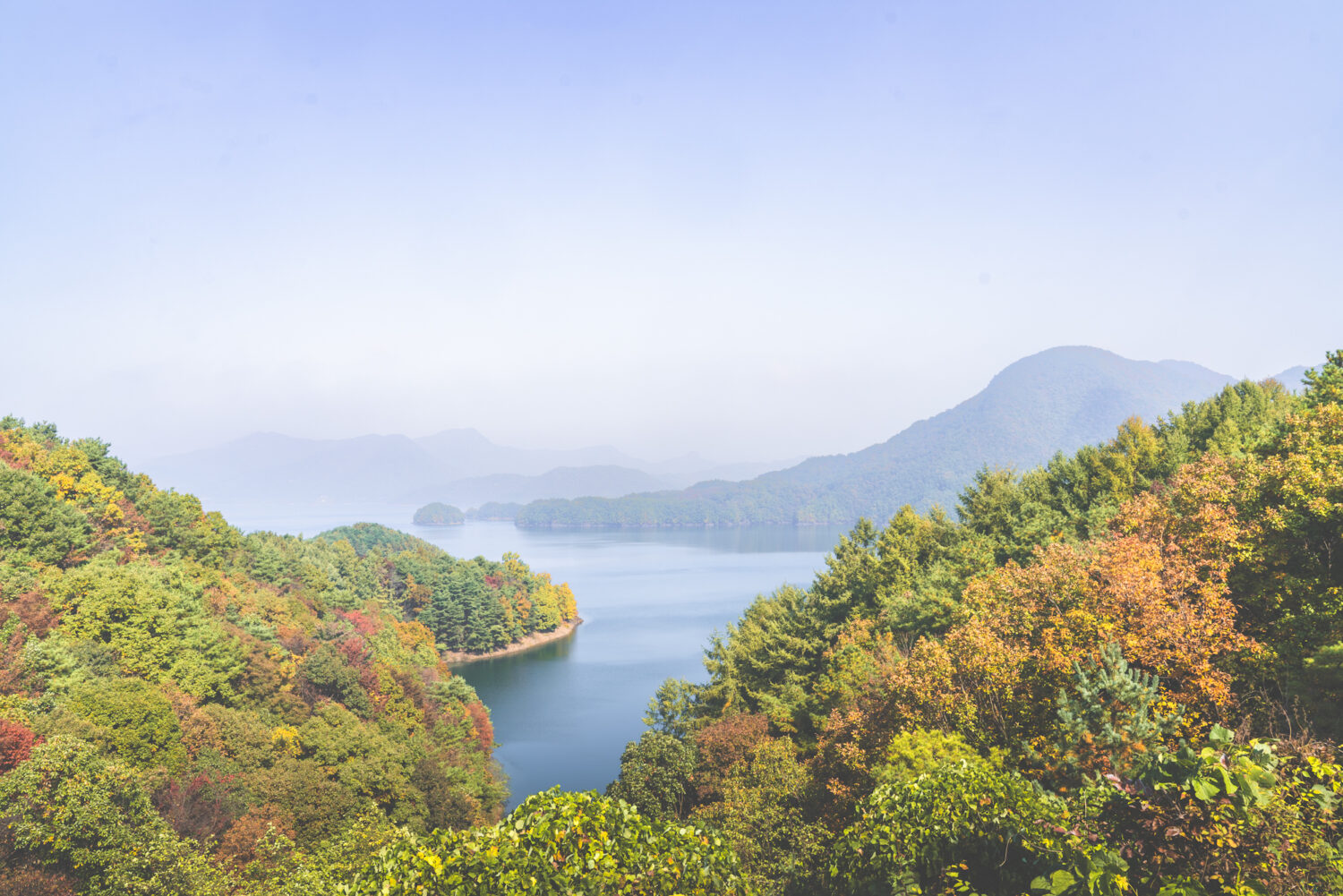 Next to Mungyeong, there is a place called Mungyeongsaejae open set traditional village. It's a made up place entirely for Korean dramas. Although all the buildings are fake and empty, the urban layout really feels like a genuine Korean town, with its rammed earth streets, wooden houses and imperial palace. The constructions are also made with traditional materials, pu together using ancient Korean styles and techniques. It could almost look like a real eco-museum, if plastic turps weren't used under the thatched roofs, to make the houses waterproof.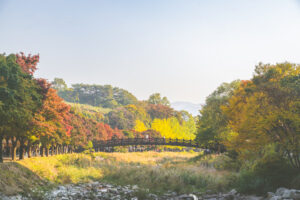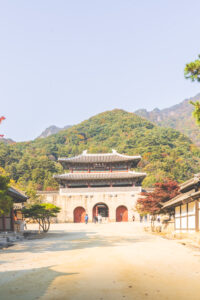 A DEEP DIVE
This first week was extremely intense. But it was such a great dive into Korean culture that I couldn't expect any better. I've seen, learned and tasted so much in a week, that I had a hard time keeping track of time. When the week finally ended I didn't know where all those days went. But they went.
Thanks to Kim and his family, I had an insane opportunity to see Korea in a way I could never have, have I done it on my own. I was invited to try many Korean specialties, moved around the country in remote areas, and introduce to local legends and history. But this, is just the beginning of our Journey, through the land of the morning calm.
---