"If you invite more cars, you get more cars. If you make more streets better for cars you get more traffic. If you make more bicycle infrastructure you get more bicycles. If you invite people to walk more and use public spaces more, you get more life in the city. You get what you invite."

Jan Gehl
Kraków
ENCOUNTERS
Crossing a new city from the train station to the Hostel is one of my favorite moments. It's always a thrill, triggered by a mixed feeling : a blend between the excitement of discovery and an absolute loss of my bearings. During the four days I spend in Krakow, I was lucky to have really good roommates. The first day I met Lucian, an American from Philadelphia, who was into cooking and talking. But he liked talking way more than cooking. He taught me that America was really great. Which is good to know. The next day, I accompanied a British soldier on a shouting range, because why not ? And met a Swiss-French, who freshly arrived in Krakow, fell in love with the city and intended to stay there.
On Saturday evening we went drinking in a bar recommended by our Swiss friend : Eszeweria. The place is an old rustic bar, with an inner courtyard/garden. A perfect spot to have a local crafted beer in the shade of big fig trees. After sipping down two pints we headed to Kazimierz Food Square, a tiny food market with 4-5 stands. A place I strongly recommend for quick evening snacks.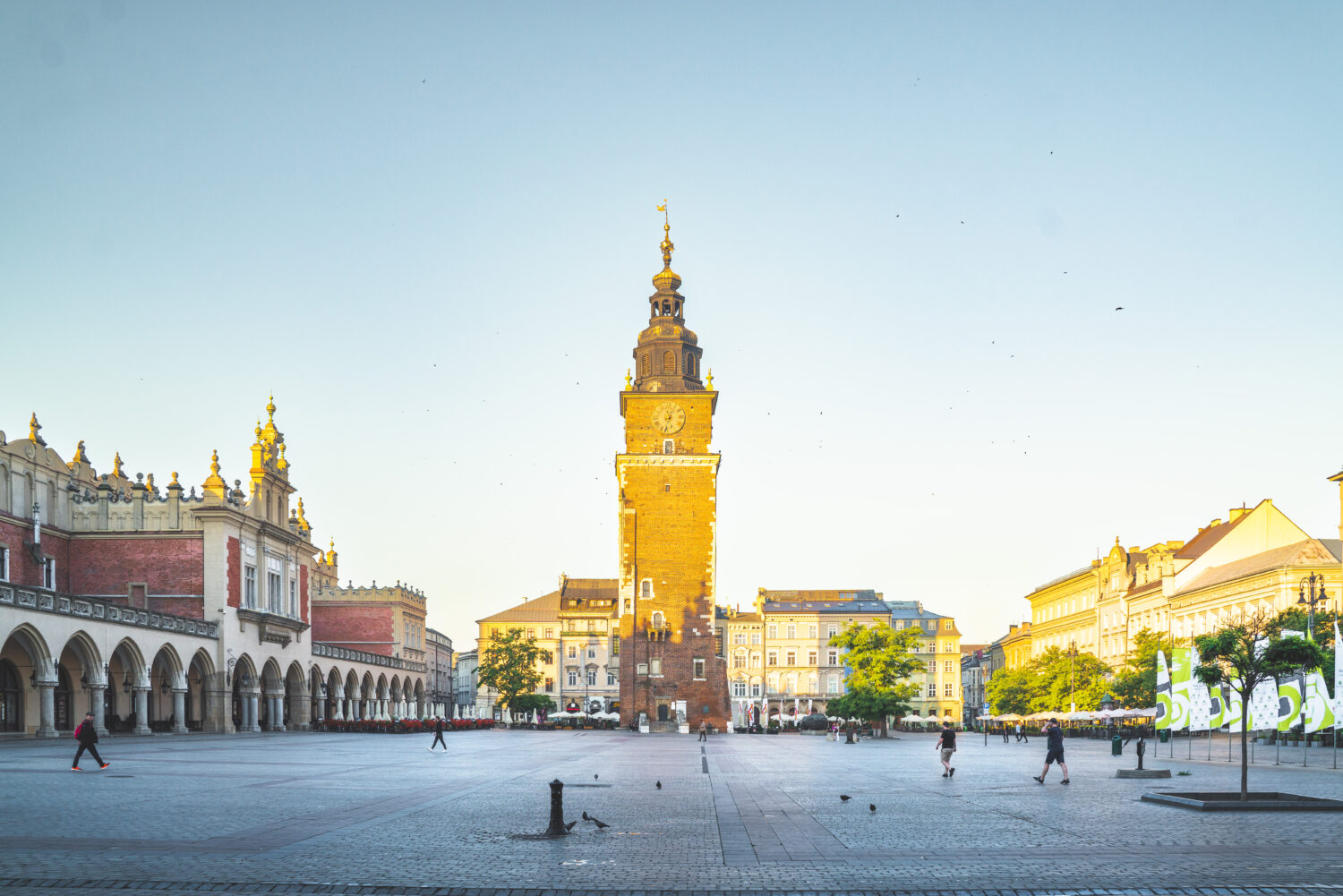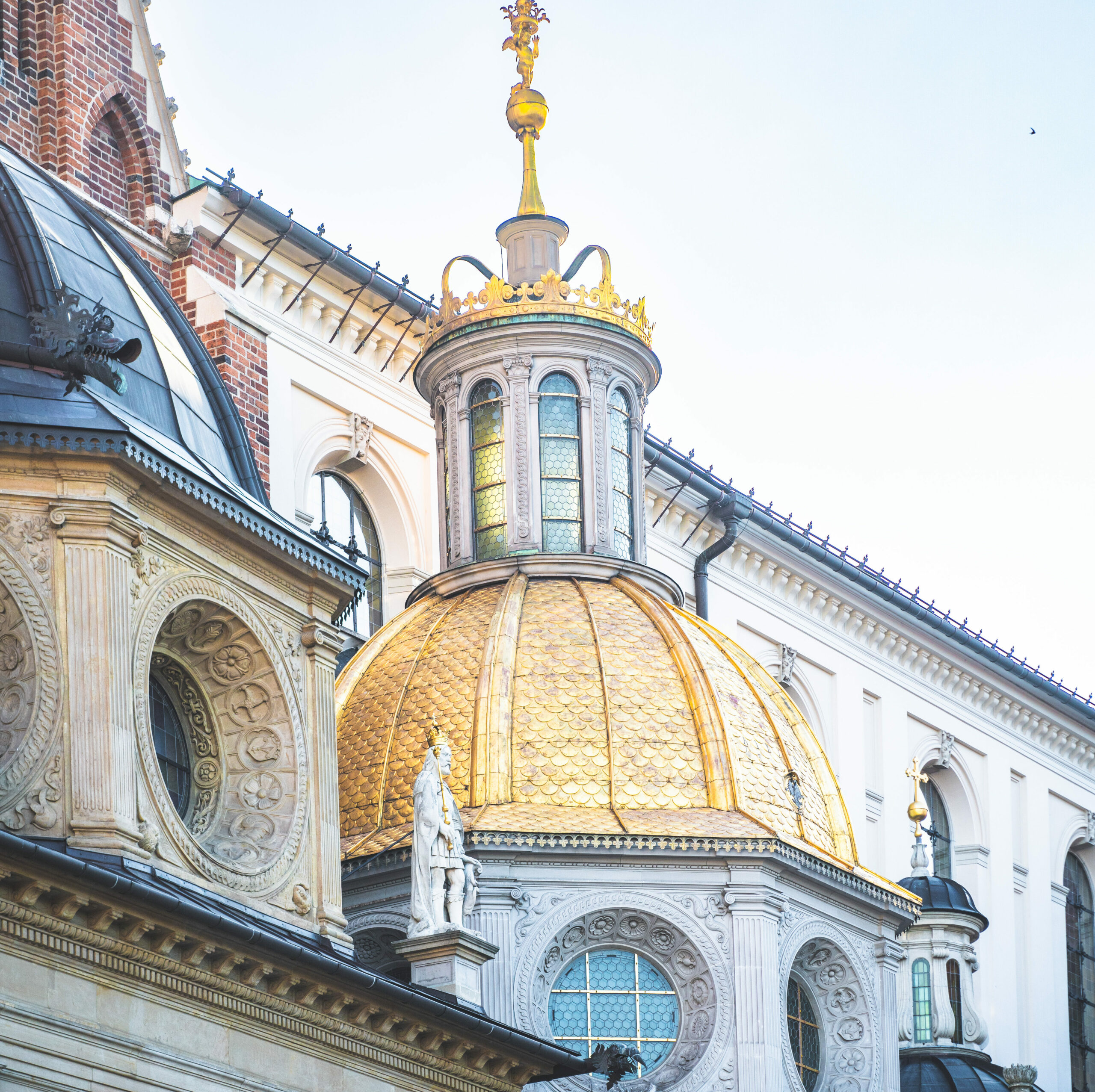 BIG SURPRISE
I really wasn't expecting a Polish city to be so well preserved after the events occurring in the Second World War. Walking in the streets of Krakow is a real pleasure. It has those middle age sinusoidal streets all the old cities acquired over time. Even if it looks messy, it is easy to find your way into the city. The main public square (first picture) is visible from four streets crossing the whole center. Everywhere you walk, there is something to see, wether it's a small church at the end of a narrow street or a beautiful building in a wide public space. 
But there's not only the city center that is worth stepping to : Krakow was particularly well designed/preserved for soft modes of transportation. The boulevard surrounding the city is wide, green and pedestrian friendly. All cars have been rejected on the outside. There's no real car traffic unless you really walk off the city boundaries. It's such a great sensation to walk freely not having to worry about being smashed by a car. Also Polish drivers will always break down to let you cross when there's a crosswalk. Making the stroll for cafe and bars even smoother.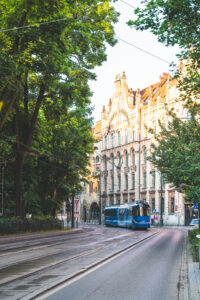 LOCAL HISTORY
Krakow is really rich when it comes to local culture. One of the most interesting museum would be the Tadeusz Kantor museum. The museum was build around and above a former power plant from the very beginning of the XX century. Although not that big, it hosts a permanent exhibition focused the artist himself. Kantor was an eclectic Polish artist : he left behind an impressive collection of paintings, sculpture assemblages, happening and theater pieces. The museum is free and has a cafe on the top with a great view over the city. Only good reasons to go there.
If you're looking for more historical content, well, Krakow is the city where Oscar Schindler had his factory. So there's that. One thing you should know before going in this specific museum : it hosts a broad exhibition on Kraków's condition in WWII. The part on the actual factory is rather small and the exhibition is kind of overwhelming. It's hard to know where to look as the walls are full with content. If I had to choose between the factory and the modern Art museum next to it, I'd choose the second option anytime.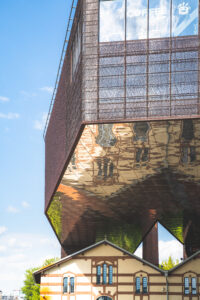 WROCŁAW
Wroclaw train station is very much different than other train stations. In Poland, they usually like to stick huge shopping mall right next to the station. The galleries are even build around the train stations, it is the case in Katowice and Krakow. So, as soon as you get out of the train, you step in a maze of shops and low-end restaurants. But in Wroclaw the station was not recovered. Making it a great entry point in the city.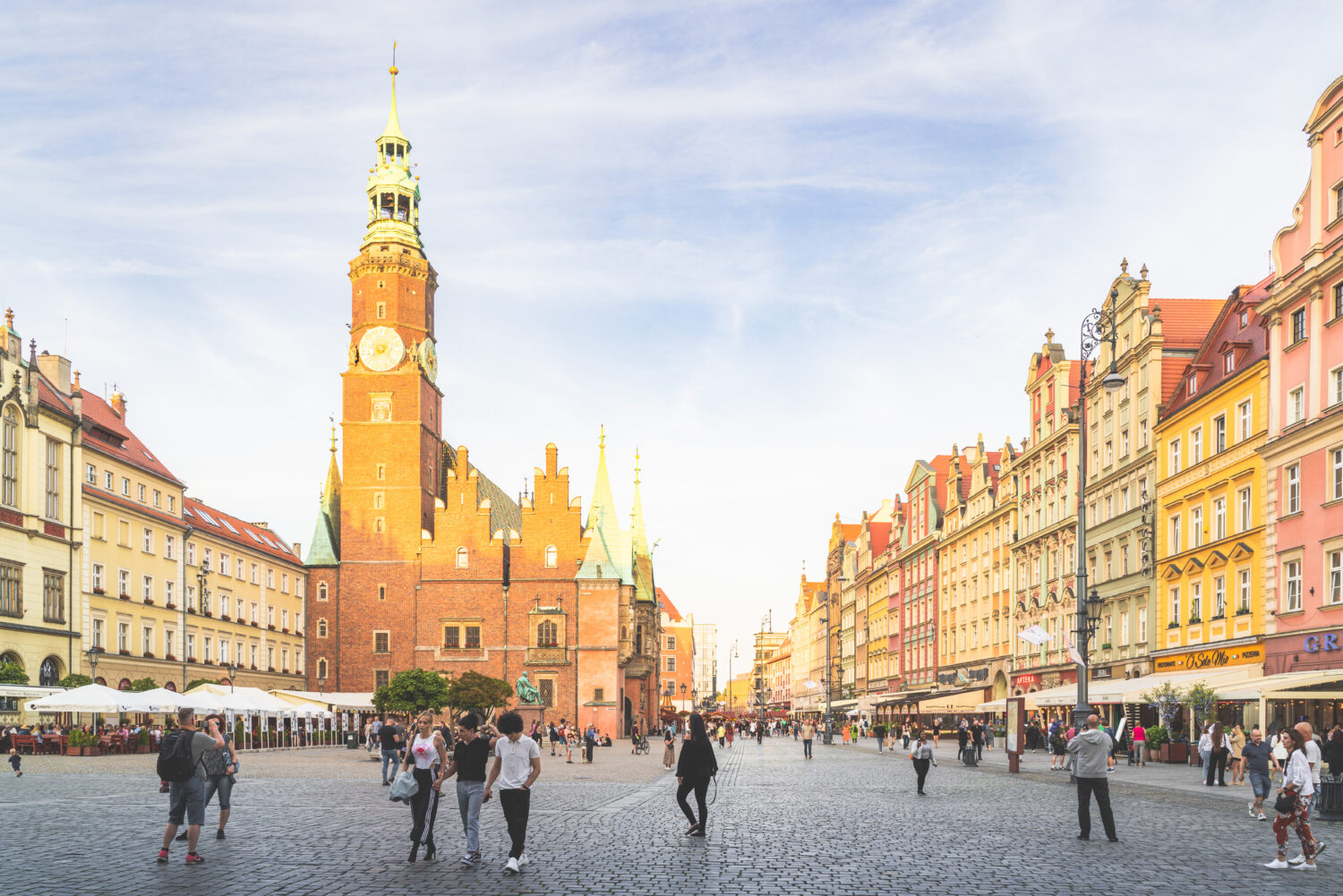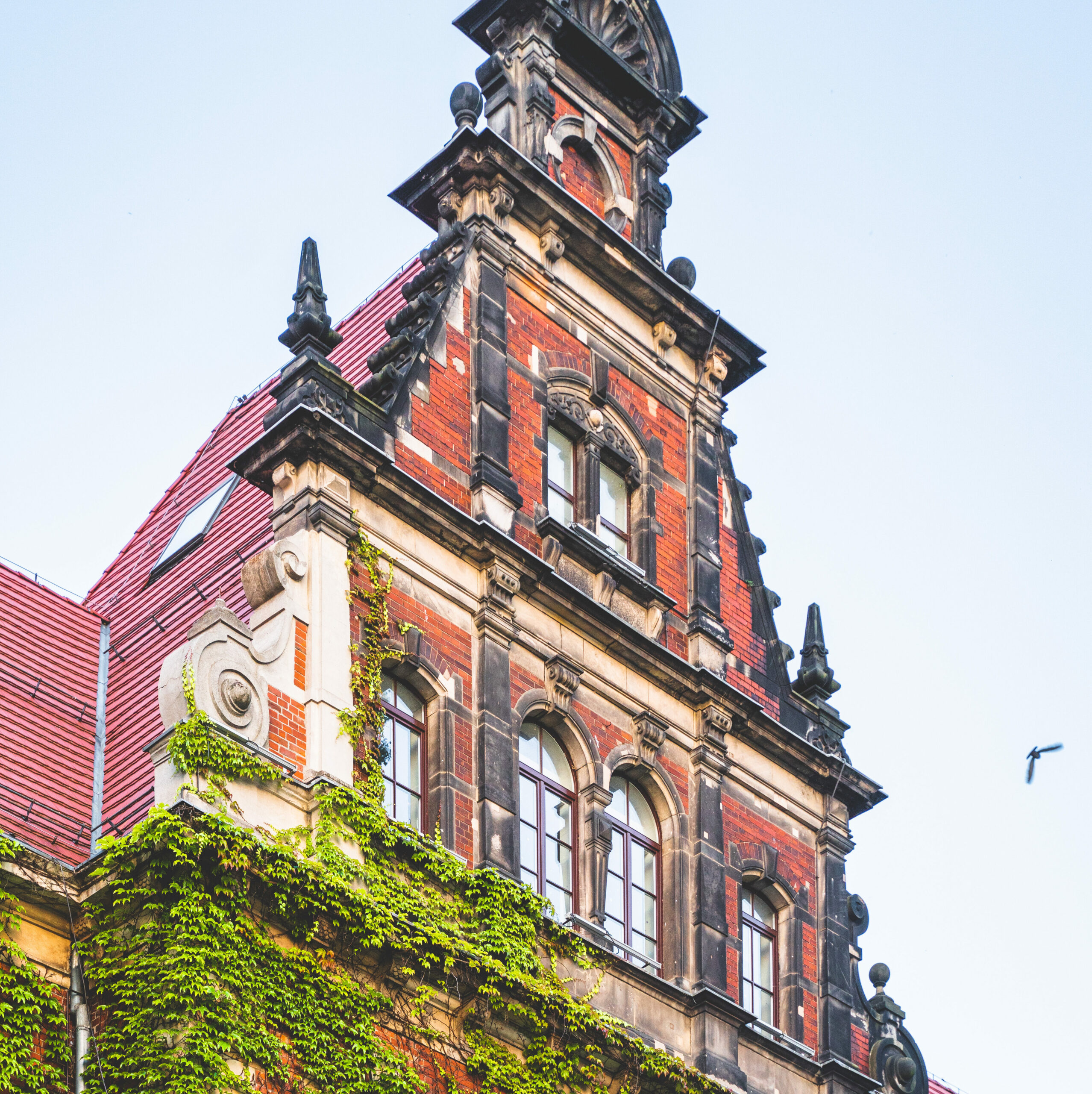 A LONG STROLL
In Wroclaw I met a friend I haven't seen in five years. A good timing for me as I could meet her and her boyfriend for a guided tour of the city for approximately 10 hours. Yeah well, we had a lot to talk about and many places to see. Venues like Zazoo : a collection of restaurants and bar along the river. A perfect spot to spend an afternoon in a long-chair or an evening sipping cocktails. Especially when the sun is setting after a heavy storm.
But we weren't only going from on bar to another, they heartedly introduced me to the city's architecture, history, urban art, and much, much more. We passed by the museum of contemporary art, located next the colossal centennial hall, both located in a vast park. The masterplan of this place is incredibly well drawn. Once you are in that place you crave to walk around.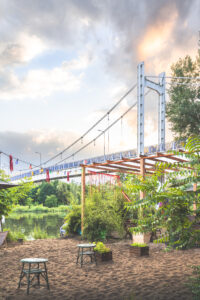 URBAN PROMENADE
I must admit, I was also surprised by Wrocław, the city is less known than Krakow but as beautiful if not more. The city used to be a citadelle from which the fortifications has been replaced by a park. Now, I know what you think : isn't it always the case ? Well : yes and no. There are two schools, the first hands over the place to cars and highways, the second promotes soft transportation modes. I will always defend the later. I don't have a personal hatred for cars, but to me they don't belong in cities. Because they strongly interfere with the dominant flow : humans.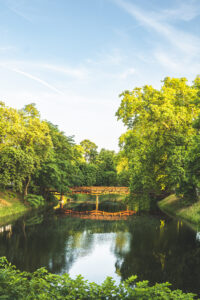 But the real charm of Wroclaw resides in the proximity of water and the small islands connected by multiple bridges (More bridges than Venice!). On the north part of the city there are nine islands of various sizes and shapes. All of them with a different urban layout. Wyspa Slodowa is a park with floating bars. Tampa hosts a school. Daliowa displays a blown metallic sculpture from the artist Oskar Zięta. Piasek is a piece of the old city (…) Each island being his own little word. 
---