"One of history's few iron laws is that luxuries tend to become necessities and to spawn new obligations. Once people get used to a certain luxury, they take it for granted"
–Yuval Noah Harari
CROSSING SOUTH KOREA
THREE CITIES
For this last adventure on Korean mainland, we will explore three different cities. Pohang a seaside destination, Gyeongju the former capital of the Silla dynasty, and Busan the southern megapolis. All three cities have different outlooks, allowing a deeper understanding of contemporary Korea. These cities are samples of where some Koreans spent their vacations, who were their ancestors and in what settings they do live now.
POHANG
WELCOME TO THE SEASIDE
On my way to the south, Kim recommended a short trip to Pohang, a seaside city. The city itself isn't that thrilling but the surroundings are worth a stop to contemplate the magnificent views towards the sea, and delve upon. In Pohang, I just walked around the beach to the Hwanho park, where an art installation from a German artist was just built. Called Space walk, the piece of art is like a pedestrian rollercoaster. While up there you can enjoy marvelous 360 views around the bay. If it is windy, you can also enjoy the structure moving 10 centimeters left and right under your feet. Arousing -kind of- similar sensations as a rollercoaster would. You just have to trust the German-Korean engineering, which is not to hard to do.
After experiencing the art installation, I headed to Coucouhaus, a small cafe along the coast. Usually Korean likes to make their cafe places in all shapes and form. I've seen cafes looking like contemporary museums to attract their young customers (as it makes a free advertisement through Instagram). But this one was just a small rectangular volume, with two floors. A sober piece of architecture, serving excellent coffee and offering a great view to contemplate a sunset on the Sea of Japan. What else ?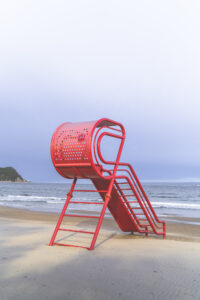 GYEONGJU
THE THREE KINGDOMS
"Most of the mounds are domed, but some take the form of a half-moon or a gourd. They contain double wood coffins covered with gravel, and excavations have revealed rich grave goods of gold, glass, and fine ceramics. One of the earlier tombs yielded a mural painting of a winged horse on birch bark." –UNESCO report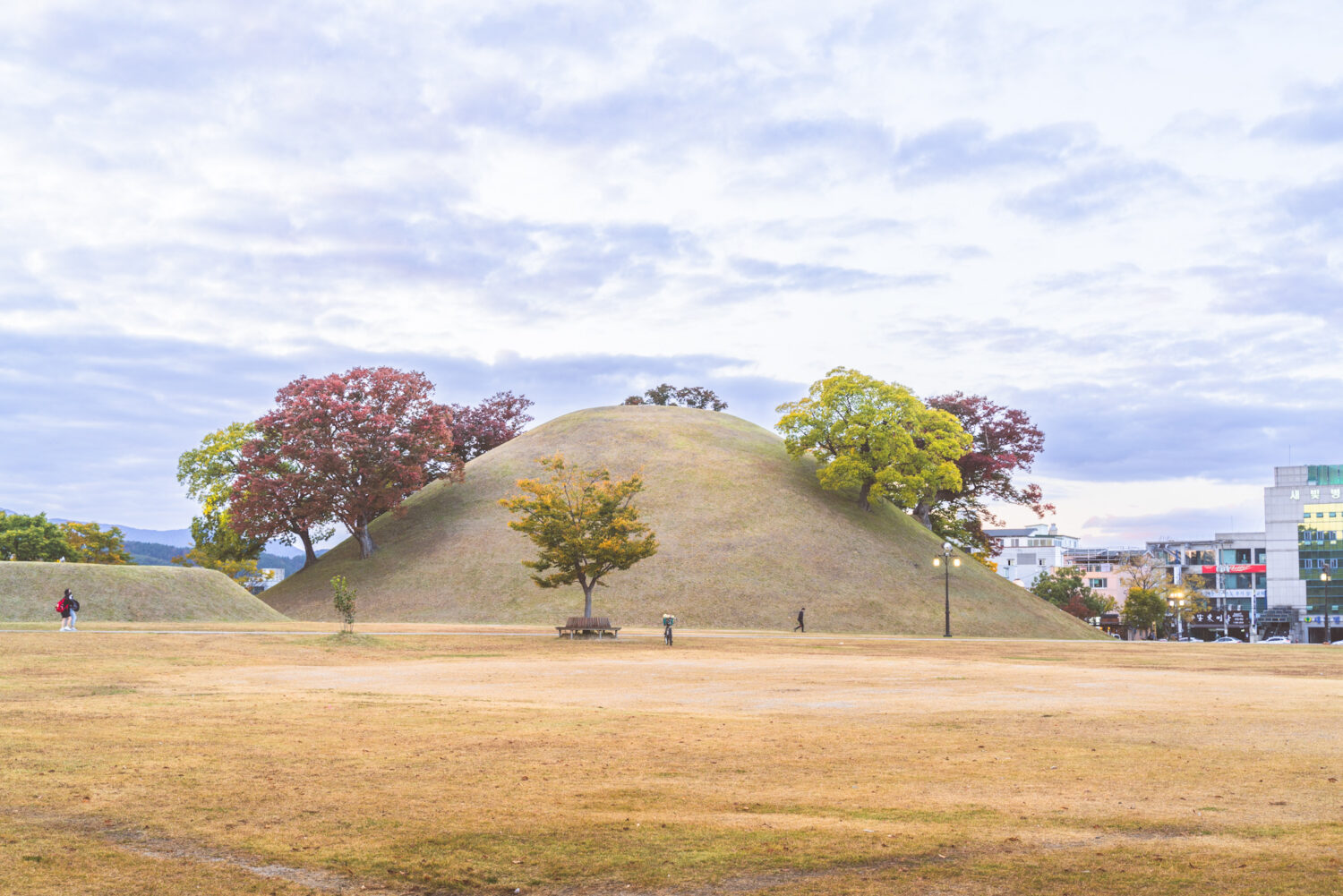 Gyeongju used to be the capital to one of the three Korean dynasties. United under the kingdom known as the Silla. They managed to keep rule at peace with the two other kingdoms for almost a millenium. Until the three kingdom broke apart due to Chinese invasion and local conflicts. Only to see some decades later a new reunification under the "later three kingdoms of Silla". The first version of a real Korean drama. Nothing really new.
Amongst the high palaces, great Buddhist temples and incredible citadel, gigantic burial grounds were built. Why built ? Because in the first dynasties, important personalities had literal mountains for a grave. Not only royal figures, but any elite member of the court could be buried in a wooden chamber full of earthly wares, right under a huge hill. The mounds, was sized proportionally to the social status they had in the realm of the living. Nowadays in Gyeongju, you don't have to walk too far to find these tombs. They are scattered throughout the whole city. More and more of them are restored and protected. The site was even saved on the UNESCO precious list in 2000.
MORE ON THE SILLA DYNASTY
If you want to know more about the Silla and the three kingdoms, you can check the free Gyeongju national museum. In the museum, everything is written in English, very well explained, and the artefact are in pristine condition. You'll find many objects made out of steel and gold. Mostly because the Silla were masters in steel crafts and later gold manufacturer. In many tombs, golden wares were found along with decorated pottery, glass and precious fabrics. It is interesting to see how, so far from the occident, people were also buried with their earthly possessions. I sometimes wonder how, thousands of kilometers appart, we had similar believes when it comes to death and what happens hereafter. Were people back then influenced by some traveler's beliefs ? Or creating those beliefs is inherent to the human psyche ?
Walking around Gyeongju is Autumn and hopping from one historic place to another is a real blast. Since the city used to be a capital for almost a millenium, history and vestiges are everywhere accompanied with excerpts on their unique stories. The city itself is like an open air museum. All of that, again, in English. If you want to learn about Korea's fascinating history, roam the streets and visit places such as Dunggung palace, you won't be disappointed.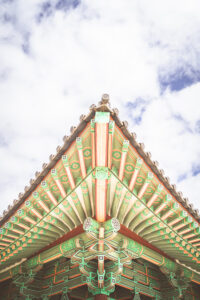 BULGUSKA TEMPLE
Near the city of Gyeongju, one of the greatest temple of the high Buddhist era. The temple is an ensemble of buildings, located on a hillside 20km south of Gyeongju and surrounded by majestic forests. It was demolished during the Japanese occupancy, then rebuild in the 1970s. Known as Bulguska temple, it was formerly a high point for the Buddhists monks and pilgrims alike. There are tens of reason to see the place and here is one of them.
The temple was rebuilt in the most strict Korean tradition. But what was really striking was the path to get there. You first cross a long and narrow road on a steep hill, amongst beautiful orchard trees. A further away, the entrance of the premises are defined by a first Korean style wooden gate. After crossing the gate, a sinusoidal path made with beige gravel alternates with ponds, small bridges, forests and the like. A promenade through a rich garden, flourishing with an incredible diversity is leading to the main temple.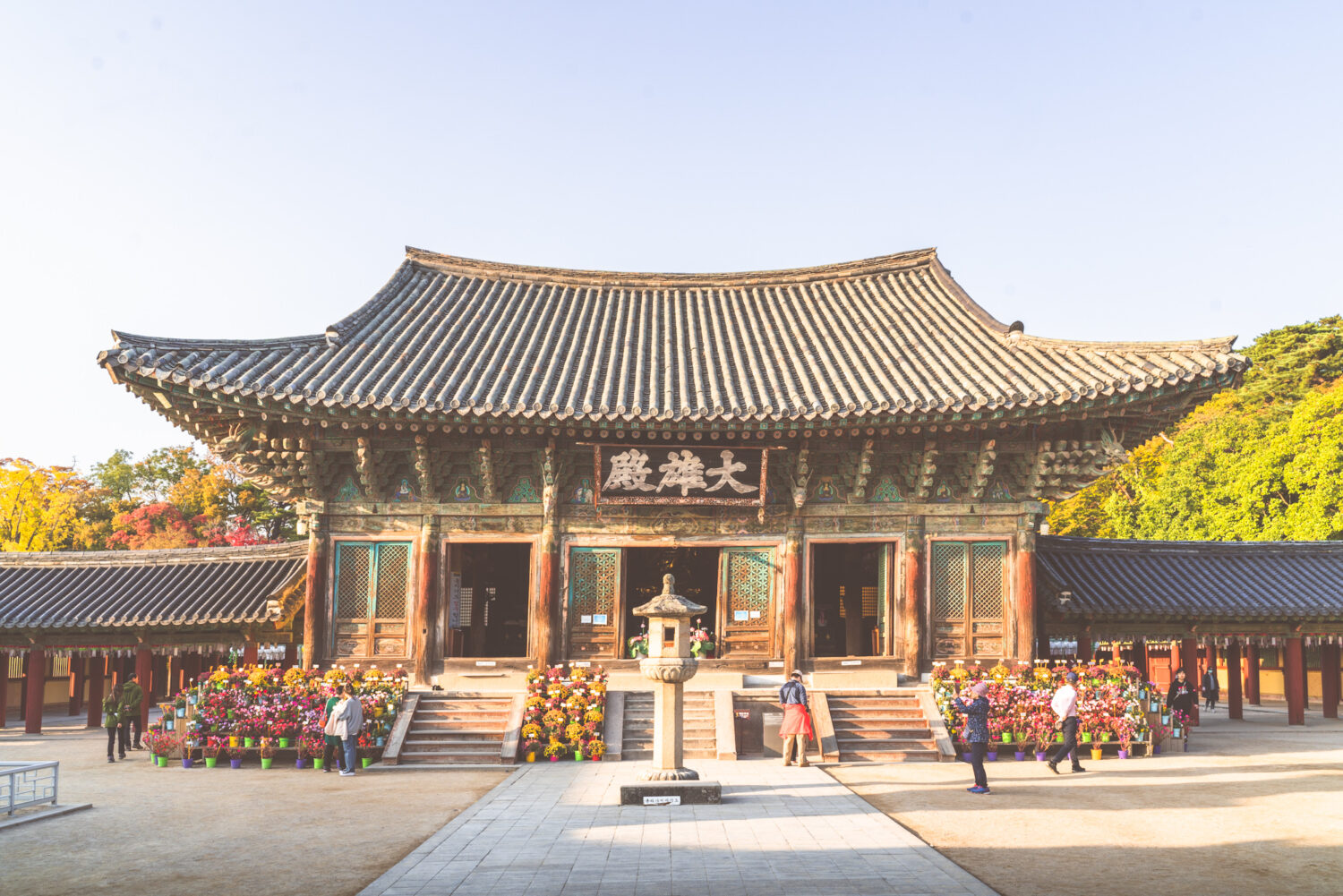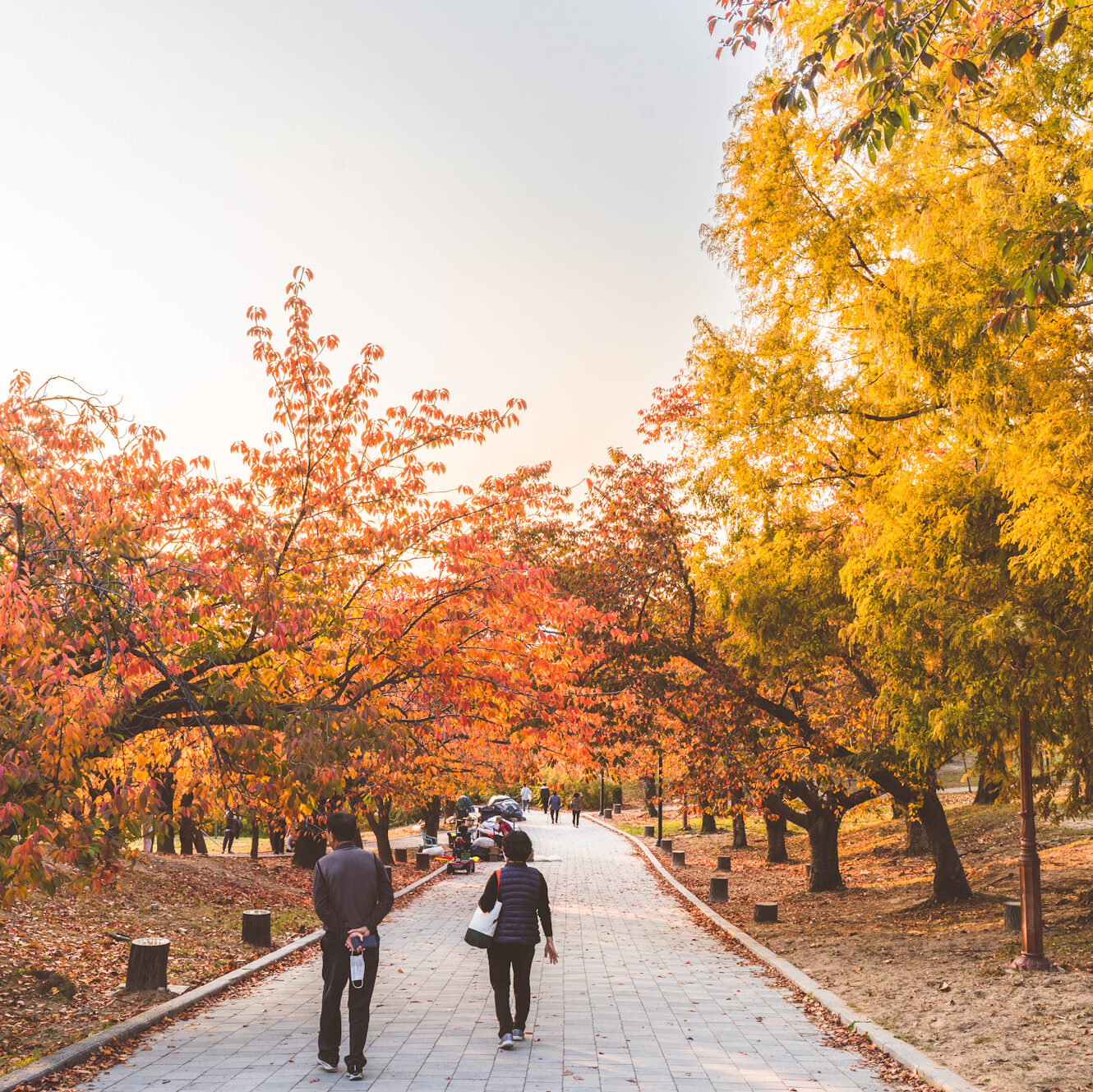 BUSAN
OVER-URBANIZED CITY
The city of Busan, widely known for the movie "last train to Busan" is the second largest Korean city. Even though there are less people than in Seoul, the city seems way more scattered in shape. Mostly because it is build on mountainous sea shores shaped as fingers going towards the sea.
The urban density is extremely high in Korea, it is particularly obvious in Busan. Many residential areas are composed with the exactly similar high-rise building, put next to each other up to 8 times. A layout that seems a bit odd and outdated, but if you take some steps back and think about context you realize that it makes sens. South Korea is extremely mountainous, small and very populated. The population in Busan is similar to Berlin's. Due to the lack of space on the ground and the need for apartments, residences needs to be built quickly and as dense as possible. Exactly what europeans did in the 50s.
In Busan, the landscape directly impacts the shape of the city. On the south part, a district called Gamecheon, stands on very steep hills. Built in the seventies, right after the Korean War, it replaced an old slum. Artists came with financial help of the government and painted graphs, fresques and entire walls. The district became very popular. So popular that it turned into a touristic venue after some years. Especially for the young generation of Korean instagramers. The pattern of the city really looks like a favela, with its narrow streets, steep stairs, proximity of buildings and diversity in shape.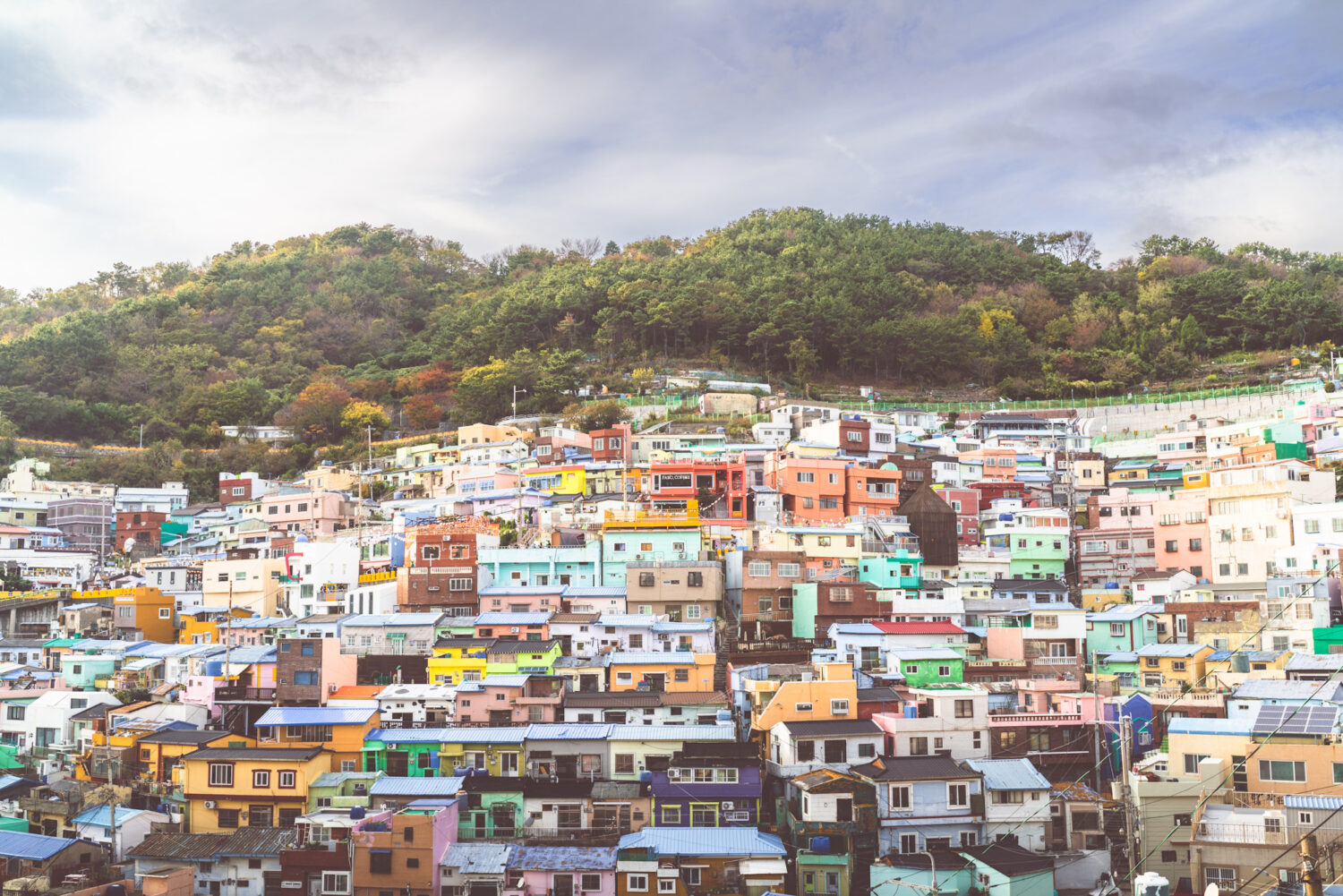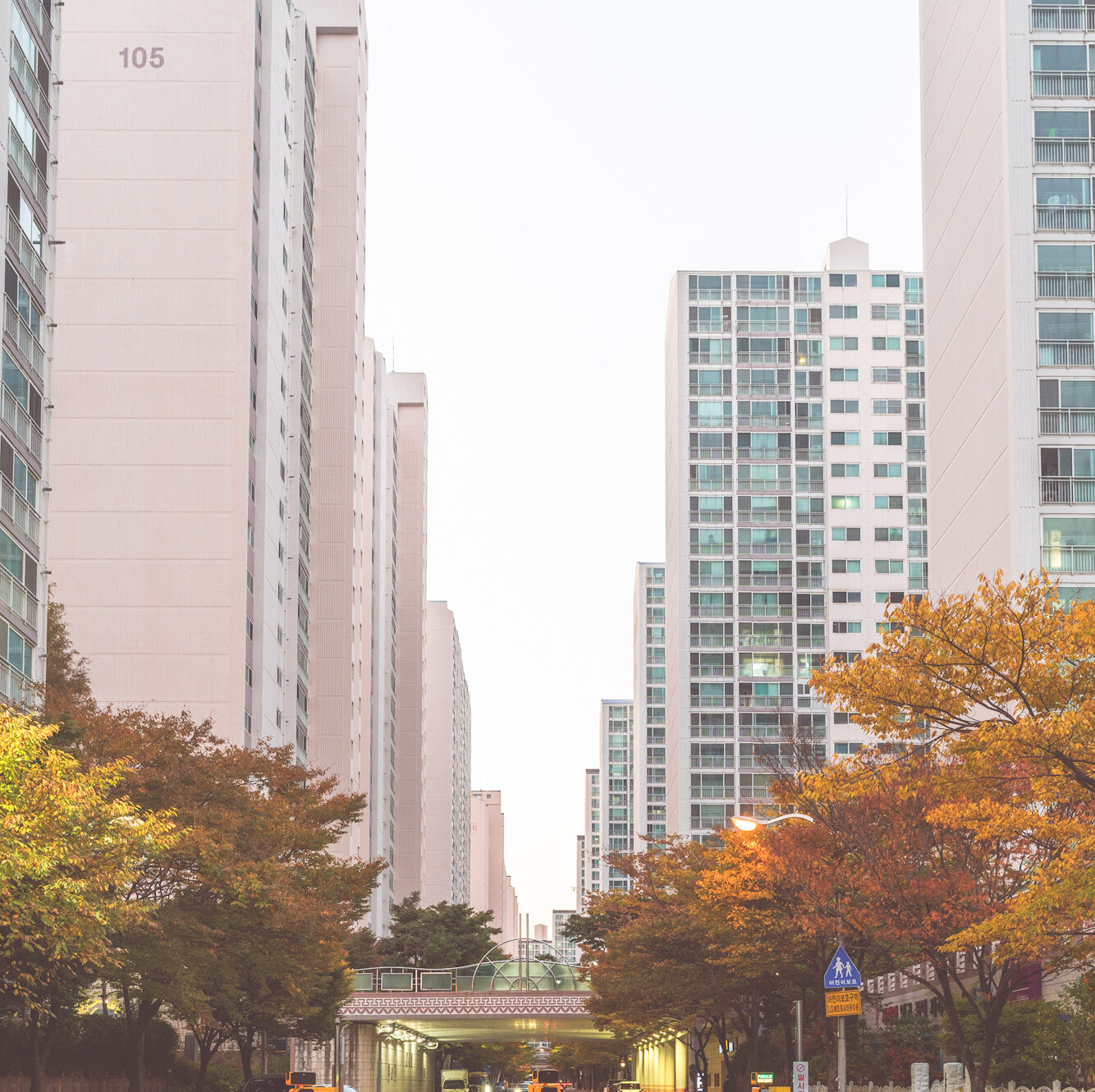 BUSAN'S ALL TIME FAVORITES
Haven't seen enough temples ? Head to Haedong Yonggungsa temple. The beautiful wooden structure is built on a cliff, dominating the sea. With its unique setting, this temple became a very attractive place for tourists and pilgrims alike. But beware, the temple is very narrow and extremely crowded on weekends. My advise : go on weekdays if you have the chance.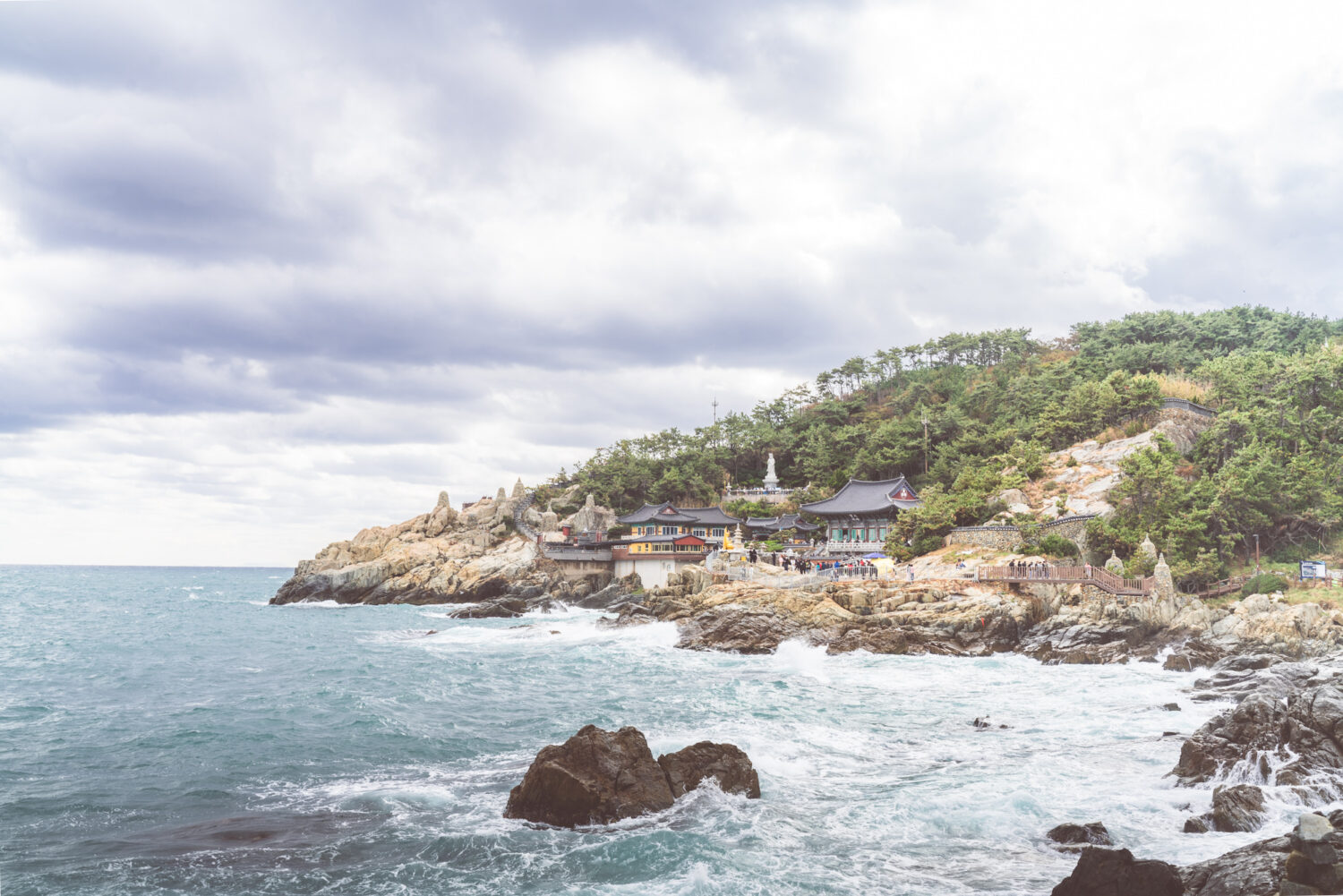 In Busan there are many places to enjoy a good view over the city, or over the cities should I say. Because Busan is widely spread along the coast it is impossible to have one unique view over the whole city. And so, on a peaceful evening Kim and I climbed to the top of the Fire beacon station. In ancient time, Koreans used to light up gigantic fires in case of a foreign invasion. Nowadays it offers a great panorama towards many sides of the city. But as I said, there are many vantage points : for a view on Namhang bridge you can go in the Hynyeoul Munhwa Maul, a pristine location, especially at downfall.
If like me you're trying to escape the city for an afternoon, there is a great hike to do around Haeparang-gil. It's a perfect spot to walk amongst high cliffs and dense forests, all of that along the coast on wooden pathways. It take approximately 3 hours to go around but is definitely worth the walk. Especially for the sunset, as the last sunbeams of the day will ignite the city in the far background.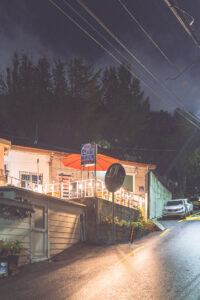 A SHIFT IN CULTURE
Mores are a funny thing. as I was sipping my ramen soup making tons of noise, I remember my grandmother telling me "don't make noise while eating!" When here it is absolutely not disregarded, (but only for ramen if I understood correctly) it is the opposite in France. When you think about manners, they are only ground rules set by our society to make us act similarly in some given situations. Most often than not, they are not really crafted on any rational basis.
Even though as a tourist, Koreans will not hold any grudge on you whatsoever, here are some basic shifts in Korean's culture that are worth to be noted.
Always take off your shoes when you are in someone's house.
Avoid blowing your nose in public, it's considered rude.
Korean reservation system is unique and efficient. When you cannot book online, you have to do it on the spot, give your phone. number and they call you when your table is ready.
Most of the time there are self services in restaurants, for water and oftentimes side dishes.
They often have bells to call the waiter on restaurant tables.
Public transportation system are cheap and insanely efficient.
Entrance fees on public museums and institutions are really cheap or free, so enjoy !
If you wear traditional clothes you can enter freely in Gyeongbokgung palace. Works for tourists too. Otherwise the entrance fee is 2$.
South Korea is incredibly safe and really feels like it. Most of the time hostel don't even have a secure access. You can enter without a card. As for personal stuff, I've left many time my iPad alone on cafes' table. I don't recommend doing it though, it's just a personal experience.
Google maps is partially blocked in South Korea, you can't use it for cars or pedestrian itinerary. But it works fine for public transports. The alternative would be Naver.
If an elder person stands up to walk away, you can rise to show respect.
Koreans are very straightforward, especially old people, don't be surprised.
---